Bespoke Service 
AllÓRA can do it for you
AllÓRA's bespoke service assists you to create unique artisanal items for your home. From the kitchen to the bedroom, the living room to the bathroom – each piece is tailored to you by us, reflecting your tastes, style and personality. Choose from an exclusive array of existing patterns, colours and styles that can be put together just for you or, let us know your design ideas and we can work with you to create something entirely new.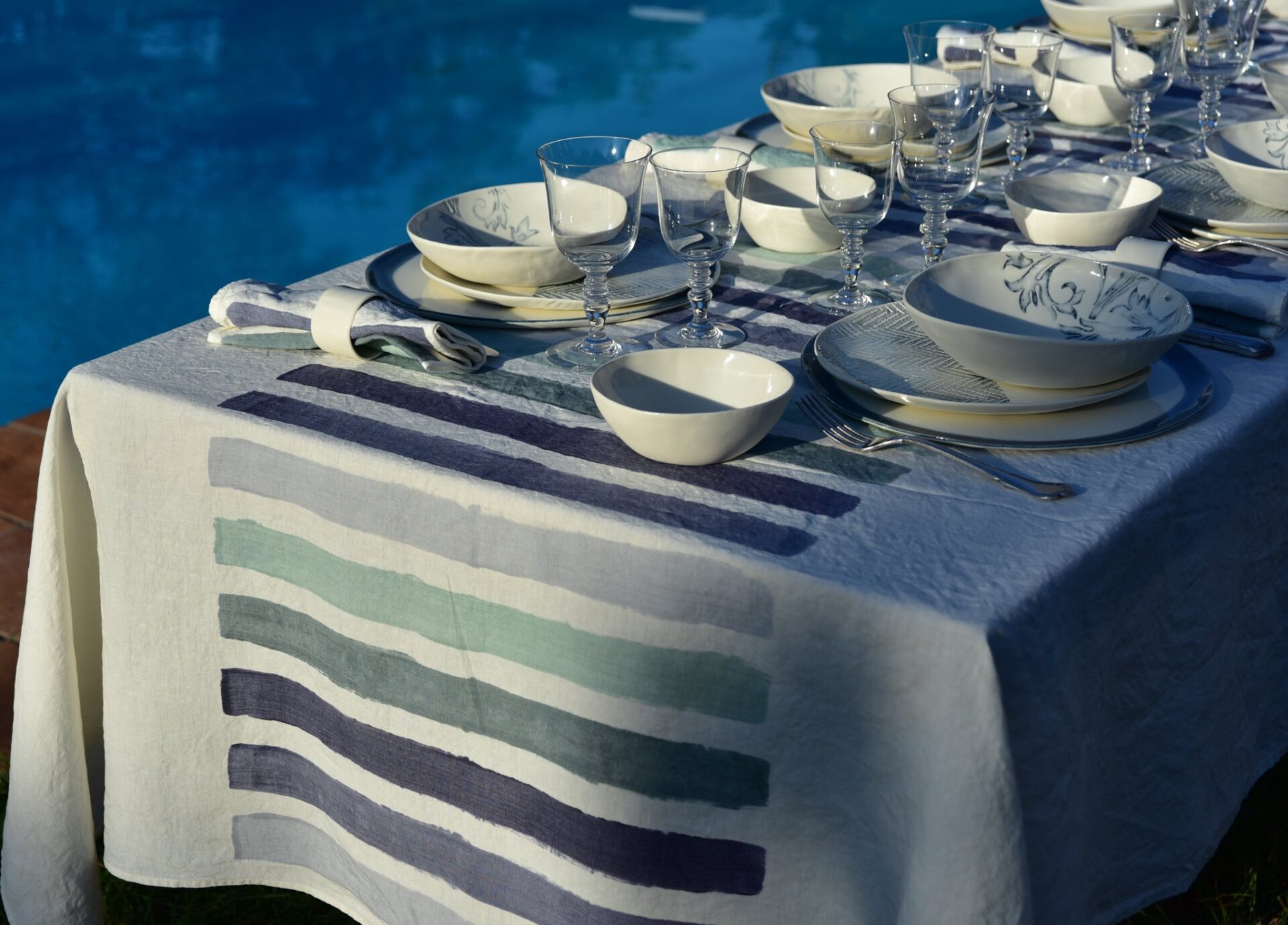 Porcelain 
We craft the perfect porcelain dinnerware and home decor just for you. Complete dining sets, serving dishes and ornamental objects for all occasions can be matched to your tastes and the design and colours of our linens to create a complete look. Achieved using traditional techniques, textures (printed and painted by hand), painted stripes, motifs and monograms will all inspire your choices throughout our made-to-order porcelain service. Discover inspiring bespoke handmade porcelain.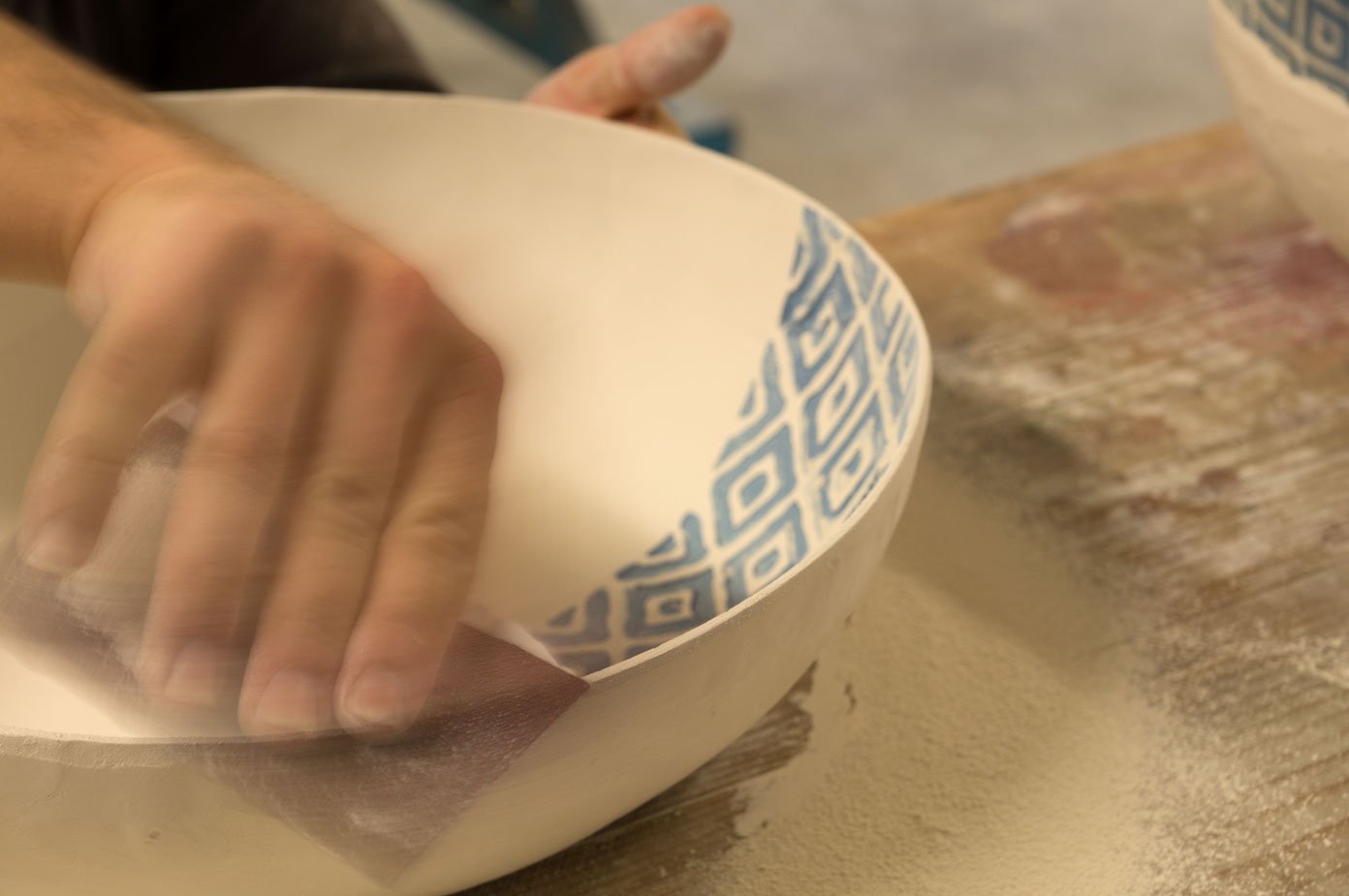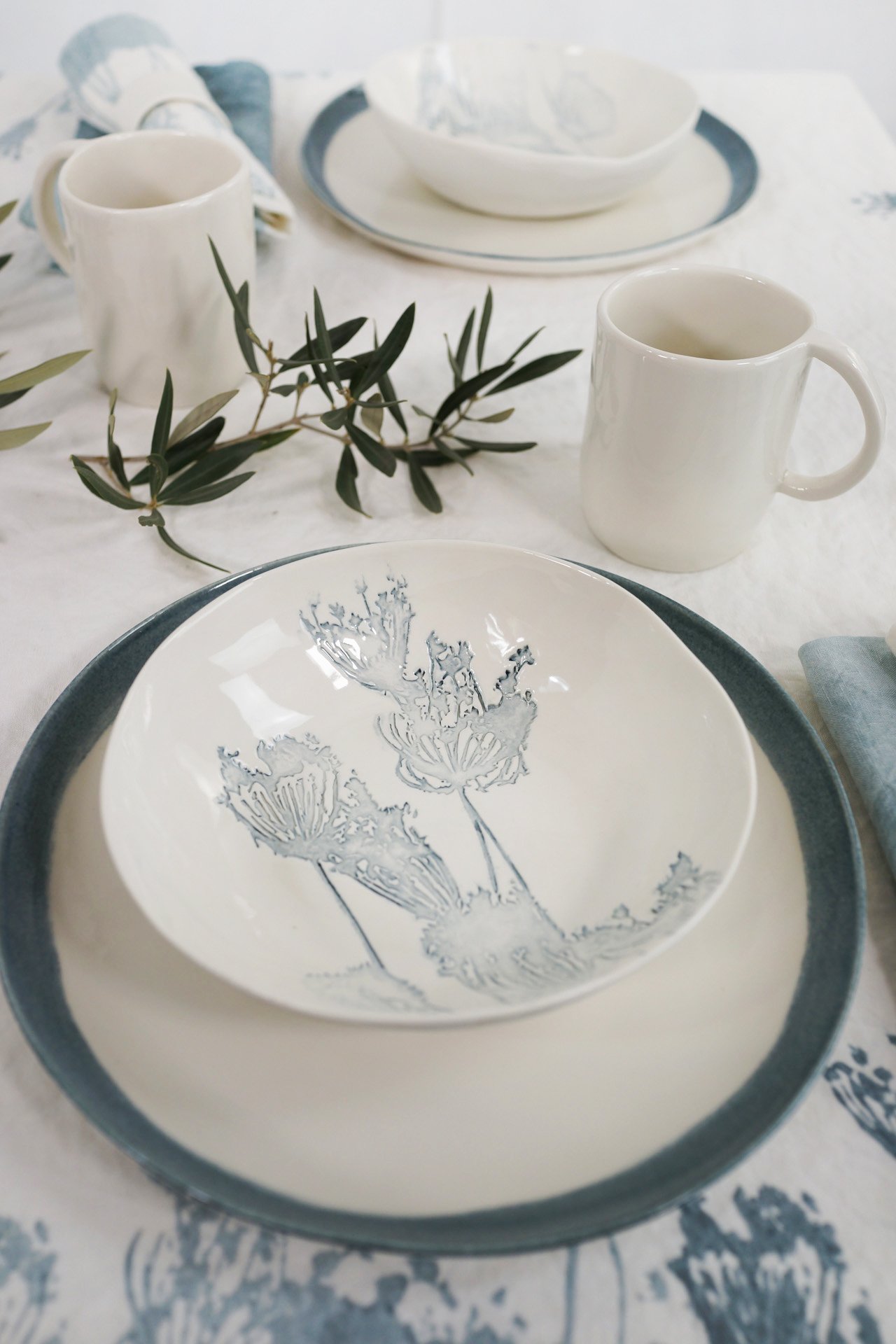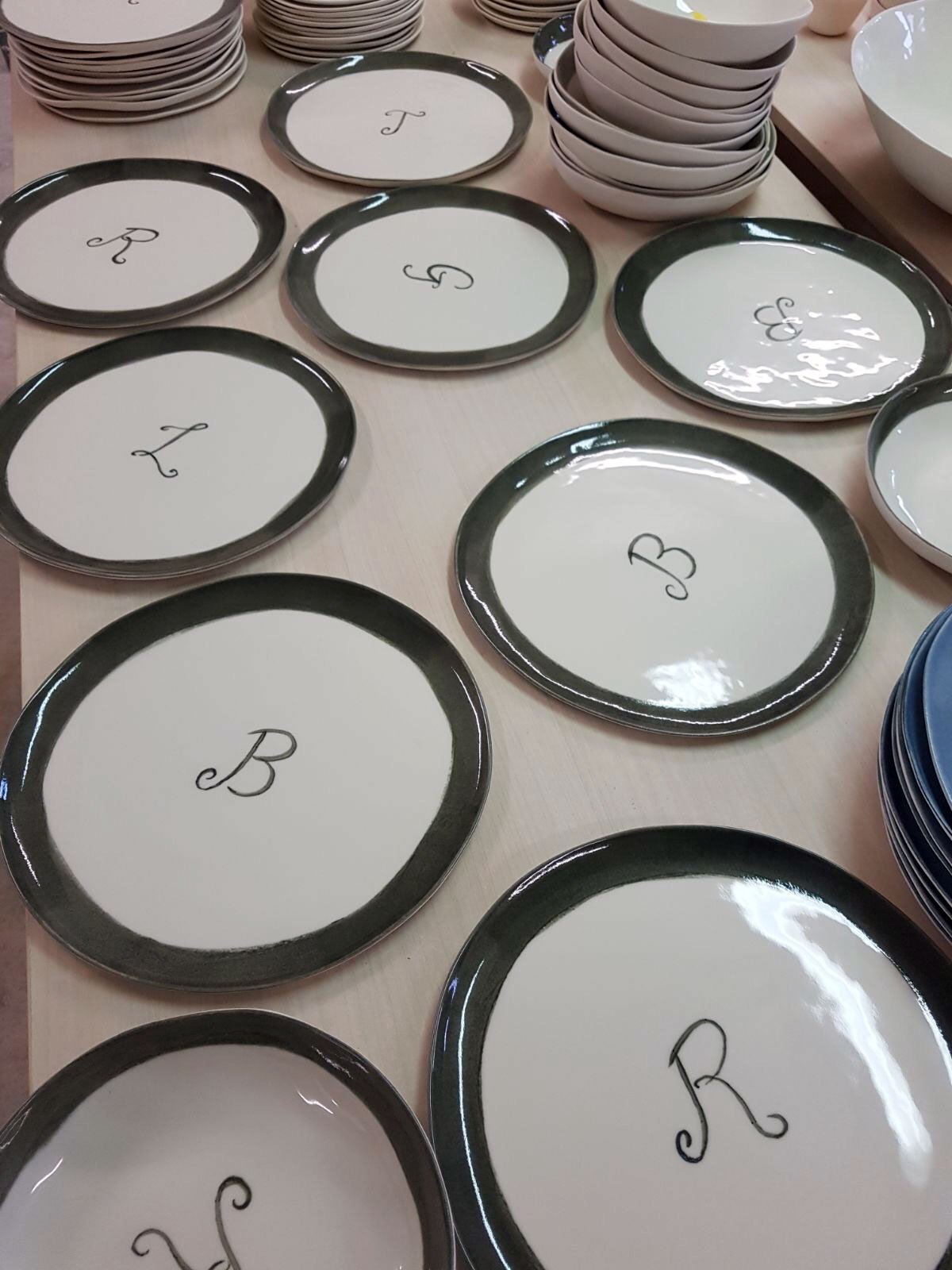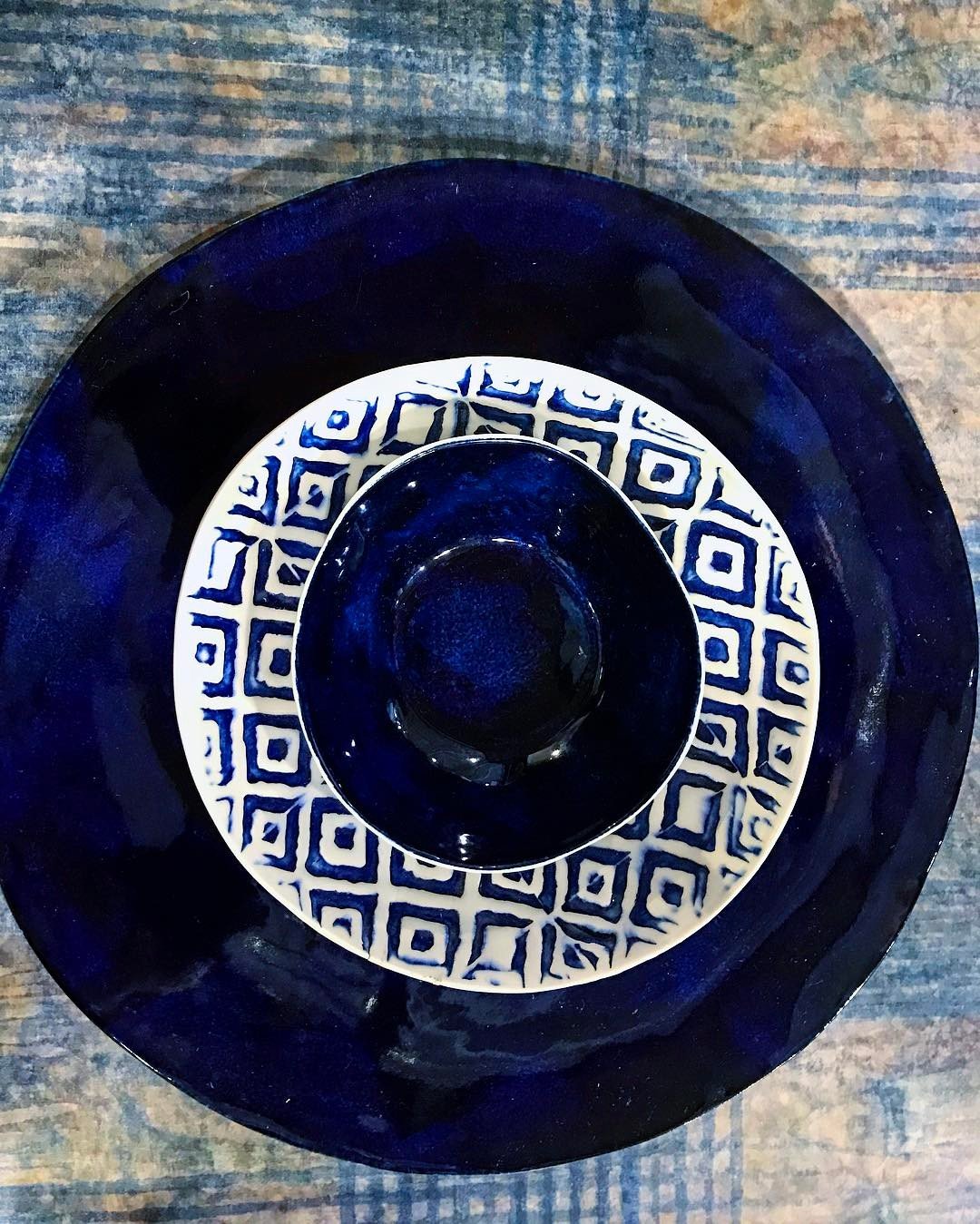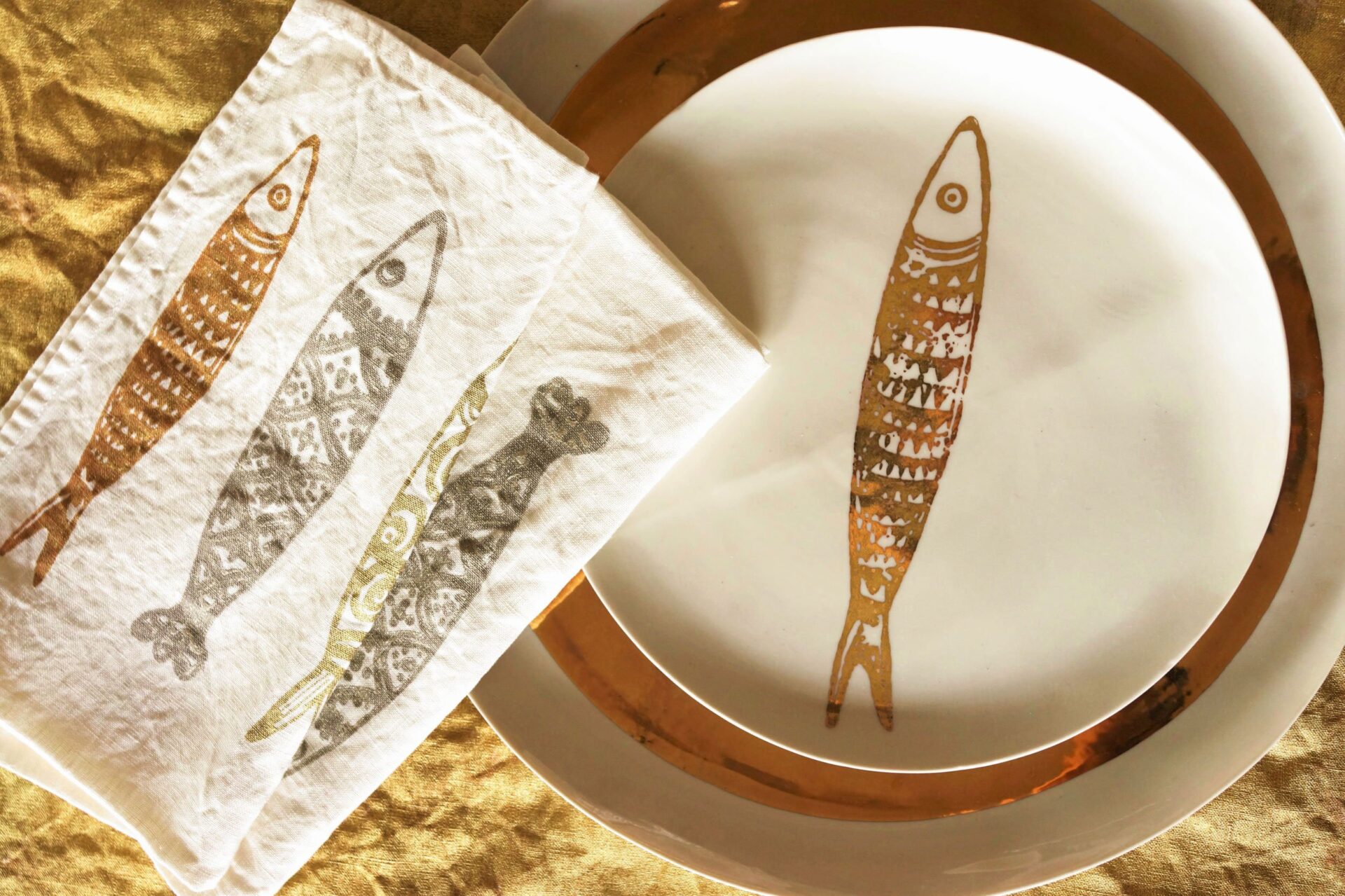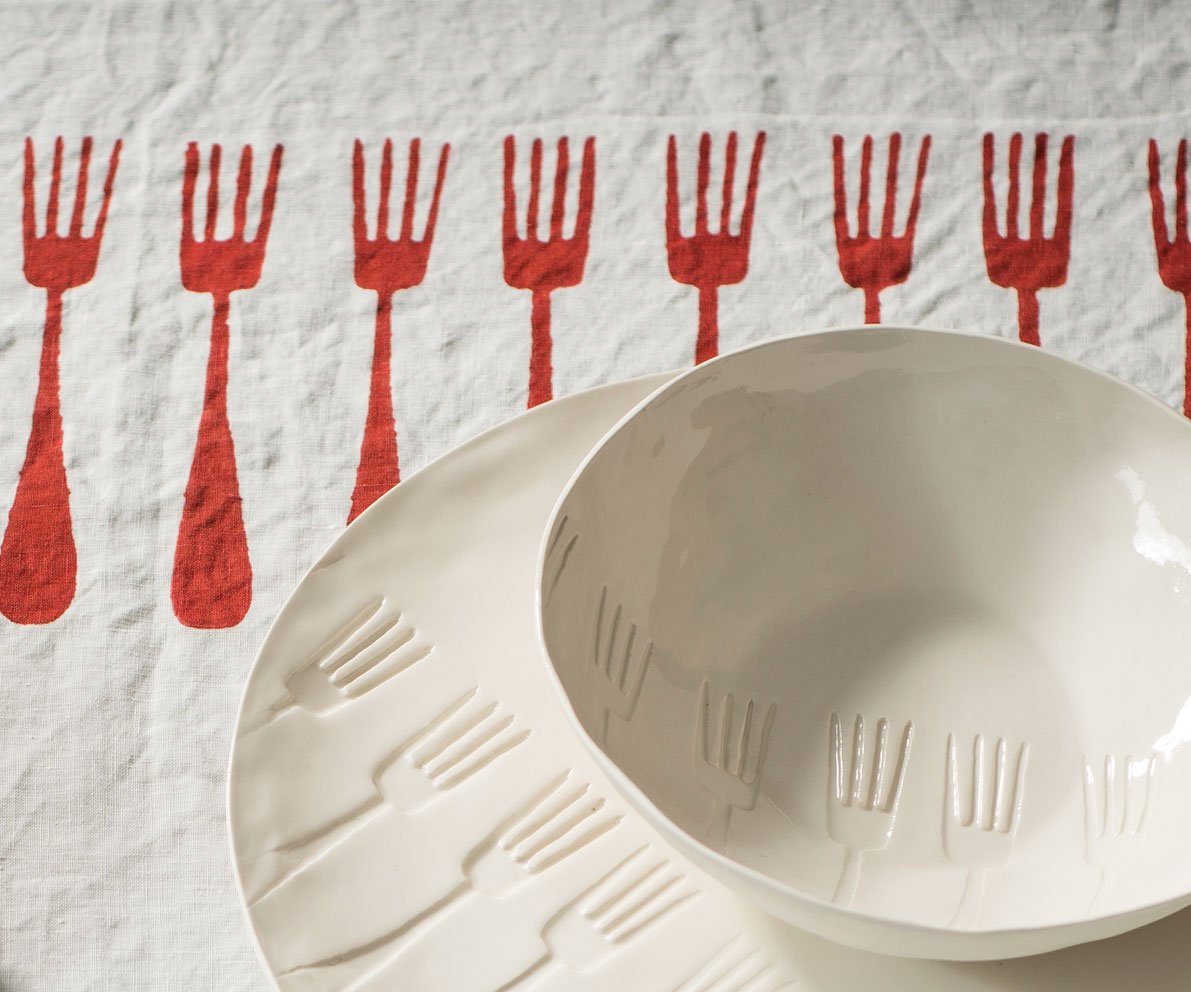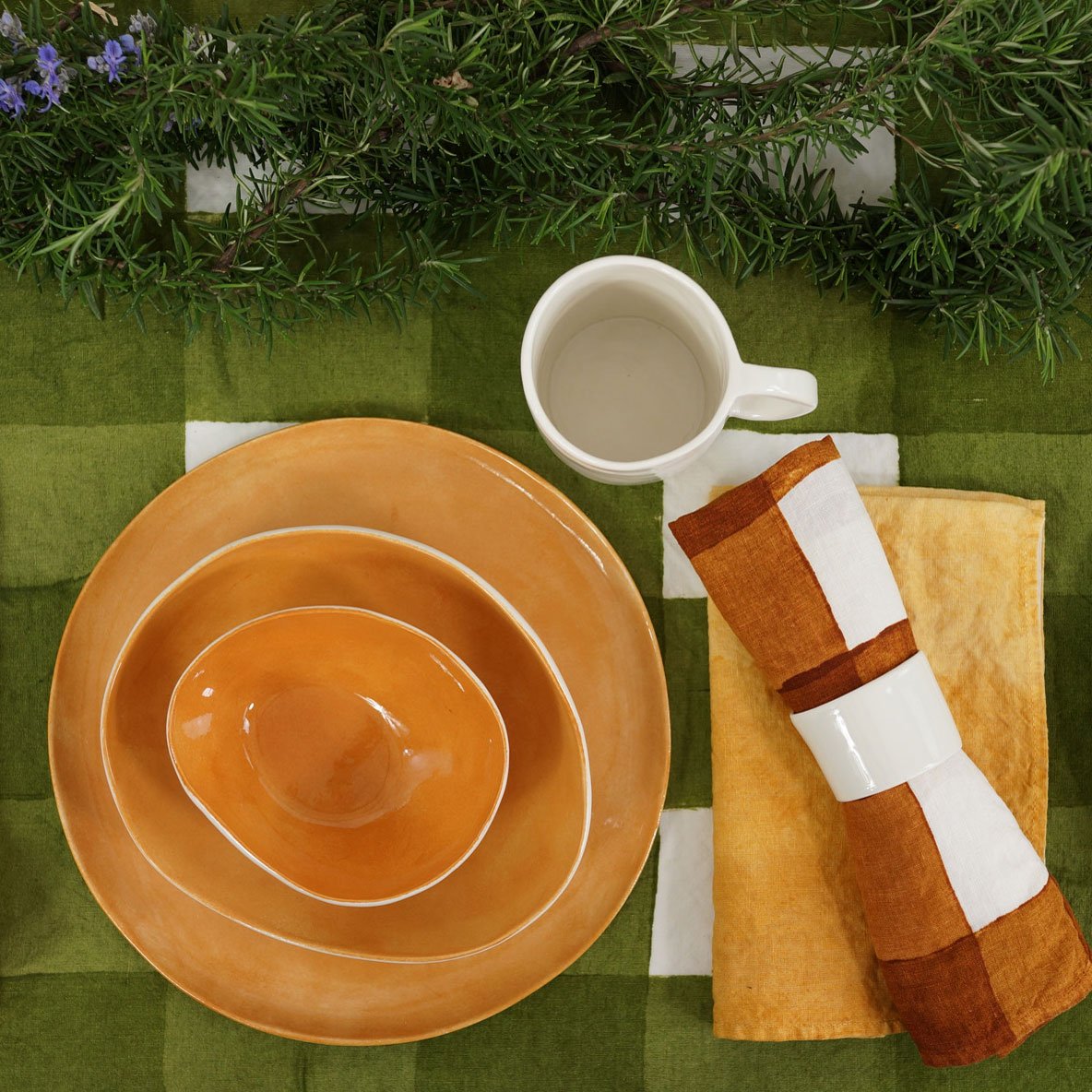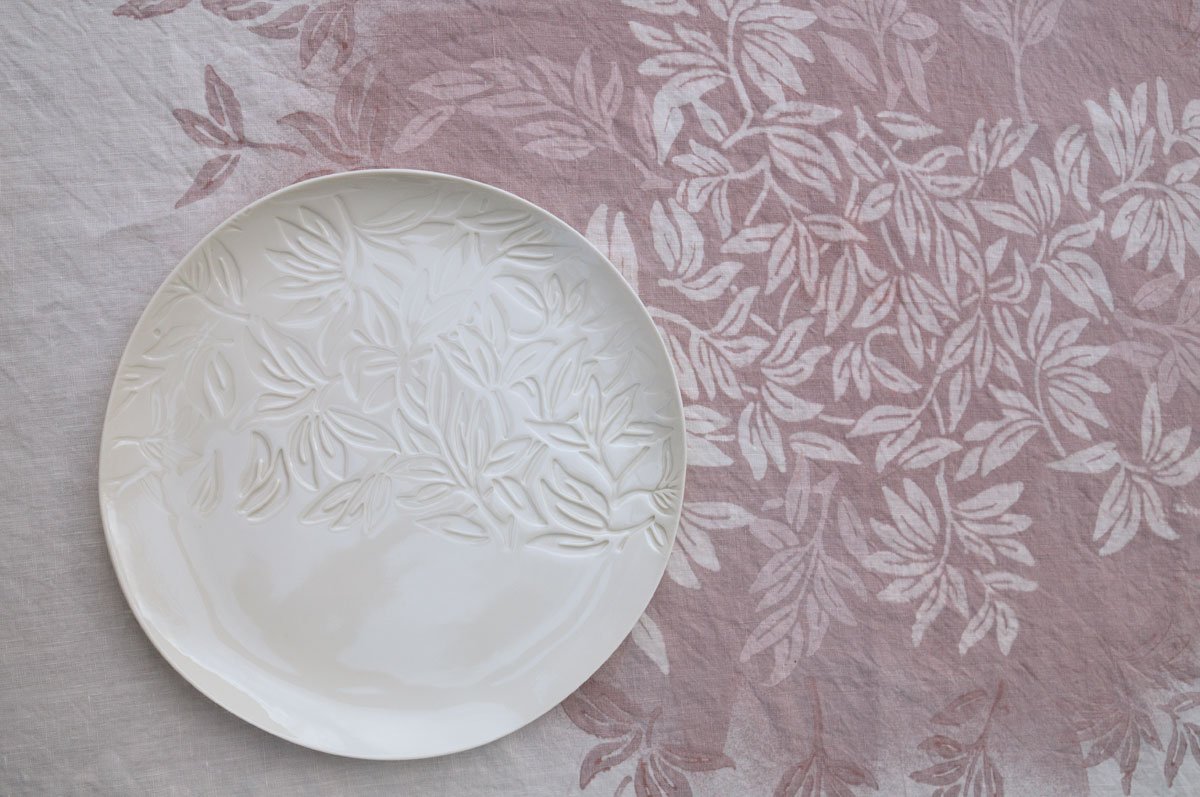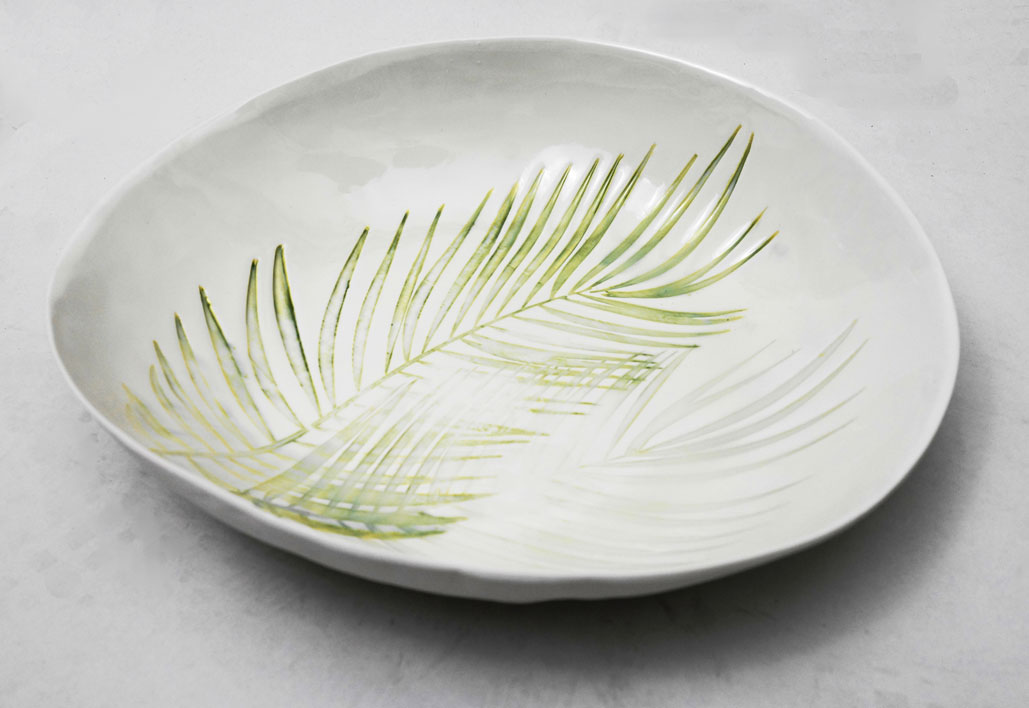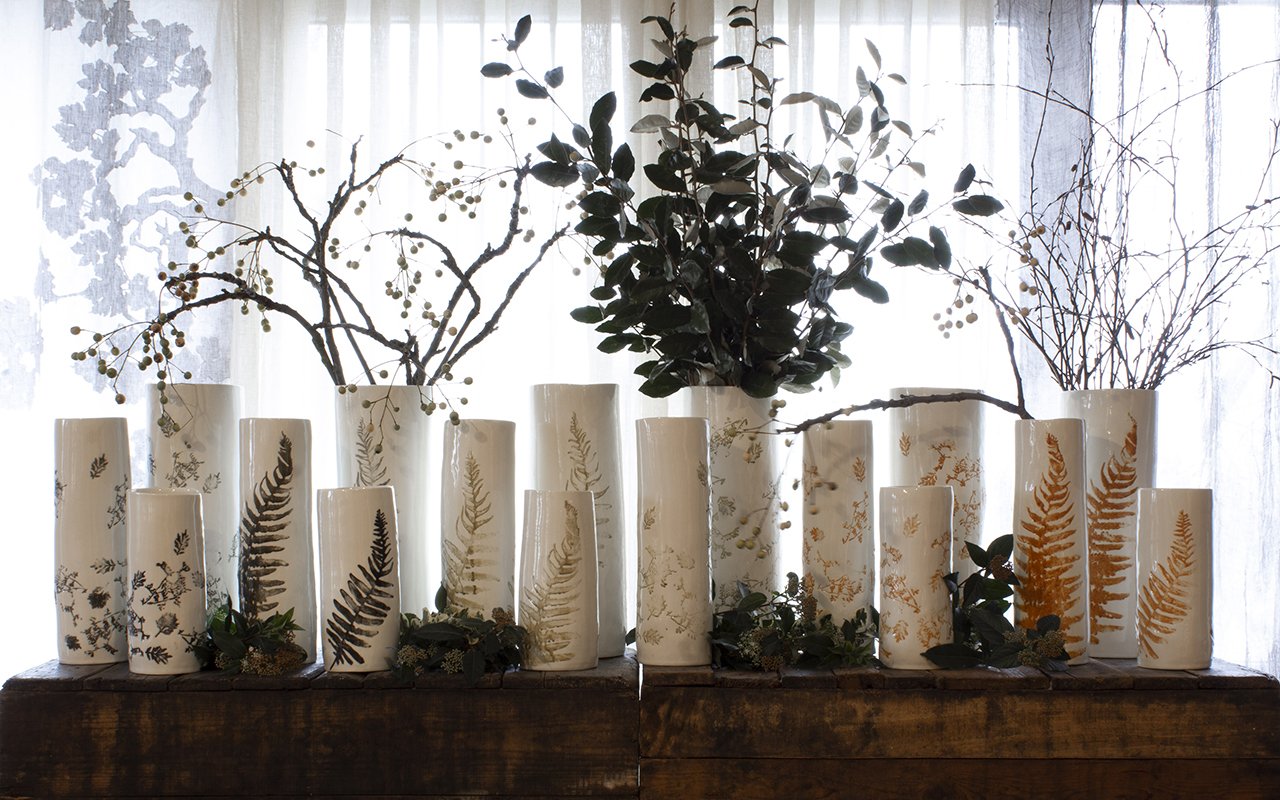 Tablecloths
Bespoke linen tablecloths are the starting point for an idea and style that can run throughout your table setting. Our beautiful tablecloths can be produced in a selection of hand-printed and hand-painted designs, sizes, shapes and washes just for you and can match perfectly with our handmade porcelain pieces. Explore bespoke linen tablecloths.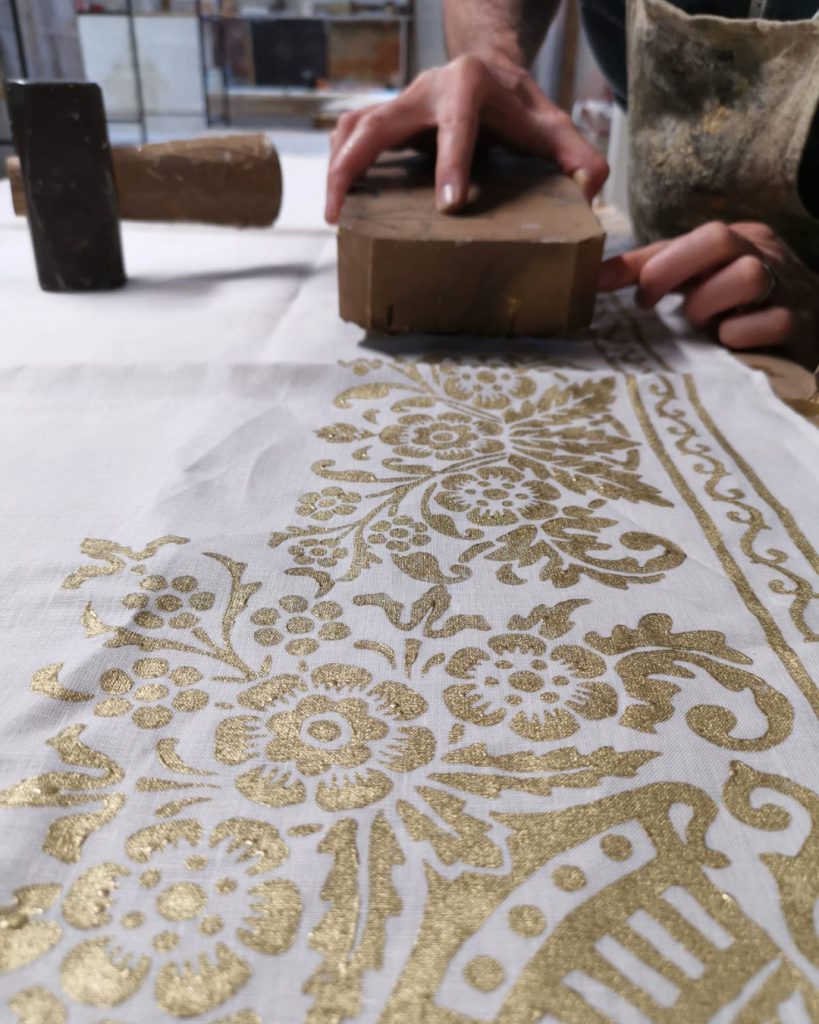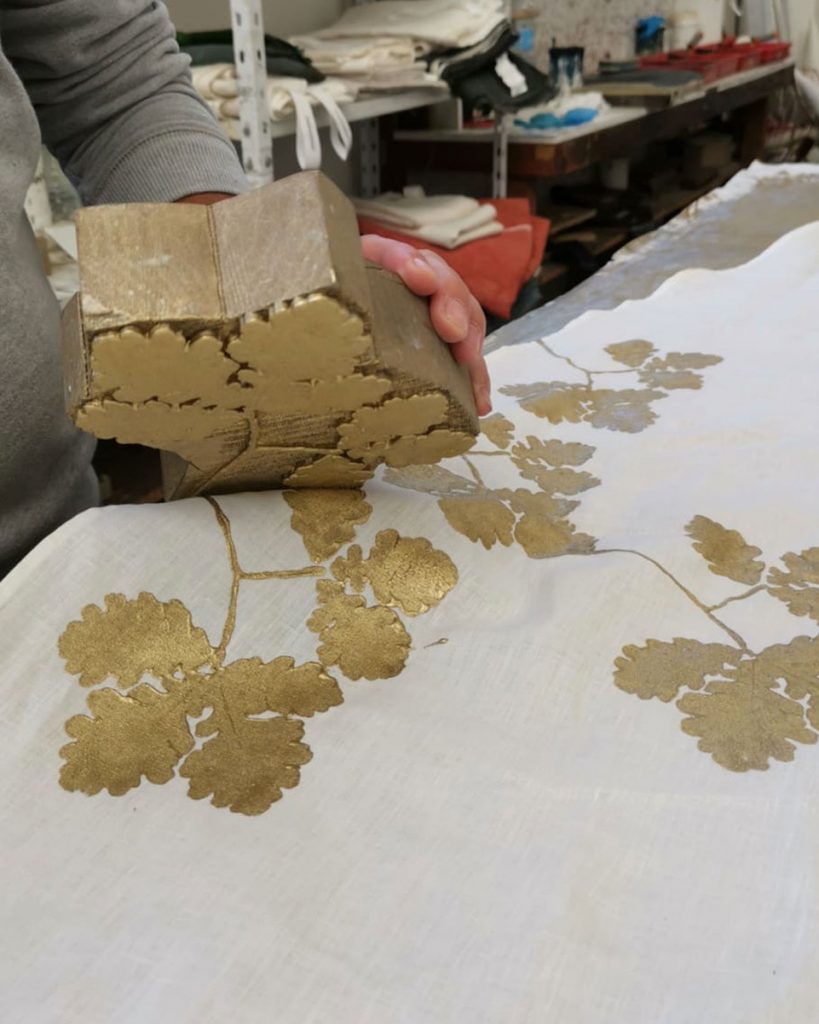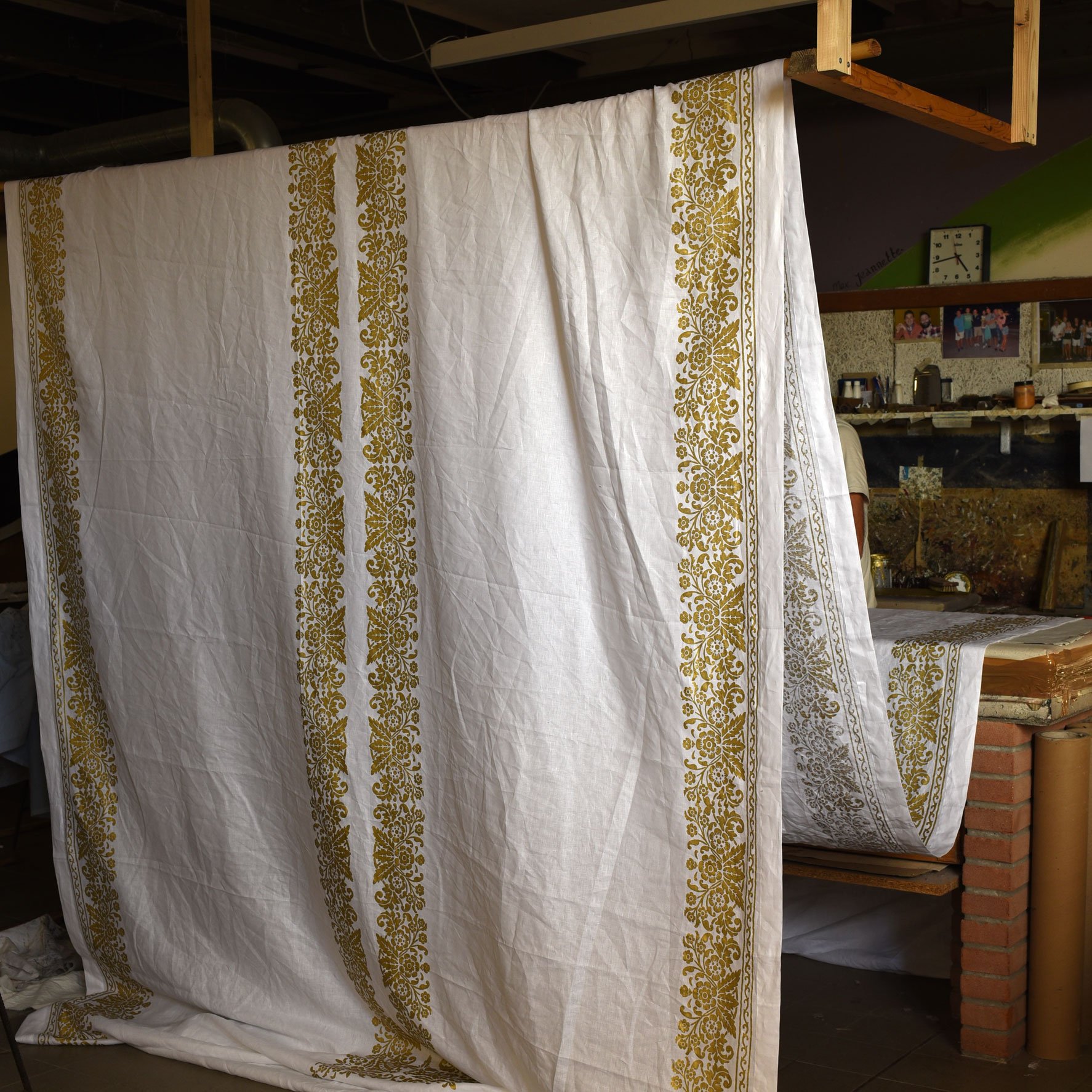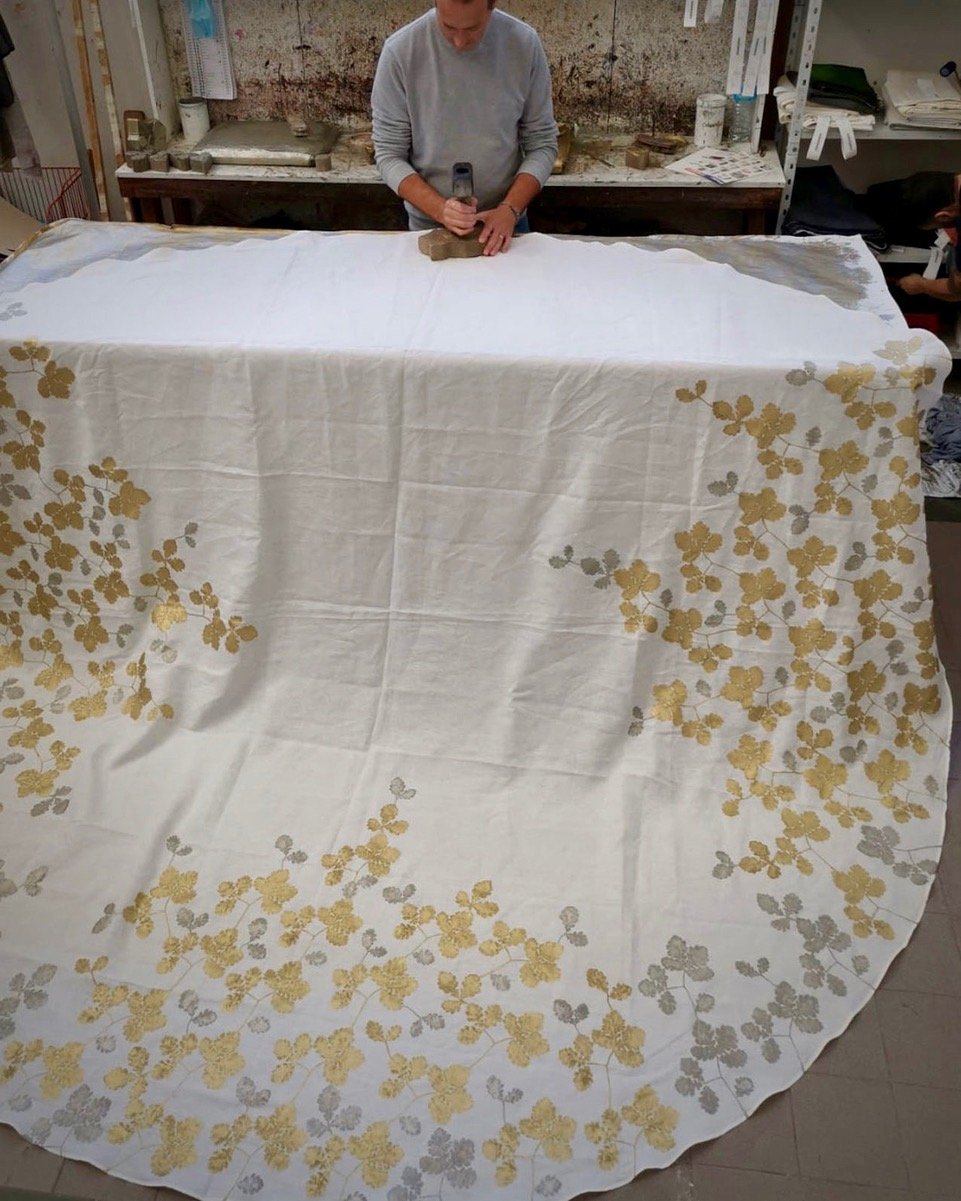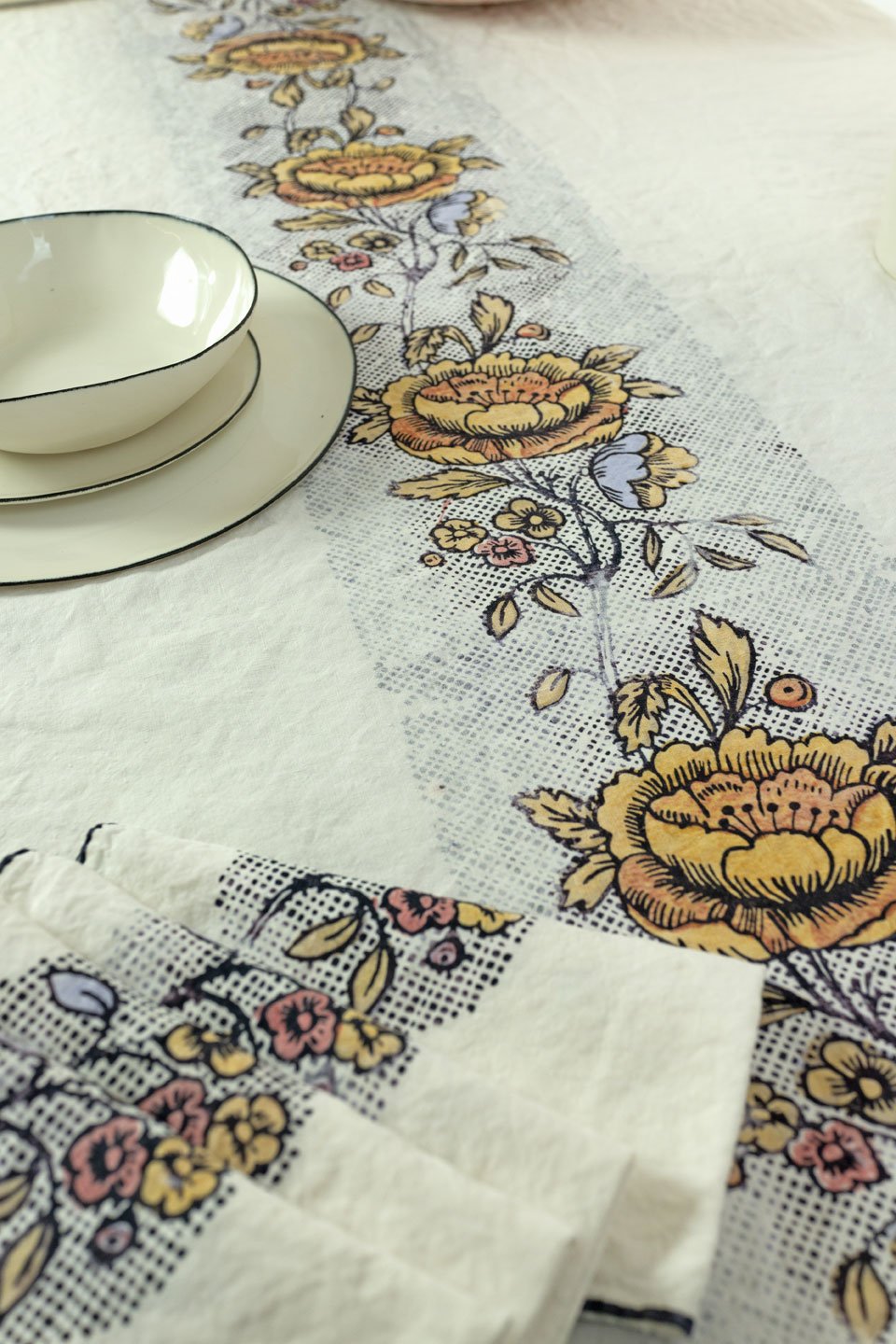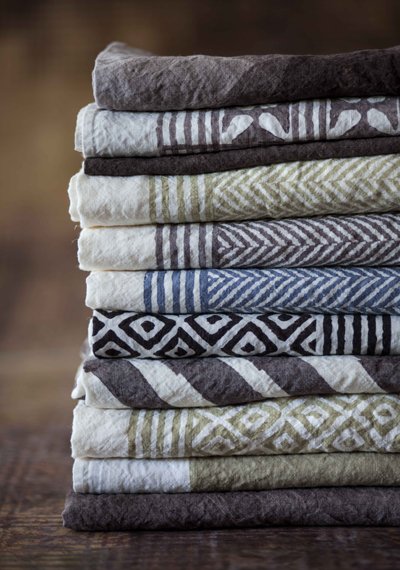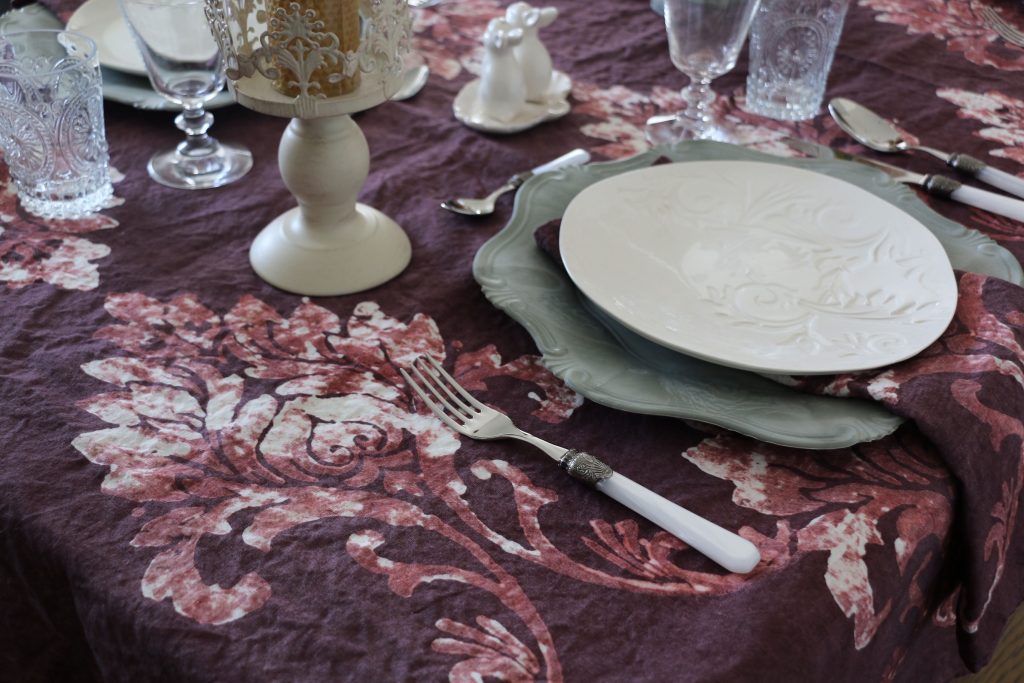 Bed Linen
Bespoke linen bedding sets can be specially designed for you to make a harmonious, coherent theme for your bedroom. Much like our tablecloths, our made-to-measure linen bedding can be sized and shaped to your requirements meaning that no bed is too big or small for our artisans. Our fabrics and finishes include both contemporary elements and more traditional stylings for any taste and decor. Be inspired with our bespoke linen bedding.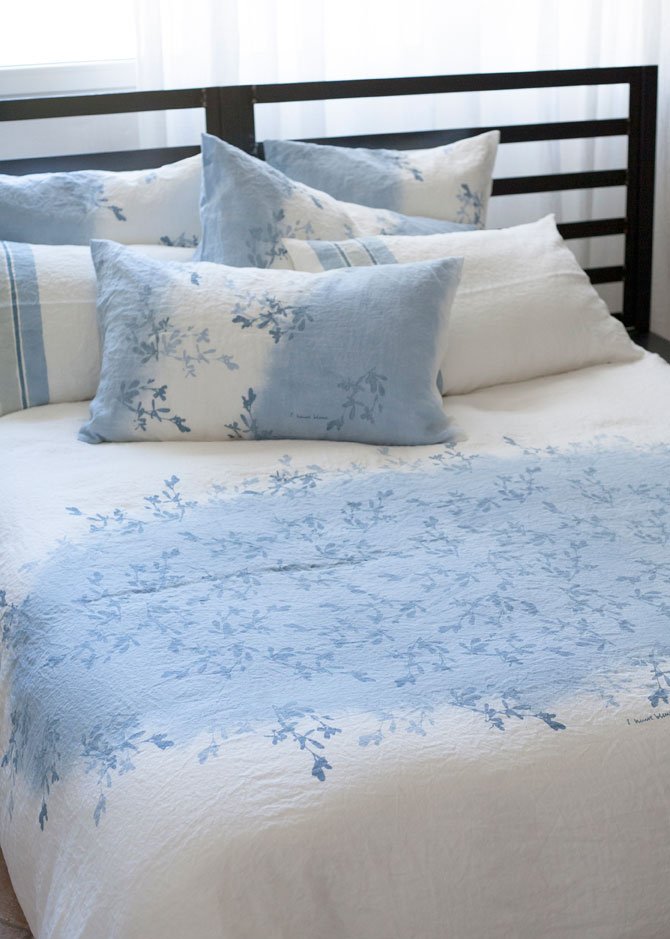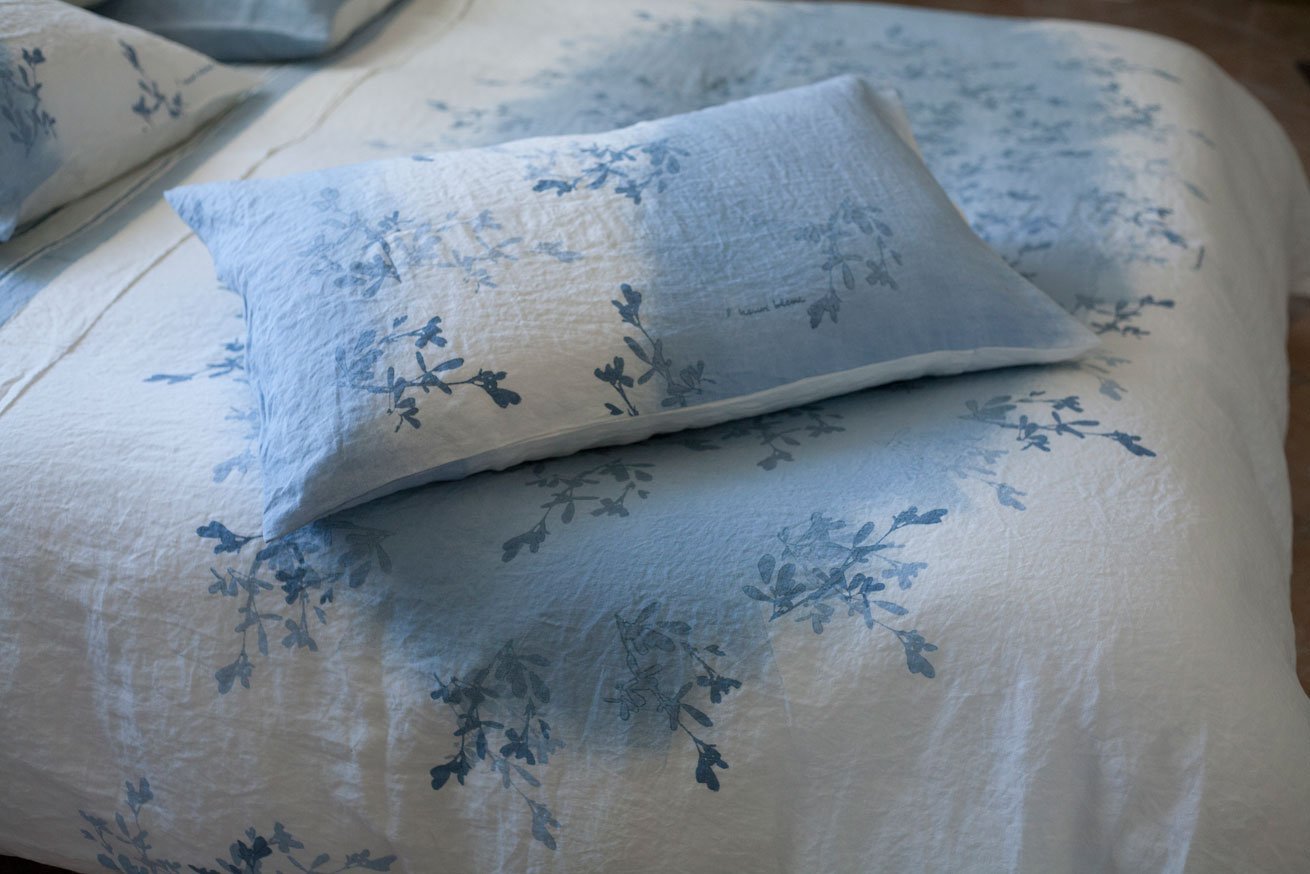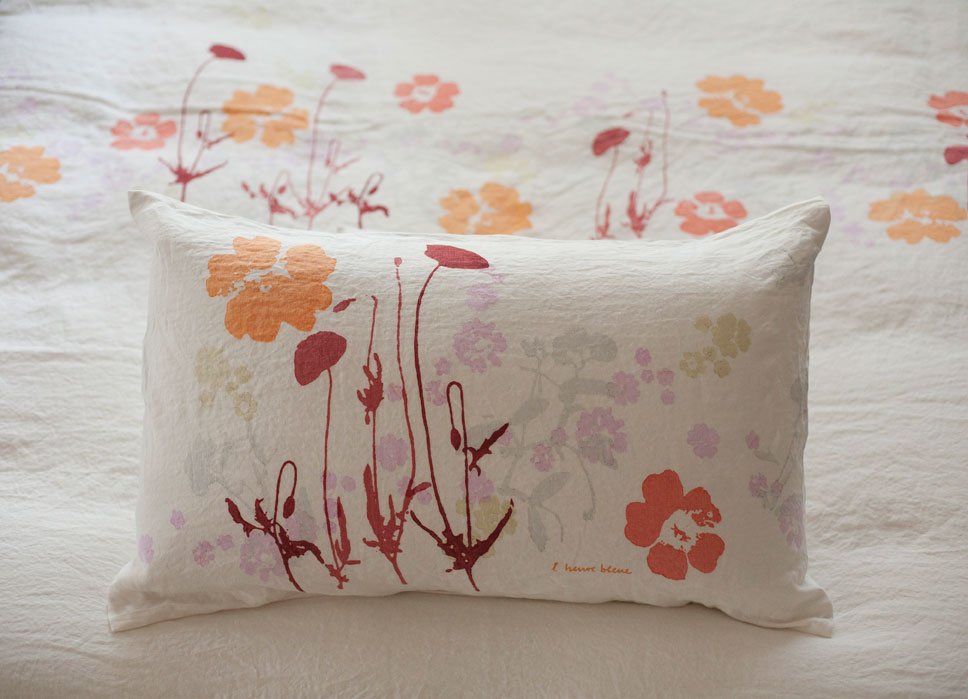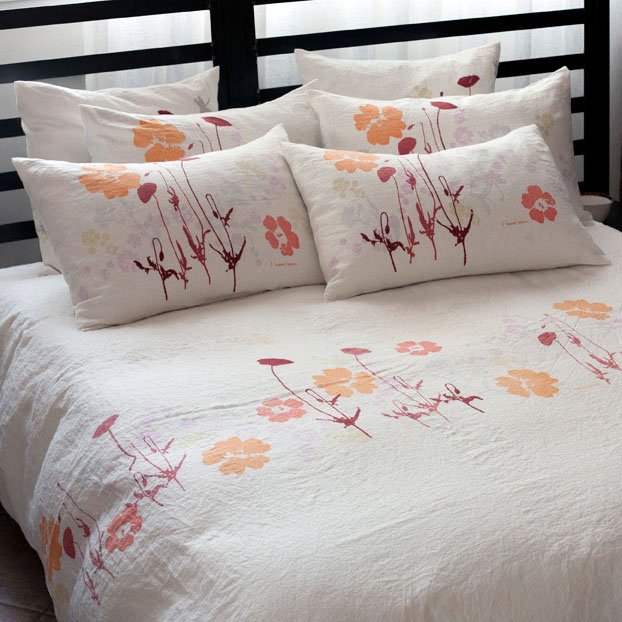 Throws/Blankets
Handmade linen throws and blankets add a finishing touch to your home. Simply drape over a sofa or bed to instantly refresh any room. If you already have an idea in mind or need some inspiration, we can assist you to make a soft, comforting bespoke linen throw or blanket available in a fine selection of natural fabrics. However you choose, we offer a rich variety to suit any taste.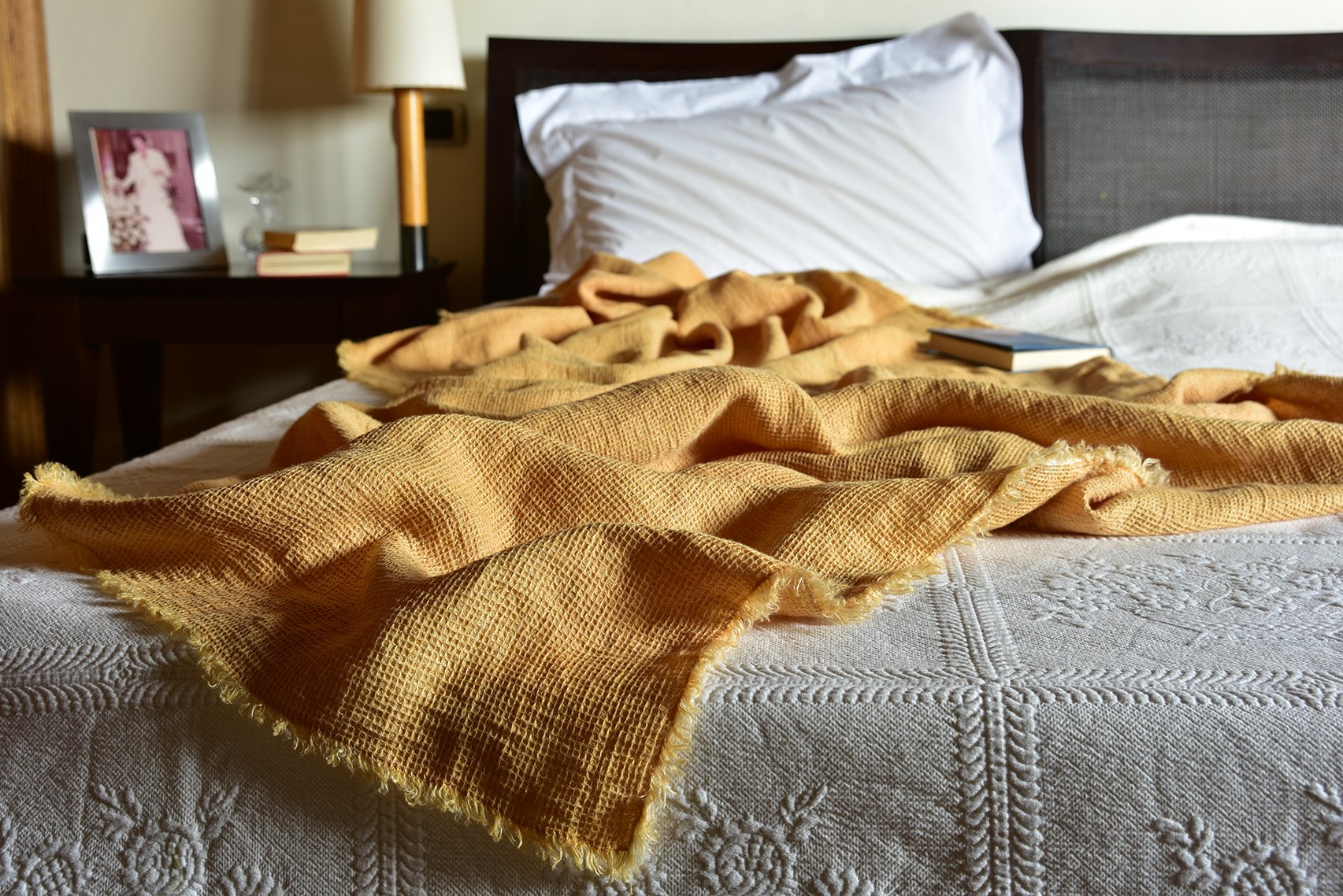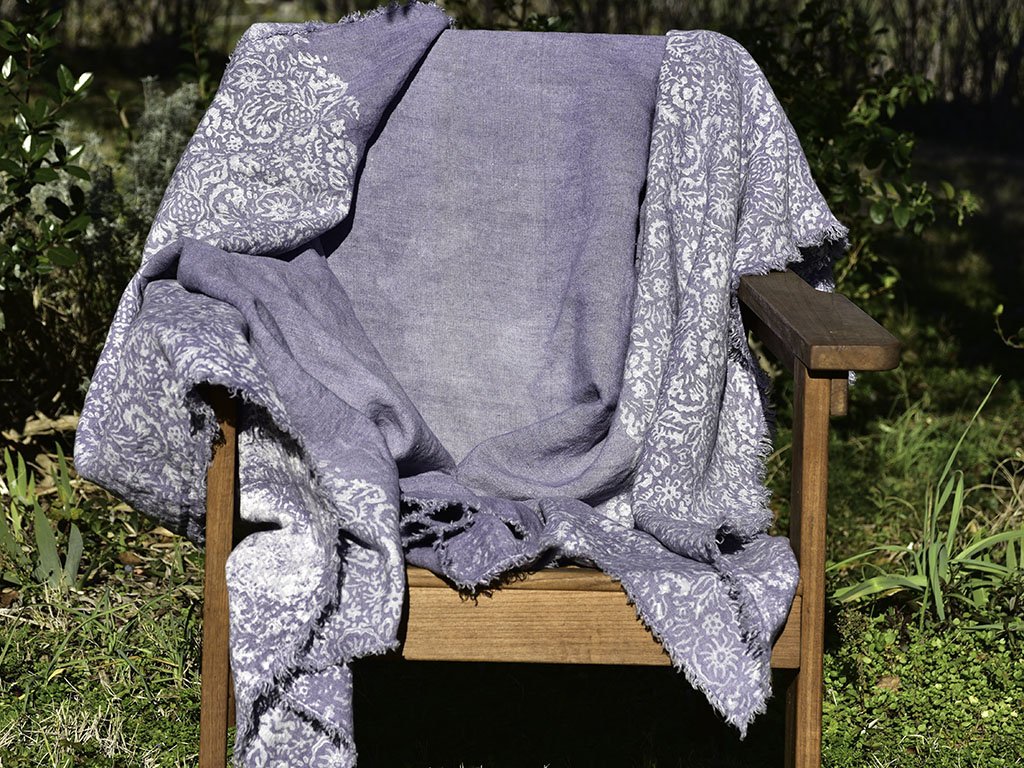 Curtains
Bespoke curtains are a simple way to change and revitalise your decor and inspire you to create a look tailored to your own style and can be decorated by hand or naturally plain. Available in a range of fabrics and weights our bespoke curtains can be made to order for any room in your home.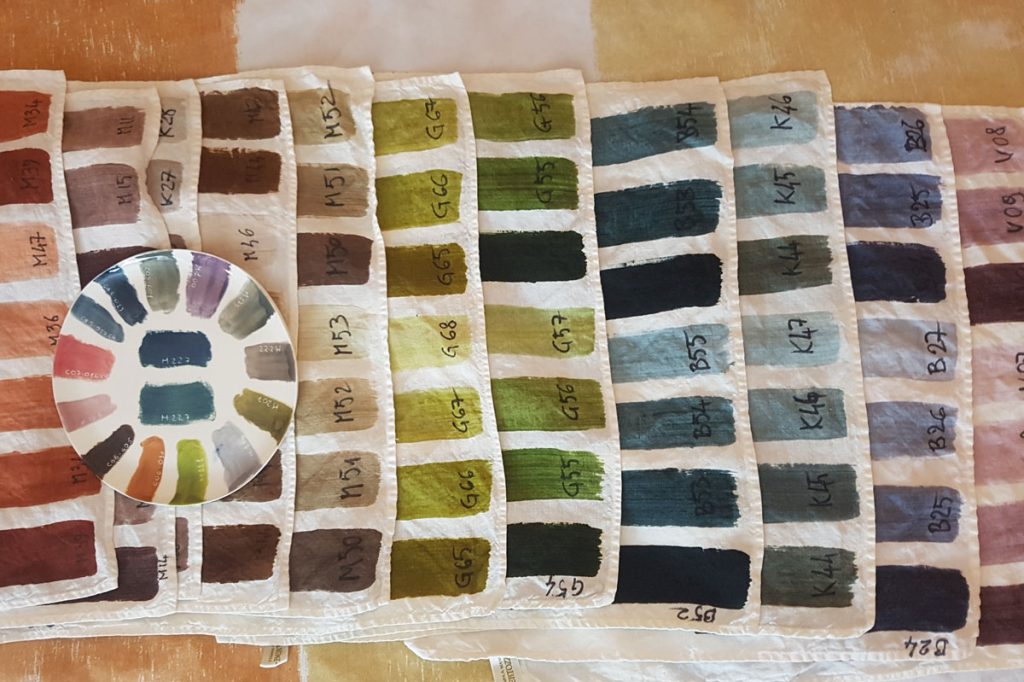 Fabrics
We have a generous range of fabrics, including different types of linen, hemp and cotton, to help you create the perfect piece for your home. We assist you in selecting the perfect colour and pattern for the look you want to achieve anywhere in your home. Discover our choice of linen fabrics their specifications and uses.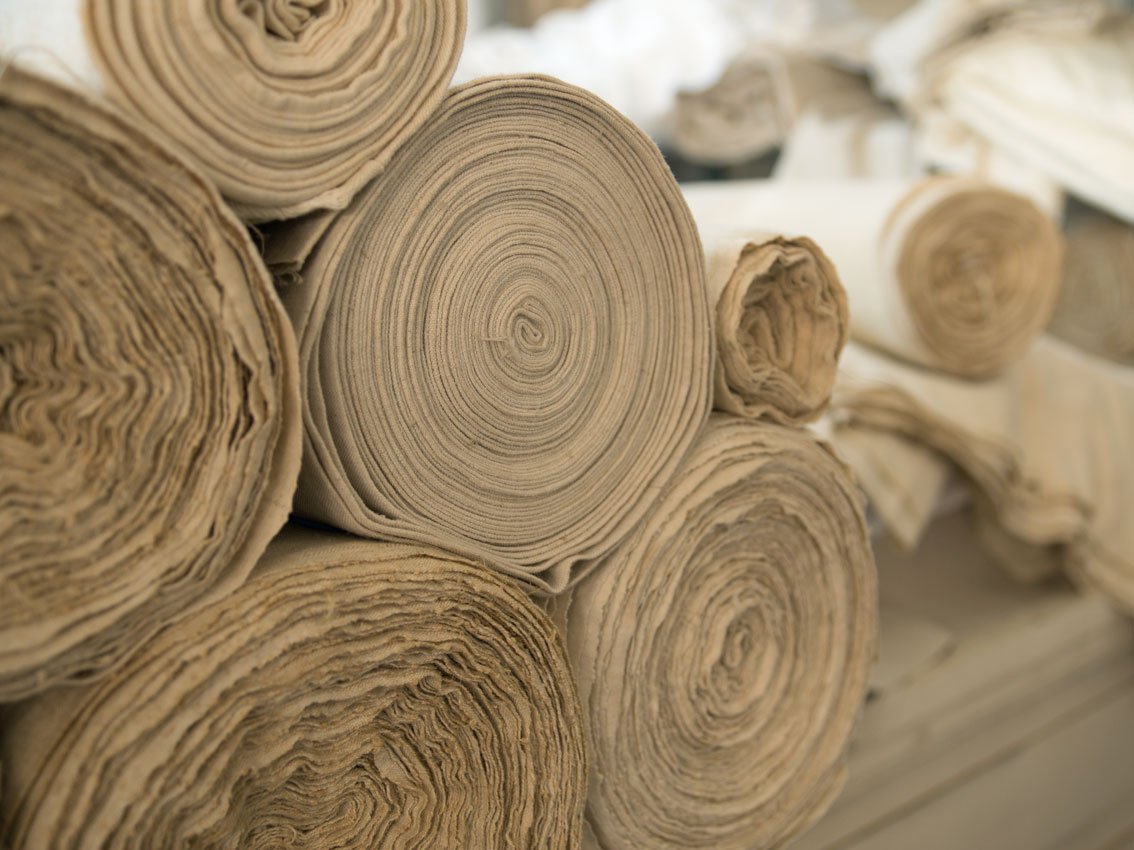 Have you been inspired by our bespoke collections? For more ideas and design options, visit our gallery. Get in touch with AIIÓRA to discuss your concepts and requirements via [email protected] or on +44 (0)20 3701 4076.