Fabrics
Traditionally hand-woven on looms using techniques that date back centuries, our collection of rich Italian linen fabrics has been selected for both their excellence and quality. The beauty of the fabrics can also be found in their natural colours – creams, off-whites and beiges.
Our linen fabric is one of a kind, made from the finest Italian linen, and comes in a range of forms and styles. From canapone to canvas and suitable for use for everything from clothing to table dressings, here you can find the linen fabric which best suits your specific needs. Hailing from the workshops of Italy, each textile below has been sourced from flax plant fibres and expertly hand-woven into wonderfully durable fabrics that stand the test of time.
Your choices are not, however, limited to our linen collection. We also provide a selection of cotton fabrics. Whether you prefer it waffled or herringbone, this soft, breathable material has been made using organic cotton that has been spun into yarn and then woven by the artisans of Italy into your desired luxury fabric.
In addition to this, we offer hemp fabric options; both hemp linen and vintage hemp linen. A highly eco-friendly textile, hemp linen is the ultimate combination of strong and soft, and can be suitable for many things from tablecloths to garments.
Sold by the metre or as finished pieces, we have a large range of organic fabrics including hemp, linen and cotton which can be purchased according to size. You can choose from plain fabrics with no decoration or, should you wish, fabrics with hand-painted motifs and/or hand-printed designs.
All sustainably produced and sourced, our beautiful array of fabrics is the perfect addition to your interior project and can be used across upholstery, curtains and soft furnishings.
Explore our selection of pieces and their usage below. For more technical information and to discuss your requirements, speak to AIIÓRA. We would be delighted to help you. Get in touch with AIIÓRA to discuss your ideas via [email protected] or on +44 (0)20 3701 4076.
Linen 500 Fabric
This fabric is most suitable for table linen, kitchen linen, bed linen, curtains and blinds. This soft yet durable, thermoregulating fabric works extremely well for household items of daily use and clothing.
Maximum width: 280cm Weight: 200gr /mq
Suitable for: Table linen, Kitchen linen, Bed linen, Curtains & Blinds
Available in: Dark grey, Light grey, Natural, Optical white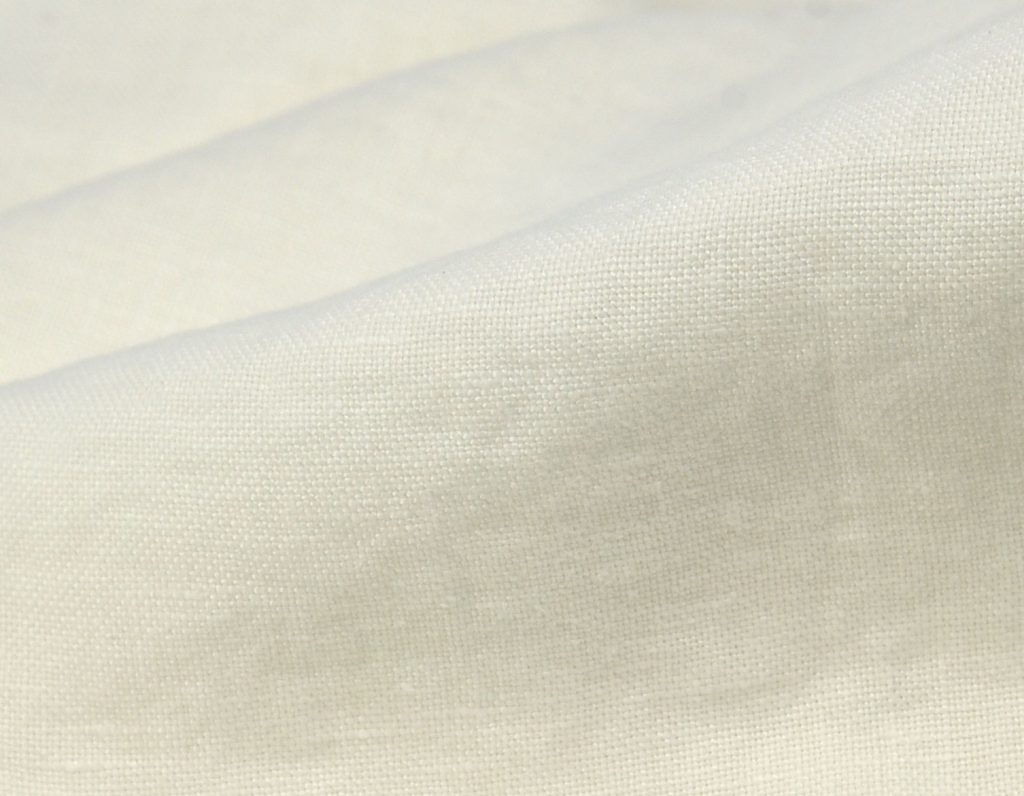 Canvas Linen Fabric
A robust, highly durable fabric, this Italian linen is great for towels, cushion covers, throws, curtains, bags and other items where sturdiness is valued.
Maximum width: 280cm Weight: 400gr /mq
Suitable for: Towels, Cushion covers, Throws, Curtains & Blinds
Canapone Linen Fabric
This fabric features a fine yet full-bodied weave. Ideally, this luxury Italian linen would be used for curtains and blinds, cushion covers, decorative throws or for furniture upholstery.
Maximum width: 280cm Weight: 500gr /mq
Suitable for: Curtains & Blinds, Cushion covers, Throws
Waffled Linen Fabric
This linen gets its name from the fabric's woven pattern, which is created by cords running vertically and horizontally creating a satisfying square design. It best suits throws and bath linen.
Maximum width: 280cm Weight: 230gr /mq
Suitable for: Bath linen, Throws
Thick Hemp Linen Fabric
Originating from the non-intoxicating stalk of the cannabis sativa plant, hemp linen is a staple fabric. Suitable for cushion covers and throws, this fabric is incredibly soft and breathable, despite its thickness.
Maximum width: 140cm Weight: 600gr /mq
Suitable for: Cushion covers, Throws
Vintage Hemp Linen Fabric
A beautiful, superior quality linen fabric, this Italian linen was hand-woven by master weavers over 75 years ago, making the fabric extremely rare and a special find. Our vintage hemp linen is suitable for so many of your needs; table linen, kitchen linen, blinds and cushion covers to name a few.
Maximum width: 70cm     Weight: 400gr /mq
Suitable for: Table linen, Kitchen linen, Blinds, Cushion covers, Throws
Waffled Cotton Fabric
This extremely soft, yet hard-wearing fabric features a recessed square pattern that gives the fabric its name. The weaving technique traps warm air, making it cosy and comfortable – the perfect fabric for bath cloths or throws.
Suitable for: Bath linen, Throws
Herringbone Blended Cotton Fabric
This fabric's fibres have been blended with linen to give it more strength and durability than pure cotton fabric. The cotton-linen blend is highly air-permeable, meaning that it soaks up moisture from the skin quickly.
Suitable for: Table linen, Bath linen
Available in: Off-white, Natural
Herringbone Cotton Fabric
Herringbone is the name that describes the distinctive v-shaped weave pattern of this fabric. The fabric can be seen used in clothing all over the world, but it can also make very beautiful tableware and bath towels. Possessing great depth and with a gracious feel to it, this textile enables you to add dimension and class to whatever you use it for.
Suitable for: Table linen, Bath linen
Available in: Off-white, Natural