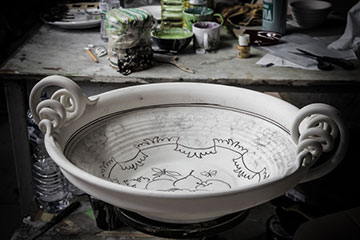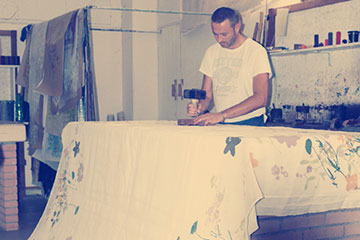 At AllÓRA, we want to help you find beautiful Italian artisan creations that reflect your individual personality and the special character of your home. Or perhaps those of your closest friends and family. That's why we offer a bespoke service, so that you can talk to us about what you're looking for – and we can arrange for the artisans to craft it especially for you.
It is a wonderful feeling to own pieces of bespoke unique glassware, bespoke leather bags, bespoke unique linen, or some very special Italian unique ceramics artworks.
And we are always more than happy to help you in any way we can.
For example, we can arrange for the artisan to hand-paint someone's name into a truly bespoke unique glassware item – just for you. We can also arrange for them to craft unique ceramics creations for you – made to measure at a size of your choosing. Or you can ask us to provide bespoke leather bags with a message hand-printed inside the bag – a handcrafted Italian artisan design that cannot be sourced from anywhere else in the world.
These will all make a truly exceptional – and genuinely one-of-a-kind – present for a loved one. The most distinctive, individual and personal gift imaginable.
In another example, our artisans created a made-to-measure tablecloth that was designed and crafted to fit perfectly into a client's home. As you see from the picture above, this tablecloth was of an especially rare – and large! – size. Theirs was a table that could only be catered for with a bespoke item.
Our ceramicists have also created the very special ornamental bowls that you see above. So they can design and craft unique ceramics for you, to sizes that fit your individual specifications.
If you have had an idea, or been inspired by an item that you have seen anywhere – we would be fascinated to talk to you about it. The possibilities are almost endless…