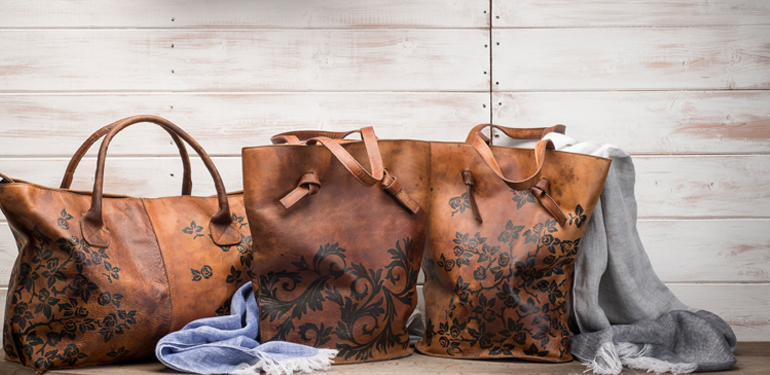 Every one of Stamperia Bertozzi's luxury leather bags is lovingly handmade from original Tuscan vegetable-tanned leather. So each of these artisan leather bags is truly unique. The leather is hand printed in the Emilia-Romagna region of Italy using Bertozzi's traditional handprinting technique, using hand-carved blocks of pear wood – which are a work of art in its own right. Highly skilled craftsmen then individually assemble each of these Italian handmade leather bags in Tuscany.
It is the joint work of these three traditional techniques, alongside the skills of the artisans who take care of each stage, which gives rise to such rare and strong luxury leather bags. Bertozzi artisan leather bags are all timeless items that offer all the pleasure and beauty you would expect from such an exquisitely crafted Italian artisan creation.
Vegetable tanning is an artisan tradition that the tanneries associated to the Genuine Italian Vegetable Tanned Leather Consortium have passed down in their families for over 200 years. Taking place slowly inside wooden drums, with full respect for the environment, this process uses natural tannins extracted from chestnut or Argentinian quebracho trees. Nearly 40 days are needed to transform the raw hides into the beautiful, unique leathers you see today. Vegetable-tanned leather is immediately distinguishable from leather using other methods.
No products were found matching your selection.