Very few natural fabrics carry the same natural charm as linen. Widely regarded as the most outstanding quality fabric available, it has long been favoured by older and younger generations due to its amazing properties and longevity.
As the first fibre ever used to weave fabric, linen's lifespan dates back over 8,000 years. Since then, it has gone from being a commonly found material to a luxurious, acclaimed fabric, owing to the laborious, manual processes and time needed to produce its yarn.
As you will see through our range of 100% linen products, at AIIÓRA, we are huge advocates of linen's use in every room of the home. In this blog, we will assess its features and benefits, explore its uses, and explain why we believe it to be the best material for your luxury homeware.
1. Beautiful, elegant tablecloths and more
Perhaps the most abundantly apparent, visible benefit that sets linen items apart from cotton, silk, and other alternative fabrics is their decorativeness, which brings sheer elegance to any occasion with ease.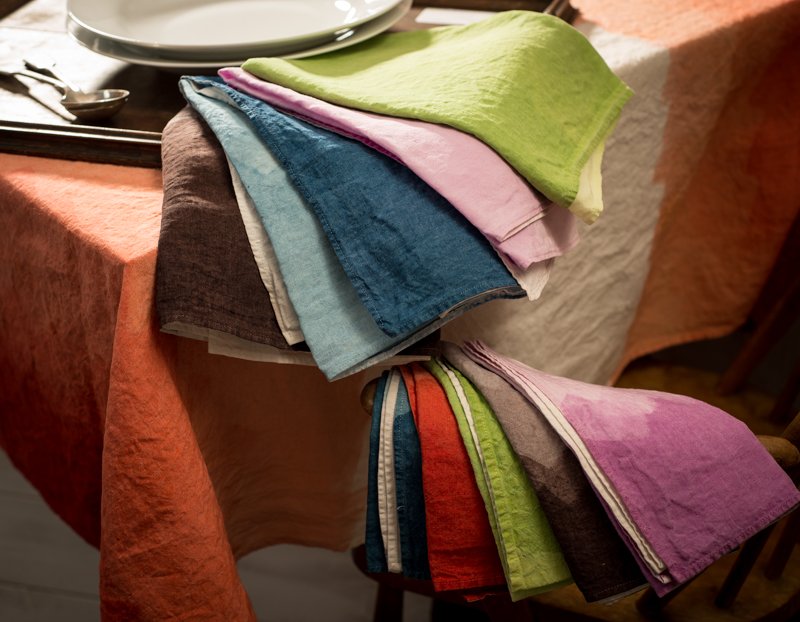 Our range of napkins, aprons, bath linen, bed linen and more are each intricately crafted to perfection, but our true highlights are our linen tablecloths, which effortlessly transform any table or dining setting into spaces fit for the most intimate of dining experiences.
Our table linen is created by Italy-based artisans who use ancient crafting methods such as hand weaving using shuttle looms, hand printing using hand-carved blocks of pear wood, or hand painting. By combining these with their contemporary artistic influences, these skilled craftspeople produce intricate designs (including floral, jacquard, and bespoke patterns) to create timeless, beautiful tablecloths and more that are guaranteed to light up the table and the room.
2. Care has been taken with every thread
Whether you are looking for tablecloths, cushion covers, placemats, tea towels or something else, you have likely found options comprised of other natural fibres, such as cotton, and synthetic textile blends, including lace, silk, polyester and more.
Whilst these may be quality items in their own right, the level of complex care and detail put into every thread of our artisanally designed products offers our linen options a competitive edge.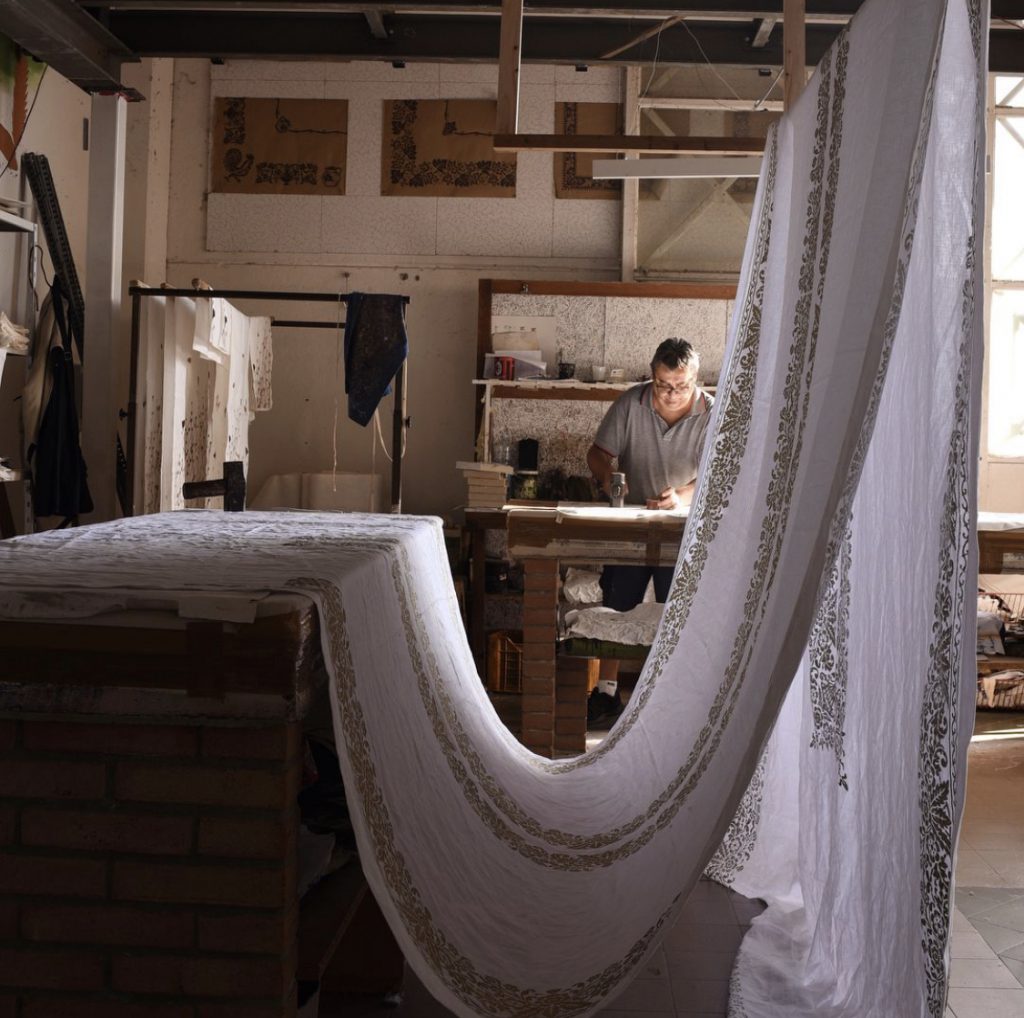 Our Italian artisans bring the highest quality Italian linen to the UK, ensuring that authenticity, passion and craftsmanship are paramount. Each product is entirely handmade and unique to the next and will be unlike any other.
3. Excellent for a good night's sleep
A distinct texture, natural wrinkles and delightful softness make linen bedding the perfect companion at nighttime. The ideal place to relax and get some shut-eye after a long day, these duvet covers and bed sets composed are incredibly cosy.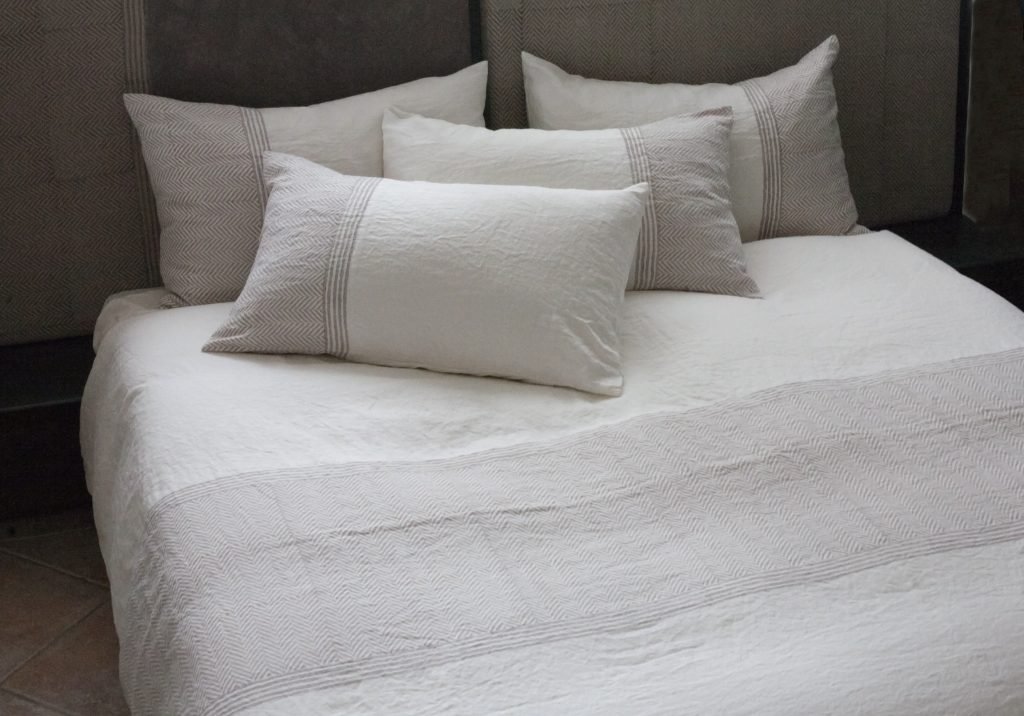 Young children, babies, people with sensitive skin, and just about everyone will benefit from their natural anti-allergic qualities. As they are additionally anti-static and mite resistant, all sleepers' comfort is guaranteed that much further.
It is bacteria resistant, ventilating, moisture-wicking, and more – evidently, linen fabric could not have been better designed for sleeping on!
4. Can keep you both cool and warm
Linen clothing is celebrated for its breathable nature, which is why people wear linen clothing during the summer months, and linen aprons when cooking in a high-temperature kitchen. The fibres of flax that make up linen clothes and bed sheets are naturally permeable, allowing air to flow between each thread.
Their moisture-wicking benefits also help to pull perspiration away from the skin to regulate temperature. In the summer months, linen clothes and bed sheets can be a blessing, as a wearer (or sleeper!) will feel 3°-4°C cooler than those using cotton or silk.
However, it may be a surprise to many that linen is also extremely functional during the winter months. Being formed by hollow flax fibres, it is a natural insulator. By conducting heat from your body, you will be kept warm whilst sleeping on one of our 
linen cushion covers
 or 
linen bed sets
, or wearing one of our 
linen scarves
.
5. Easy to care for
Due to their uses, most linen items will receive marks and spoils at some point. Aprons may get splashed with food whilst cooking, tablecloths and table runners may get stained whilst serving, and of course, napkins and tea towels were designed to get messy! No matter their purpose, these items will require regular washing, and you will need to take care whilst doing so to keep them performing their best.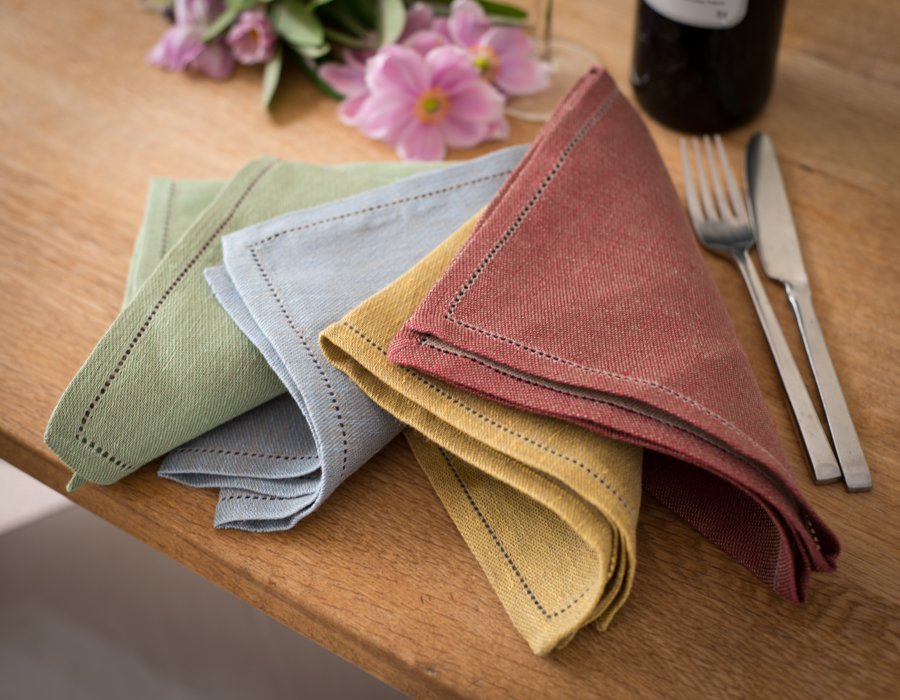 Fortunately, all of our linen items are entirely machine washable and very simple to care for. What's more, they will not lose quality by washing – they will become softer and even more absorbent with each wash.
You can iron linen by using a medium-hot iron on the steam setting while the fabric is damp, but natural creases and crumples in table linen are desired, as they offer a stonewashed, authentic look.
6. Durability and longevity
Due to its construction from robust flax, linen is largely considered the strongest natural fibre in the world. It is twice as thick and durable as cotton and launders extremely well, making items made from this material incredibly long-lasting. Its sturdy, durable qualities combined with its ornate, valuable nature ensure that tablecloths, bedding, and all other types of items made of linen are likely to remain in a family as heirlooms for many years. As such, any purchase of a linen item is certainly a smart investment.
7. Unrivalled absorbency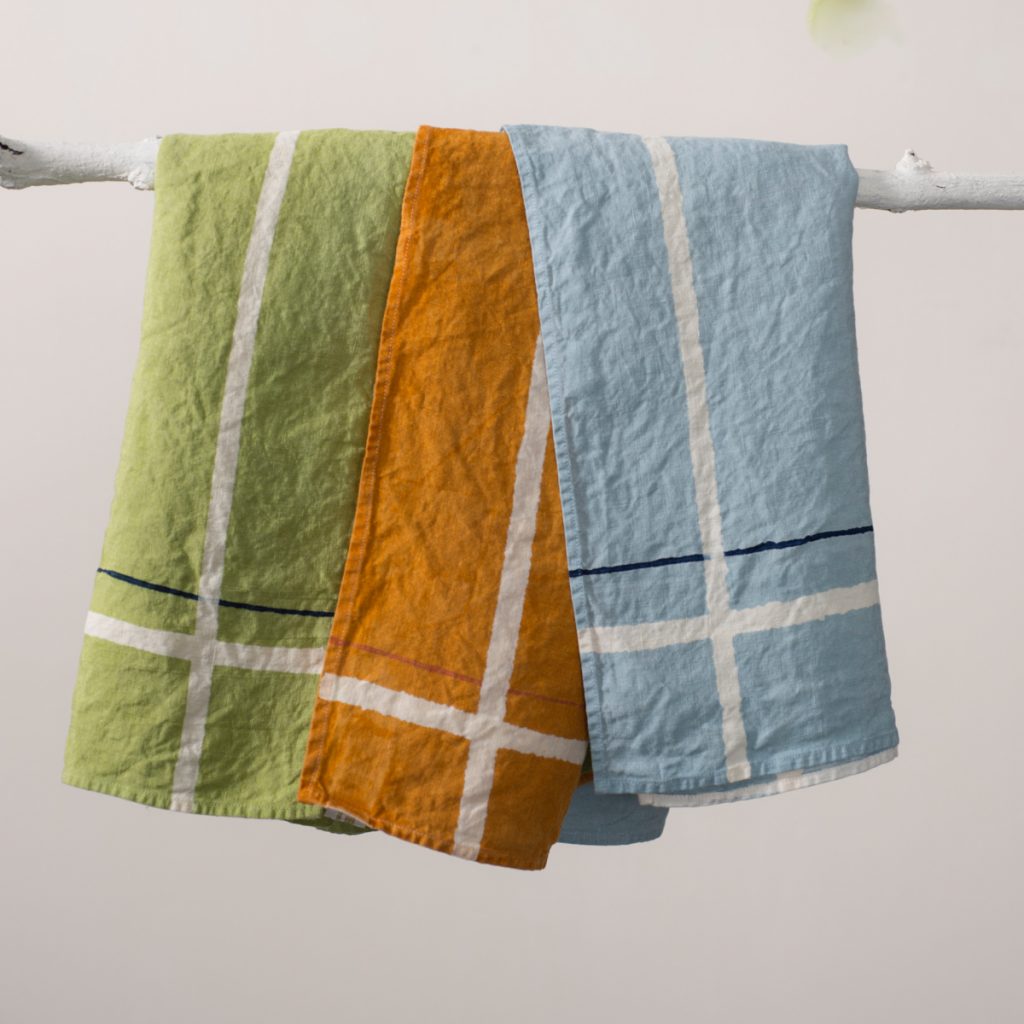 Linen is an extremely absorbent material. The fact that it can absorb up to 20% of its weight in moisture before it begins to feel damp is extremely important, as most of linen homeware's purposes involve coming into contact with water in some form. From drying tableware and cookware with tea towels to drying your body with bath towels, linen's absorbency can help with so many things around the house – the possibilities really are endless!
8. Quick drying, with antibacterial qualities
As tea towels, tablecloths, napkins and the majority of other linen items are highly likely to come into contact with water and other liquids, they must dry quickly. Much like other natural fabrics such as cotton, linen is exceptionally breathable, and this airflow allows the cloth to dry very quickly.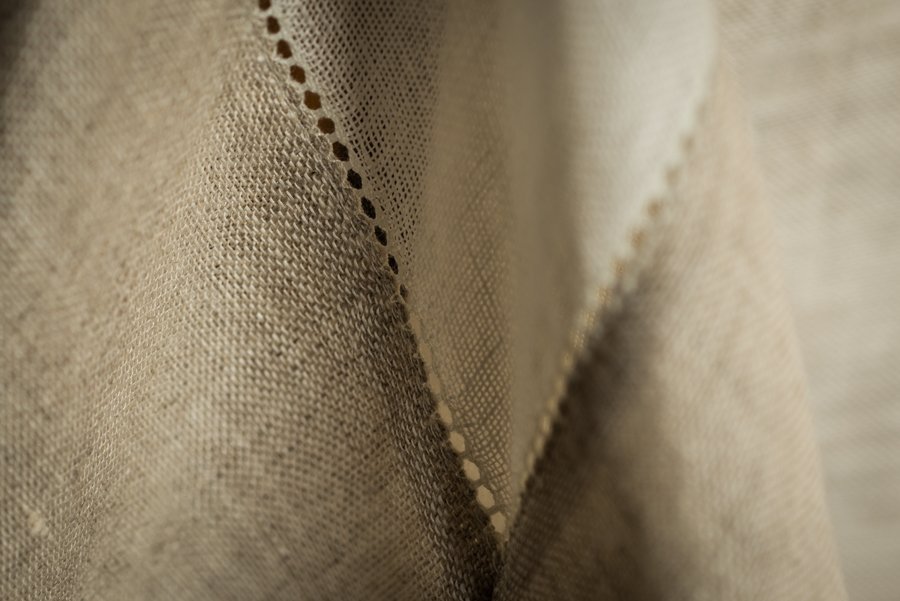 After absorbing moisture, linen shortly releases it back into the air through evaporation, drying the material. It does not maintain its dampness for very long, thus inhibiting bacterial growth and making it much safer to use.
9. Allergy/environmentally friendly
Being naturally hypoallergenic and skin-friendly, linen is a perfect option for those with any allergies or sensitive skin. As every item on this site is made from 100% organic natural linen fabric, you can rest assured knowing that your item will not have been exposed to harsh chemicals during their production process.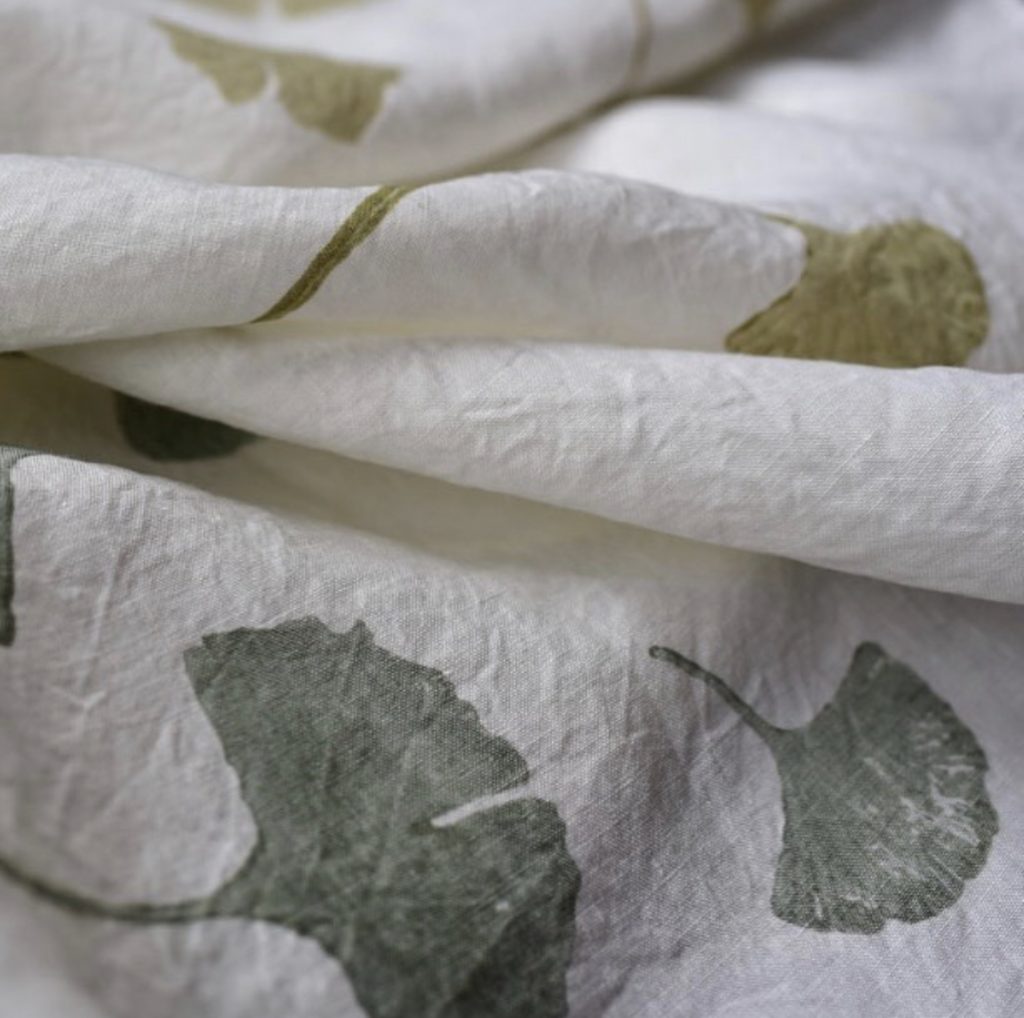 In addition, linen fabric is highly eco-friendly and sustainable, as each separate part of the flax plant is used in the material's production. Being a natural fibre, linen is also biodegradable and recyclable, so not only will you reap the benefits of such a delightful fabric, the planet will too.
10. Supreme comfort
Of course, we could not assess linen's benefits without considering the unrivalled levels of comfort it provides on contact. One of the most well-known benefits of linen is its superior comfort, which is extended further by the microscopic breaks present throughout the fabric's fibre structure. These breaks stimulate and massage the skin, triggering a relaxing response from the body. The organic, soft, beautifully textured Italian linen used in each of our products offers comfort that is impossible to replicate using any other material.
As you can tell, there are a huge number of benefits associated with this elegant fabric, and as a result, a huge number of reasons why linen is the best choice for your luxury homeware.
If you are not sure where to begin when shopping our range of homeware, our 'Shop by Room' function will help you to create your perfect living space. Additionally, you may choose to shop by artisan, if you are seeking a particular design. And of course, a great way to find inspiration is by browsing our gallery. We hope you find the handmade treasure that is perfect for your home!