When it comes to kitchenware and cookware, ceramic is a traditional and ideal choice. Seeped in history, archaeologists have unearthed ceramics dating back as far as 24,000 BC, and it is thought that they have been used for kitchenware and cookware since approximately 9000-10,000 BC. The term 'ceramic' refers to any item forged by mixing natural clay and organic additives with water, moulding the mixture into the desired shape and then firing it at extreme heat to solidify the structure. Ceramics encompasses a variety of materials including porcelain, pottery, earthenware, stoneware and terracotta, as clay is generally the main ingredient. However, there are slight differences in the composition of each. For example, porcelain is composed of white clay but mixed with a number of organic compounds such as kaolin, silica and quartz to give the end result its stark translucence.
Italy has a particularly rich history with ceramics. ​Maiolica is a classic form of Italian pottery that is thought to have begun in 1350 but really taken off during Italy's Renaissance period. Authentic maiolica, with its striking white base, bold earthy tones and decorative hand-painted motifs, is truly breathtaking to behold and an incredible display of Italian art, culture and history. For this very reason, Italian ceramics have a longstanding, distinguished reputation for being some of the finest ceramics in the world. At AllÓRA, our gifted artisans still use age-old techniques to create the luxurious, authentic Italian ceramic and porcelain designs we have on offer, all completely by hand. From using hand-thrown Tuscan clay to an ancient 'coiling' technique, all of our hand-painted ceramic pots, plates, mugs, bowls and cookware are sure to provide a true taste of Italy as well as sheer luxury.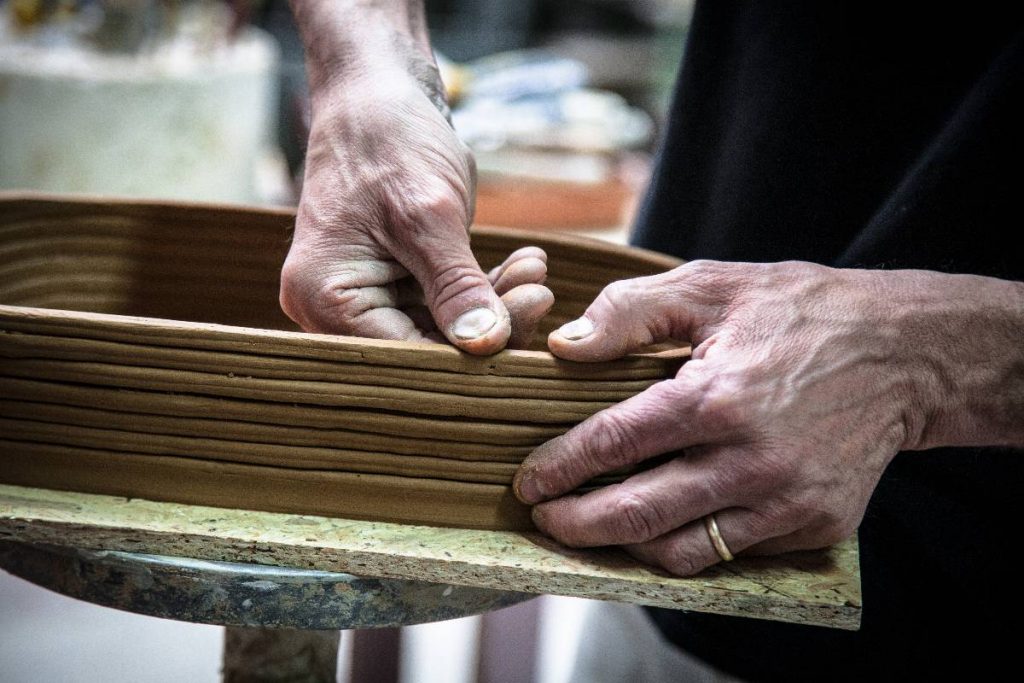 Over the centuries, ceramics have largely been used in cookware, tableware and kitchenware in Italy and beyond. Due to its wide array of benefits, it's not hard to see why so many people choose to dine amongst ceramic tableware and enhance their mealtimes with ceramic cookware.
Aesthetic
One of the most obvious benefits of ceramic kitchenware is its beauty and aesthetically-pleasing appearance. Ceramics can be moulded into a variety of shapes and styles and painted with a variety of bright, bold colours. The final glazing process gives the ceramic a dazzling sheen and enhances the colours painted across it, making the final product even more elegant. Ceramic cookware and kitchenware could never be just your average baking dish or bowl – they are effortlessly luxurious and extraordinary. Ceramics easily transform your kitchen from an uninspired stack of pots, pans and plates to the bold and beautiful centrepiece every homeowner wishes for – ensuring that you and your guests always dine in style.
Versatility
Ceramic kitchenware is exceptionally versatile. Most ceramic cookware and tableware is oven, hob, microwave, freezer and/or dishwasher-safe, so you can be confident that your ceramic baking dish or oven pot will stand the test of time no matter how often you use it. However, we definitely recommend avoiding drastic temperature changes to reduce the chance of your ceramic tableware cracking.
Durable
Similarly, due to their production method, ceramic cookware and kitchenware can withstand high heat levels, making them immensely durable and shatter-proof. Despite looking delicate, ceramic is a sturdy and hard-wearing material, making it the perfect choice for easily-dropped kitchenware such as plates, mugs, cups and bowls. At AllÓRA we have a variety of ceramic kitchenware available, from colourful handmade Tuscan dinnerware sets to decorative porcelain bowls and rustic stonefire plates – all of which offer exceptionally high levels of quality and durability.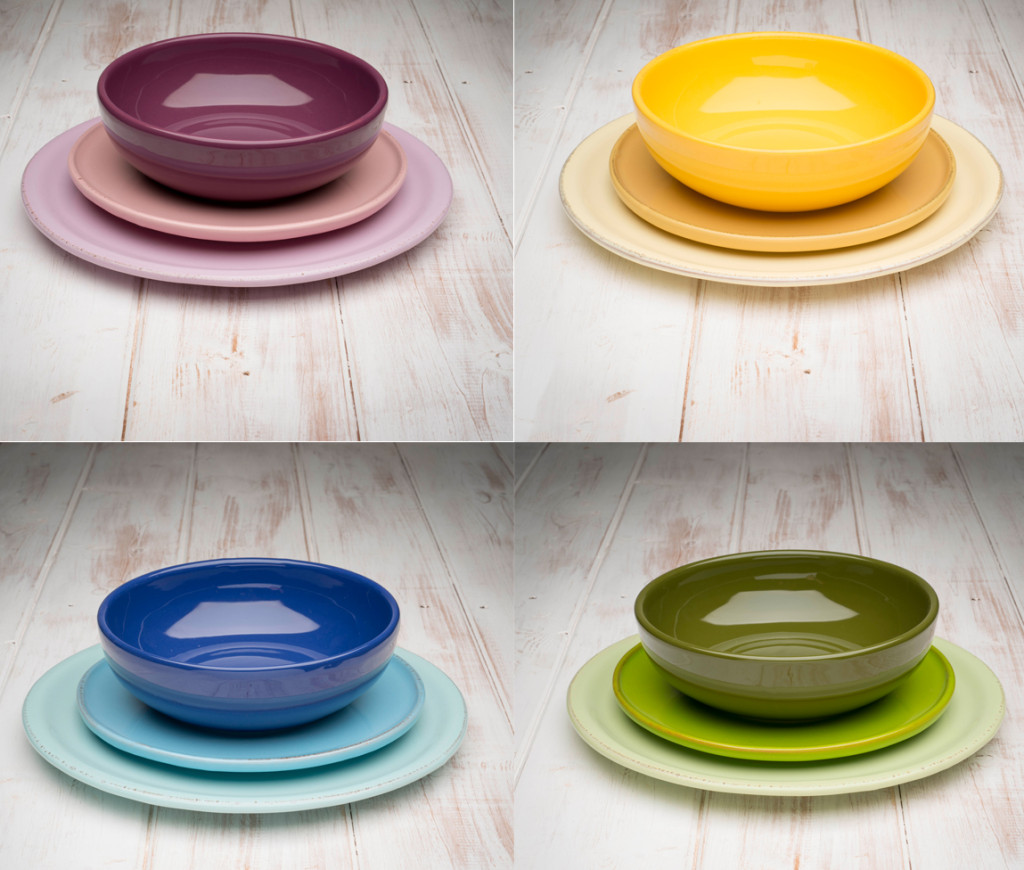 Toxin-free
Unlike other metal utensils and kitchenware, such as cast iron or stainless steel, ceramic kitchen items do not contain any harmful, toxic chemicals such as perfluorooctanoic acid (PFOA), polytetrafluoroethylene (PTFE), Lead, Cadmium or PFAS. This is because ceramics are composed entirely of natural, organic materials and are not coated in Teflon – a reactive chemical substance used to create non-stick barriers on cookware and kitchenware. When cooking at high temperatures, the non-stick Teflon coating breaks down, releasing carcinogenic chemicals like PFOA into your food. By being composed of all-natural materials and fired at extremely high temperatures during the production process (which burns away any harmful chemical compounds), ceramic cookware and kitchenware avoids this toxicity. However, it's worth noting that ceramic coated kitchenware doesn't have the same non-toxic qualities. Ceramic coated kitchen and cookware usually comprises a metallic core topped with a thin ceramic coating. Despite the ceramic coating being free of PFOA or PFOS, these pots and pans unfortunately still contain harmful nanoparticles which we ingest when cooking and eating.
Non-stick
Ceramics produce naturally non-stick cookware and kitchenware without the need for Teflon. Its effortlessly non-stick ceramic surface means that your dish won't be ruined by burnt ingredients and your crockery will remain a centrepiece of your kitchen for many years to come. Moreover, the smooth, glazed surface of ceramic kitchen and tableware can be cleaned easily with warm, soapy water, so even the most adventurous chefs don't have to worry about tarnishing their beloved cookware.
Heat-retentive
Ceramic has high heat conductivity, meaning it conducts and retains heat exceptionally well. As such, your ceramic frying pan will require less heat to saute food to perfection and your ceramic kitchenware will effortlessly hold on to heat. Moreover, ceramic cookware emits far-infrared (FIR) energy which has the unique benefit of penetrating food and cooking it thoroughly and evenly both inside and out. Therefore, ceramic kitchenware ensures that you have ample time to devour your meal whilst enjoying conversation with dinner guests, and plenty of satisfaction left in your cup of cappuccino even when you accidentally forget about it!
Healthy
Due to ceramic cookware's non-stick surface and ability to conduct and retain heat more efficiently, your cooking will require less oil, resulting in reduced levels of unhealthy fats in your diet. Not only do ceramics allow you to dine amongst decorative, hand-painted dinner plates and effortlessly enhance your kitchen with non-stick frying pans, but they can even help you live a healthier lifestyle – you don't get much better than that.
As we're sure you can tell, it's impossible to go wrong with ceramic cookware, tableware and kitchenware. Whether you're setting your kitchen table with expertly hand-crafted ceramic dinner plates and bowls or cooking up a treat for dinner guests, the host of benefits provided by ceramic kitchenware and cookware sets is undeniable. Given Italy's renowned ability to produce some of the world's finest ceramics, opting for authentic Italian ceramics is the perfect way to ensure that you're selecting high-quality, durable kitchenware for your home.
Here at AllÓRA, you're guaranteed to find unique pieces and luxurious quality in our Italian ceramic and porcelain tableware collection. With a stunning array of styles, colours and textures, there truly is something for everyone and every home – whether you're looking for an eye-catching table decoration or a new ceramic pan for your wall-hung utensil display. All of our ceramic tableware and cookware is hand-crafted in Italy by gifted artisans using authentic, traditional techniques that have been passed down through the generations. Moreover, each unique design is painted entirely by hand, adding to its undeniable charm.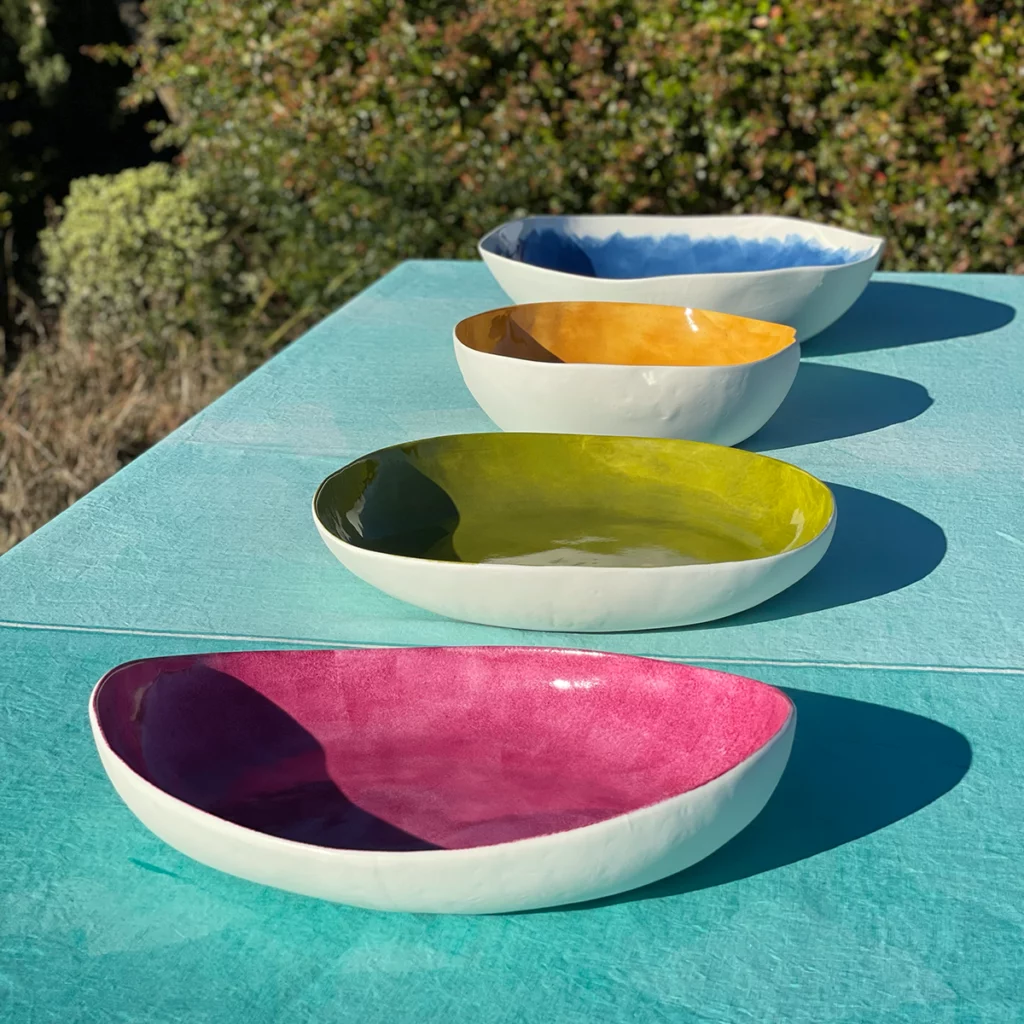 If you've decided to treat your kitchen to ceramic cookware, don't settle for less – opt for a stunning Italian ceramic centrepiece from our collection and reap the benefits for yourself.