Credit: Fantastic Frank
Is there truly any better feeling than being able to come home after a long day and head to your bedroom to cosy up with a good book, some tea, and your favorite blanket? Arguably, not many things surpass this feeling of rejuvenation and relaxation. For that reason, making the most of your small bedroom with some sure-fire ways to make it cosier come the cooler months, we have put together this blog post for you. Below you'll learn a few key small and cosy bedroom ideas to make your space the best it can be for lounging around.
Small and cosy bedroom ideas
Bring your bed to new heights with luxury linens
We know, when it comes to lounging in your room, there's one key element that has to be on par every time. That is your bedding. After all, it not only brings out your individual style (which is so vital in a small bedroom!) but it can really transform your bed from somewhere dull  to somewhere inviting.
So, how can you do this? Add in some luxury linens to your bedroom.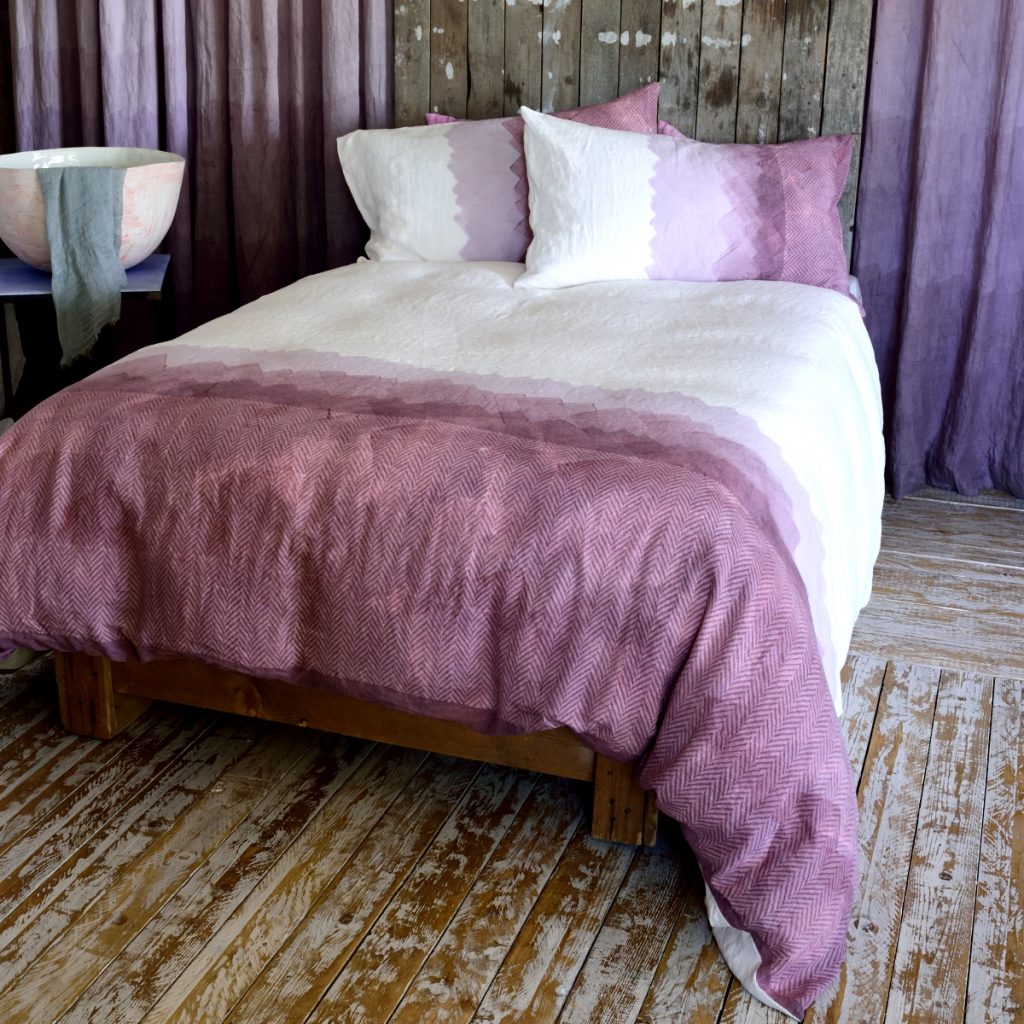 Luckily, here at AllÓRA, we have plenty of these to choose from! One of our favorites? The hand painted Chevron bedding set in a warming purple watercall aesthetic. The coloring adds just the right ambiance you need for a soothing space after a long day and the fine, organic washed linen is soft as can be!
Make sure to add in soft lighting and lots of candles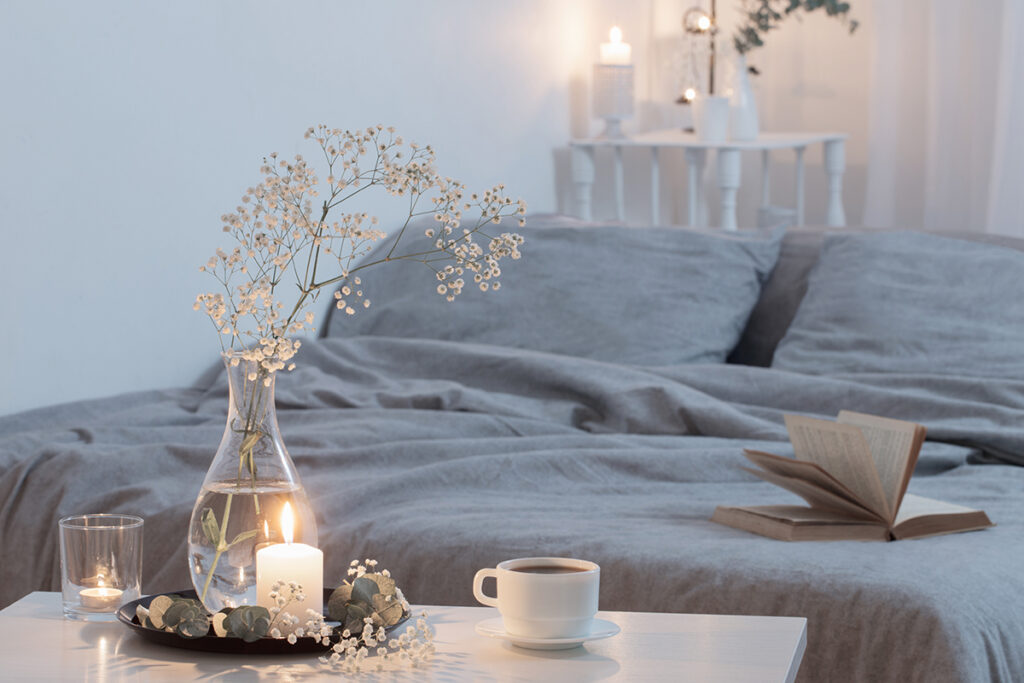 When it comes to lighting, the last thing you want is to be met with bright fluorescent lights in a space that is meant to be your sanctuary. Be sure to remove all bright white lights and replace them with warming bulbs that give a gentle luminous glow that's not overpowering. Once you do that, you'll also want to invest in some candles that make your senses destress and relax. Some aromatherapy favorites to shop for include: lavender, peppermint, and patchouli. (Patchouli is a great scent option for bohemian bathrooms, too!) 
Don't be afraid to play around with texture
When it comes to crafting a small and cosy bedroom, don't forget to remain open to both textures and colors. Textures can really help liven a space, and make it feel dimensional. This is key when you're dealing with a small bedroom.
To do this, you can add some layered wall art or opt for a pattern print wallpaper behind your bed frame. The goal is to enhance the otherwise 2D areas of your bedroom with decorative accents that pop! This will make the space all the more cosy as well.
Pick your overall colour scheme to create a mini paradise
The other thing to consider is colour. There are two opposing options you can choose for your bedroom: warm tones or cool tones. Warm tones are burnt yellow, rust red, and majestic purple; cool tones are light blues, coastal grays, and springtime greens.
The goal is find the colour that speaks best to you and makes  you feel most at peace. Then, incorporate it as much as you can.
One way to add the colour story throughout your small bedroom? By using a warm and soft throw blanket.
We have two perfect options for either colourway you choose: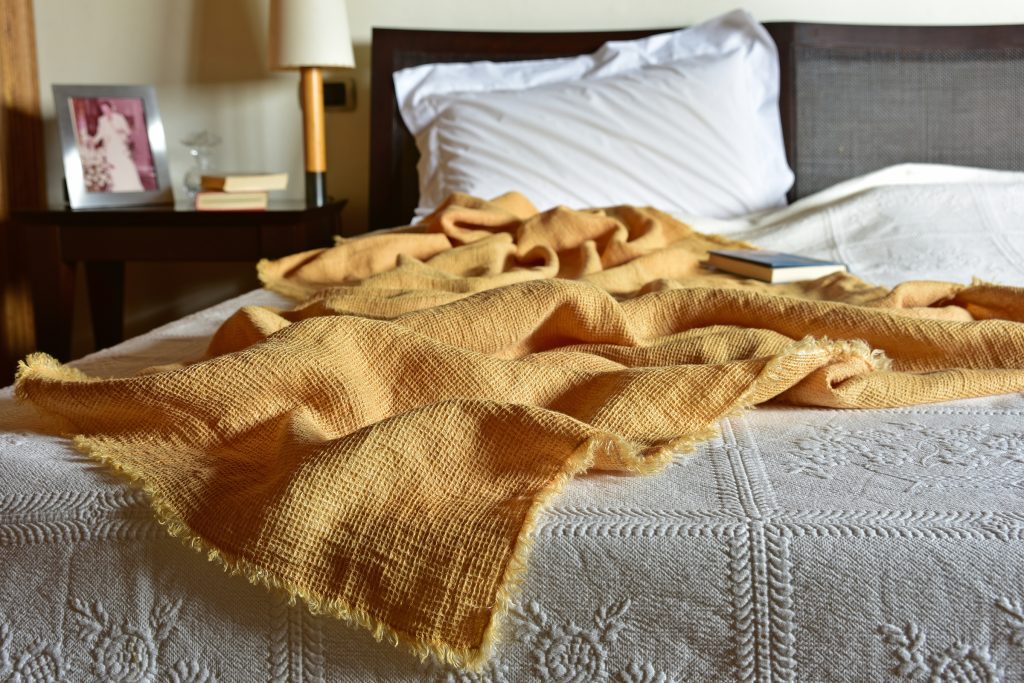 There's our mustard yellow waffle knit throw blanket made from luxury linen and is soft to the touch. This will definitely work well in any warming atmosphere.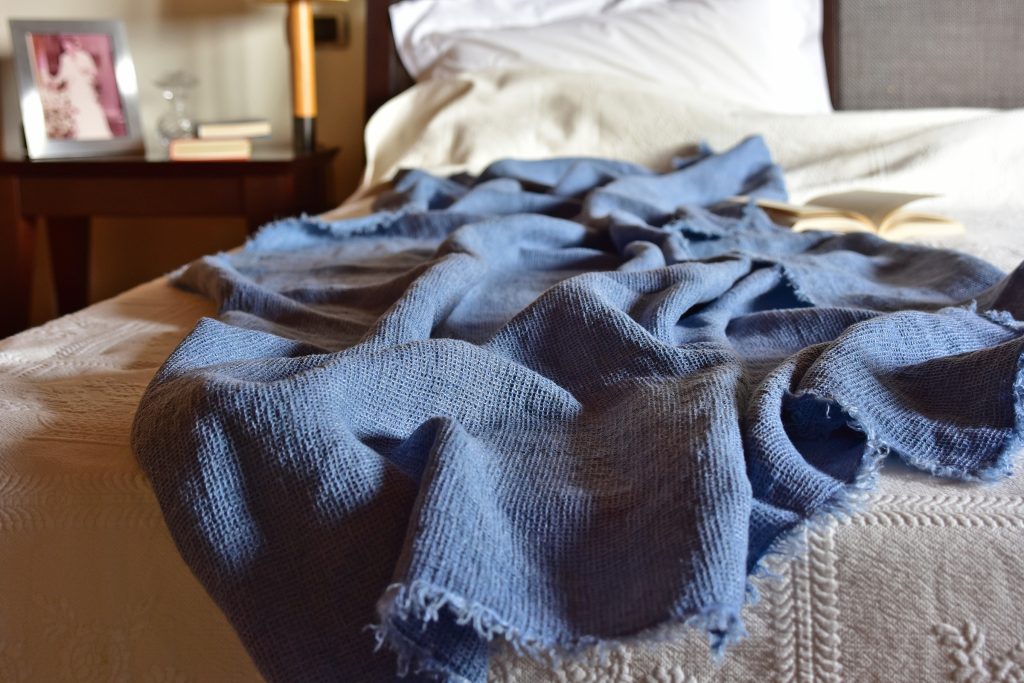 Then, there's our navy blue hand painted waffle knit throw blanket. Like the mustard yellow above, this is also a very soft, handmade blanket, but more fitting for those who enjoy cooler colors.
Get clever with storage solutions
Clearly when it comes to a small bedroom, space is of the utmost importance. There's not a whole lot of it to begin with so to make sure things are cosy and not cluttered, you'll want to be creative with your placements of things.
While you may not be able to make a cute reading nook in your bedroom, it's still possible to have a dedicated reading area within your space. Consider the area next to your bed frame where you'd otherwise place a nightstand. Instead of squeezing a tiny nightstand between the wall and your bed, create a stacked floating shelf wall where you can store your books.
From here, you can grab your latest reads and cosy up on your bed! Small space problems, solved!
Additionally, be smart with how much floor space you give to dressers and wardrobes. There are plenty of chic under-the-bed storage options out there that can really help you make the most of your bedroom and create more options for expressing your personal style.
Think outside the box with visual tricks to heighten your small and cosy bedroom
Call yourself Houdini with this small and cosy bedroom idea…You can essentially trick the eyes into thinking your space is quite large with just some paint! In rooms that have low hanging ceilings, you can paint the bottom half of your wall in a darker shade of paint and the upper half in a lighter shade of paint. This contrast will make your eyes (and your guest's eyes) think that the space has more height than it does.
Wrapping small and cosy bedroom ideas together
In the end, when it comes to creating a small bedroom that is beautiful and true to you, there's really no wrong way of doing things. However, keeping these proven ideas and tips in mind can really ensure that you will decorate smart from the start with an outcome that makes you happy. Whether you like light or dark colours, in the end, we know you'll craft a gorgeous bedroom design.
Want to get started on decorating your bedroom? Check out our bedroom selection here.