There's nothing like coming home to a relaxing, spa-like bathroom. If you're looking to create a similar ambiance in your own home, there are a few key design elements you'll want to incorporate. Today we go over some spa bathroom ideas to create a luxurious design that will have you feeling refreshed and rejuvenated.
Keep It Light and Airy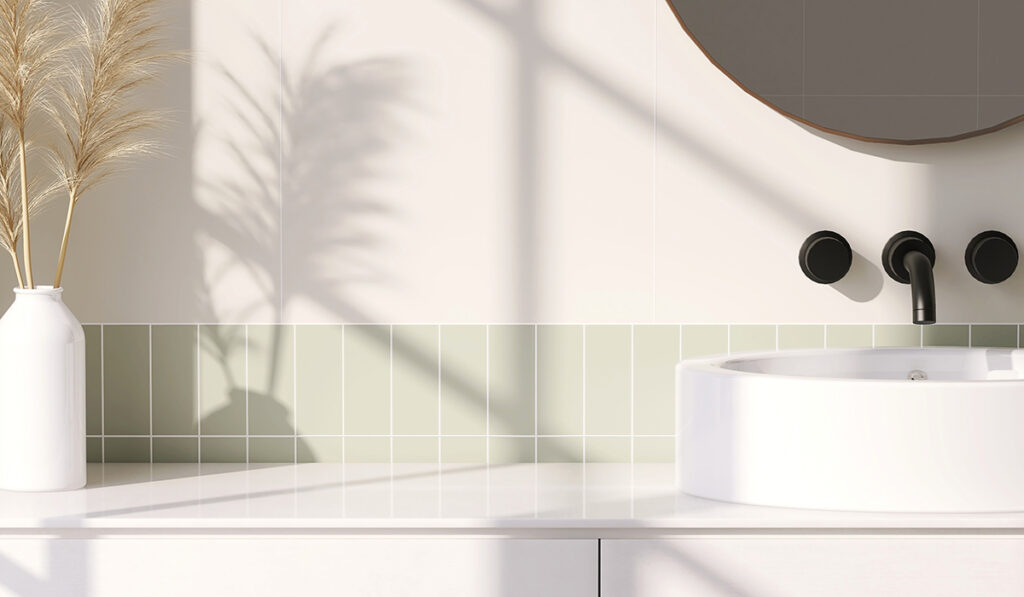 Functionality is important in any bathroom, but nowhere is it more important than in a small space with goals of being a spa inspired bathroom. When choosing fixtures and furniture, opt for things that are both beautiful and can serve a purpose.
For example, a beautiful pedestal sink might look out of place in a small bathroom, while a sleek and simple wall-mounted sink would be both stylish and space-saving.
In addition to being visually appealing, high-quality items will also last longer and require less maintenance than lower quality options.
So while they may cost more upfront, they will ultimately save you money in the long run. Whether you're looking for a luxurious spa-like retreat or a simple and functional space, paying attention to the details is essential to creating a bathroom that you'll love.
Incorporate Natural Elements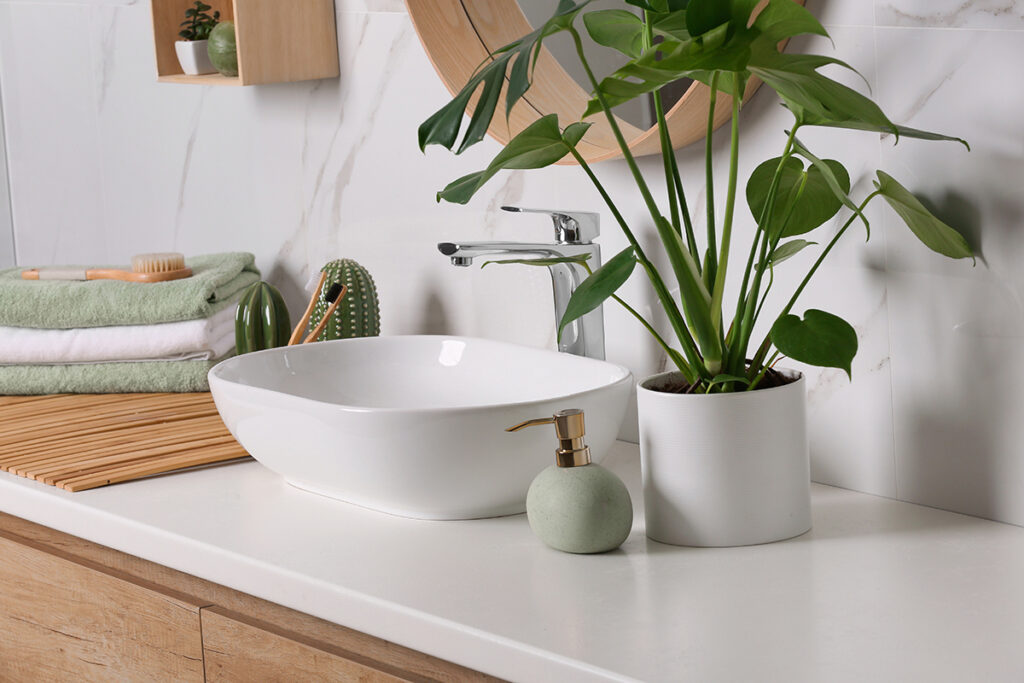 One of the best ways to bring a sense of relaxation into your diy spa bathroom is to incorporate natural elements.
Bring in some lush greenery with potted plants or a small garden, or add a water feature like a tabletop fountain.
Natural stone is also a great way to bring in some texture and interest.
If you have the budget for it, consider incorporating a large picture window or skylight to let in some natural light. Even if your bathroom doesn't have a lot of square footage to work with, there are ways to make it feel larger and more open.
For instance, hanging a large mirror on one wall will create the illusion of more space, while strategic lighting can also make a small bathroom feel brighter and more expansive.
Create a Relaxing Colour Scheme
Spa style bathrooms are typically decorated with a calming, neutral color palette. This can help to create a sense of tranquility and peace. When selecting paint colours or tile colours, opt for earth tones or soft pastels.
Plus, including natural elements in the design will bring a sense of relaxation into the bathroom. By following these simple tips, you can easily create your own Spa-like oasis right at home.
Bring in Fresh Flowers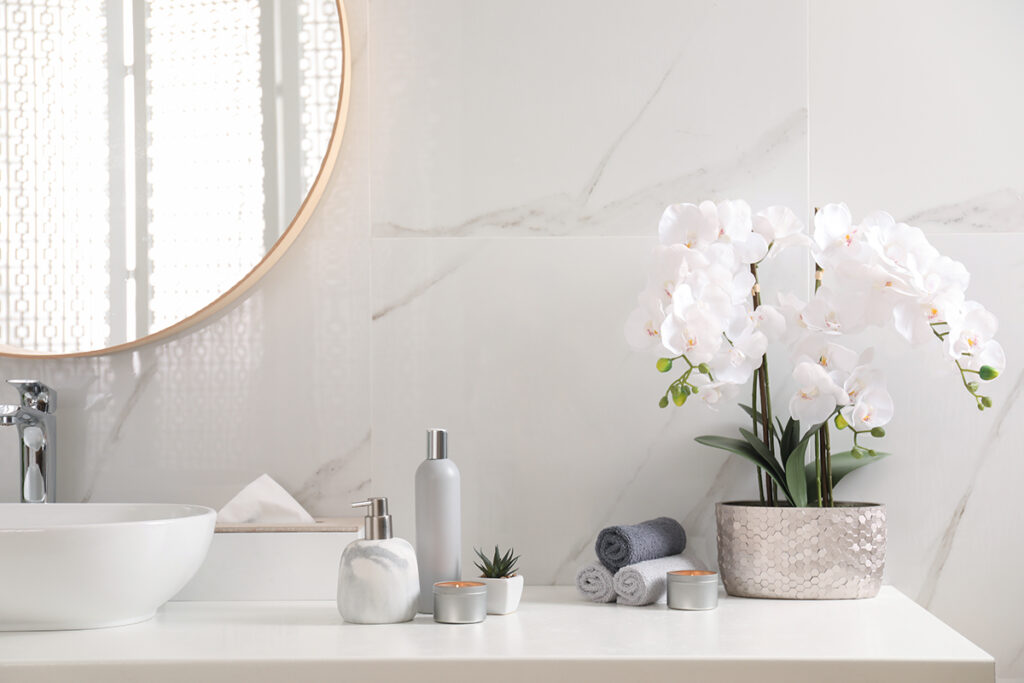 Fresh flowers are a simple way to add a touch of luxury to your bathroom space. They can also help to purify the air and infuse the space with positive energy.
Choose flowers that are known for their relaxing properties, such as lavender or chamomile. Or opt for a beautiful bouquet of fresh-cut roses.
Whatever type of flowers you choose, be sure to change them out every week to keep them looking fresh.
Use Soft, Organic Linen Towels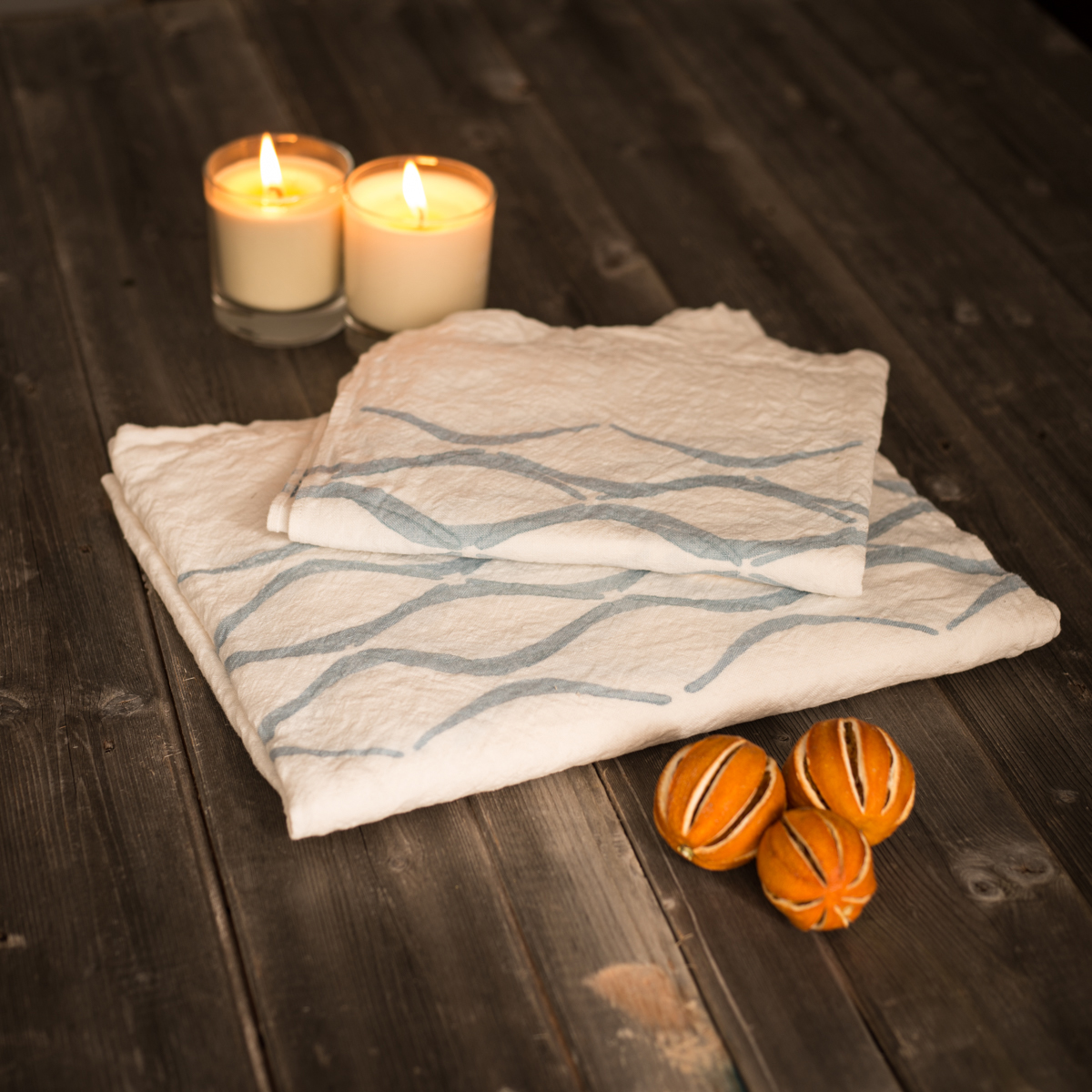 Spa bathrooms are typically decorated with high-quality, luxurious towels. This is because they help to create a sense of opulence and relaxation.
When choosing towels for your bathroom, opt for soft, light fabrics, like linen, in neutral colors. Avoid busy patterns or bright colors, as they can be jarring and disruptive to the calm atmosphere you're trying to create.
In addition to being aesthetically pleasing, high-quality towels will also be more absorbent and durable. So, they'll actually save you money in the long run.
Our personal preference? Any of our serene-sea worth styles from our Coastal Collection  or our bath linen collection, like the Grace Towels in Grey.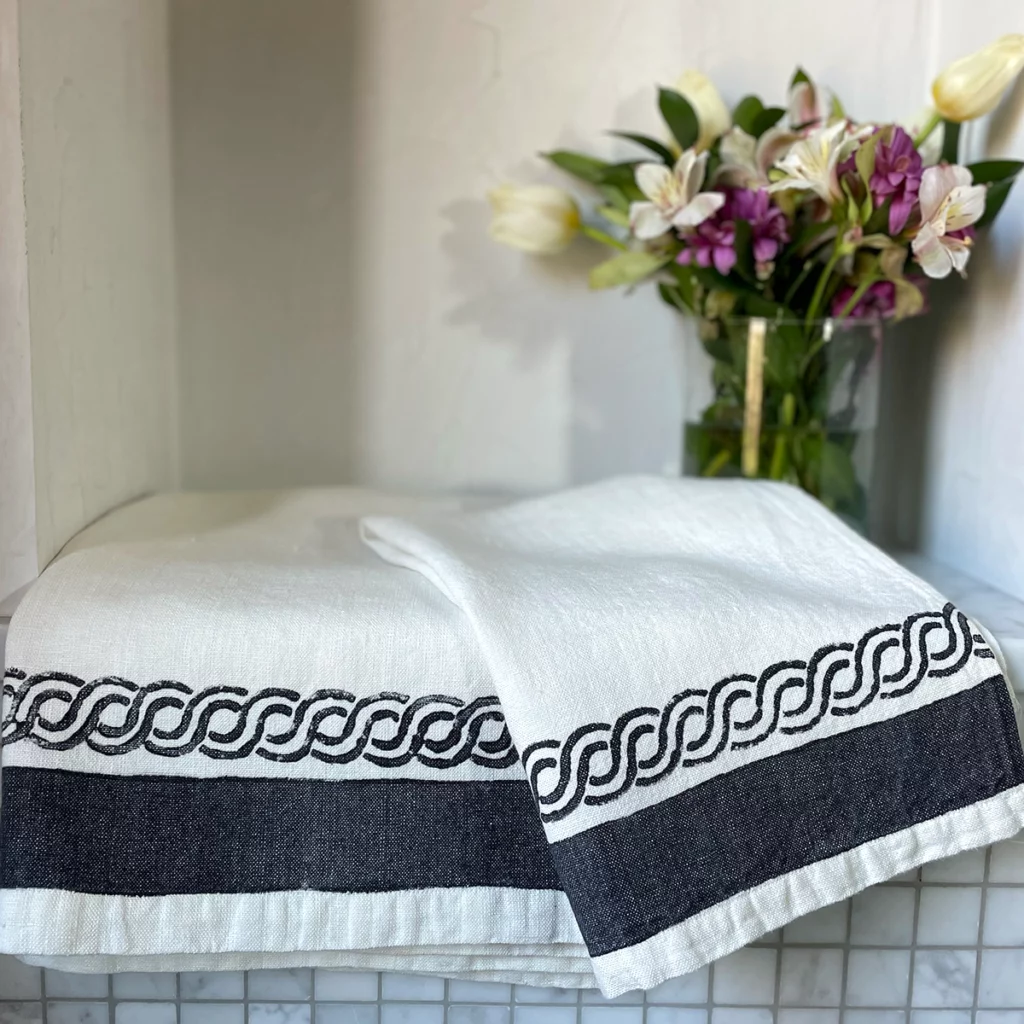 Dim The Lights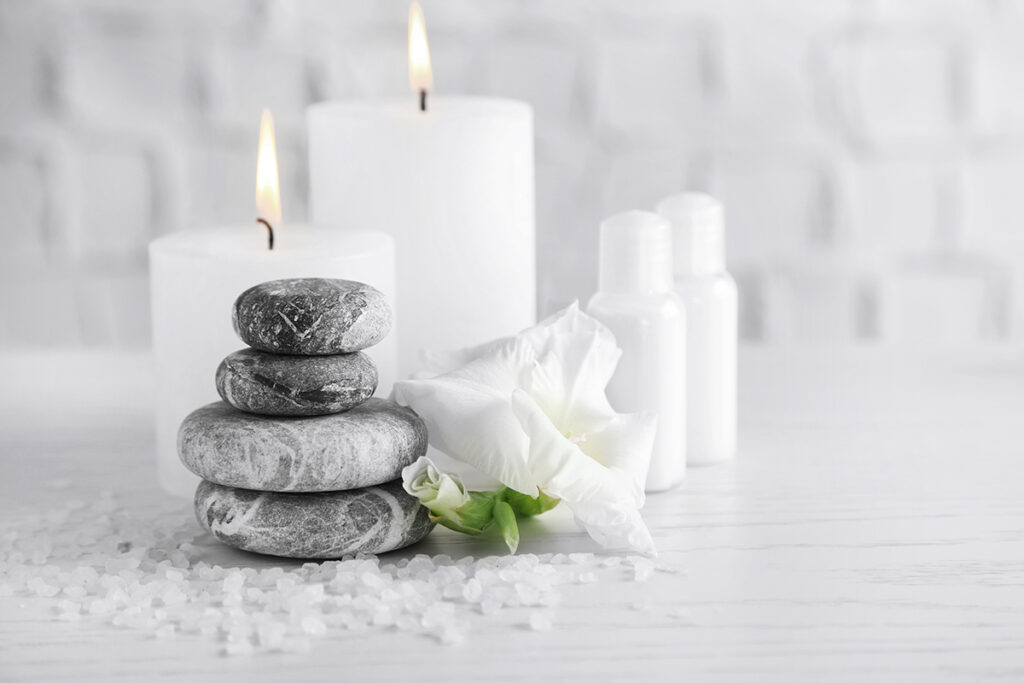 Spa bathrooms are typically dimly lit, as this helps to create a sense of relaxation. To achieve this look in your own bathroom, install soft, diffused lighting fixtures.
In addition to overhead lighting, consider adding sconces on either side of the mirror for task lighting. You can also use candles to create a relaxing ambiance in your bathroom space. Just be sure to blow them out before you get in the tub or shower!
Choose Quality Fixtures and Finishes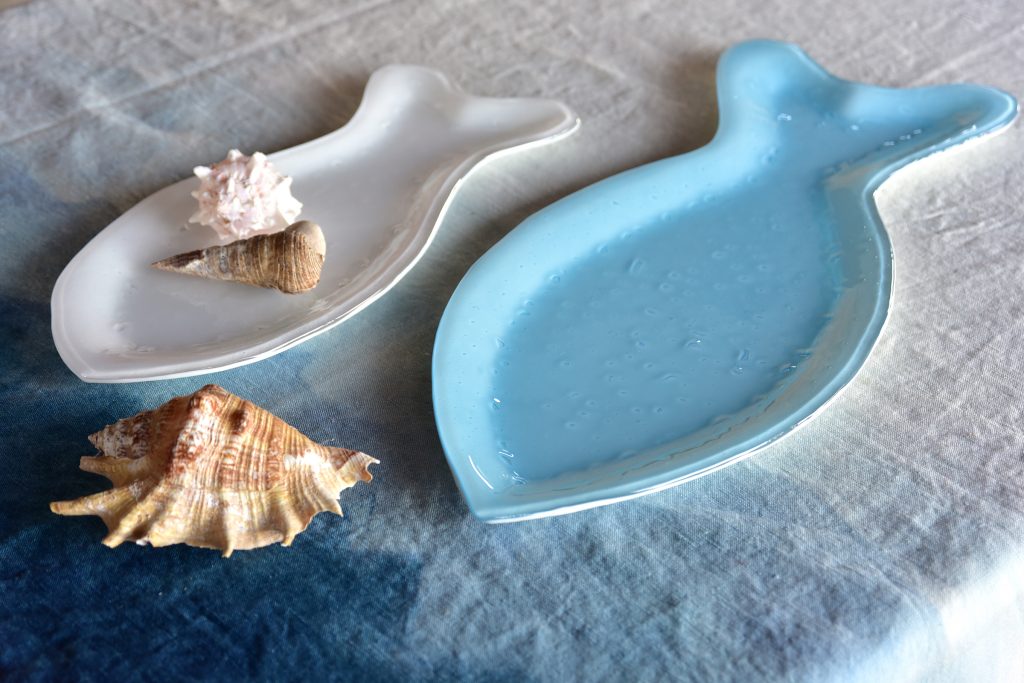 When it comes to creating a spa-like bathroom, attention to detail is key. Select high-quality fixtures and finishes that reflect your personal style. Opt for pieces that are both beautiful and functional.
Consider adding a luxurious handmade glass dish, in a coastal calm colour, for the ultimate in relaxation and storage.
Heated floors are another nice touch, and can be easily installed with radiant floor heating mats.
Finally, don't forget the details that make a bathroom truly special, such as plush towels, elegant soaps and lotions, and scented candles. By taking the time to select quality fixtures and finishes, you can create a bathroom retreat that is both stylish and inviting.
Install a Rain Shower Head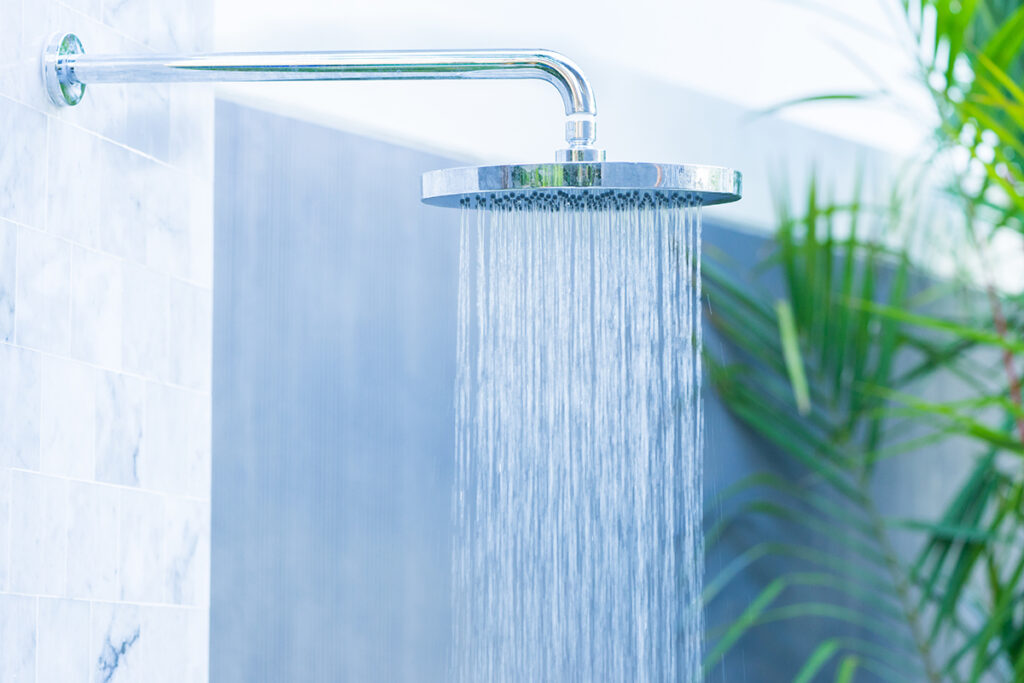 One of the best ways to turn your bathroom into an oasis is to install a rain shower head. This spa like shower idea will give you the experience of showering in a tropical downpour, and it's sure to help you relax and unwind.
In addition, rain shower heads are often more energy-efficient than traditional showerheads, so you can save money on your water bill while still enjoying a luxurious shower experience.
Whether you're looking to upgrade your bathroom for your own enjoyment or to make it more appealing to potential buyers, installing a rain shower head is definitely a smart choice. Hello, spa showers!
Consider Acoustic Comfort
When you're trying to create a relaxing space, it's important to consider acoustic comfort. Spa bathrooms are typically designed with sound-absorbing materials to create a tranquil environment.
If you live in a noisy area or have thin walls, consider adding acoustic panels to your bathroom. This will help to reduce the amount of noise that comes into the space, and it can also improve the acoustics of your bathroom so that it feels more like a retreat.
Spa bathrooms are designed to be a relaxing oasis away from the hustle and bustle of everyday life. As you see, by incorporating some of these key design elements,  turning your bathroom into a spa right in your home is quite easy.
So go ahead and add that rain shower head, dim the lights, and enjoy some well-deserved me-time in your very own day spa bathroom retreat.