Lightweight linen scarves are timeless – easy to wear and style, they offer comfort and practicality too. Perfect for wearing all year round, a simple linen scarf is all you need to elevate your everyday look, adding personality and unique flair…
Everything you Need to Know About Luxury Linen Scarves…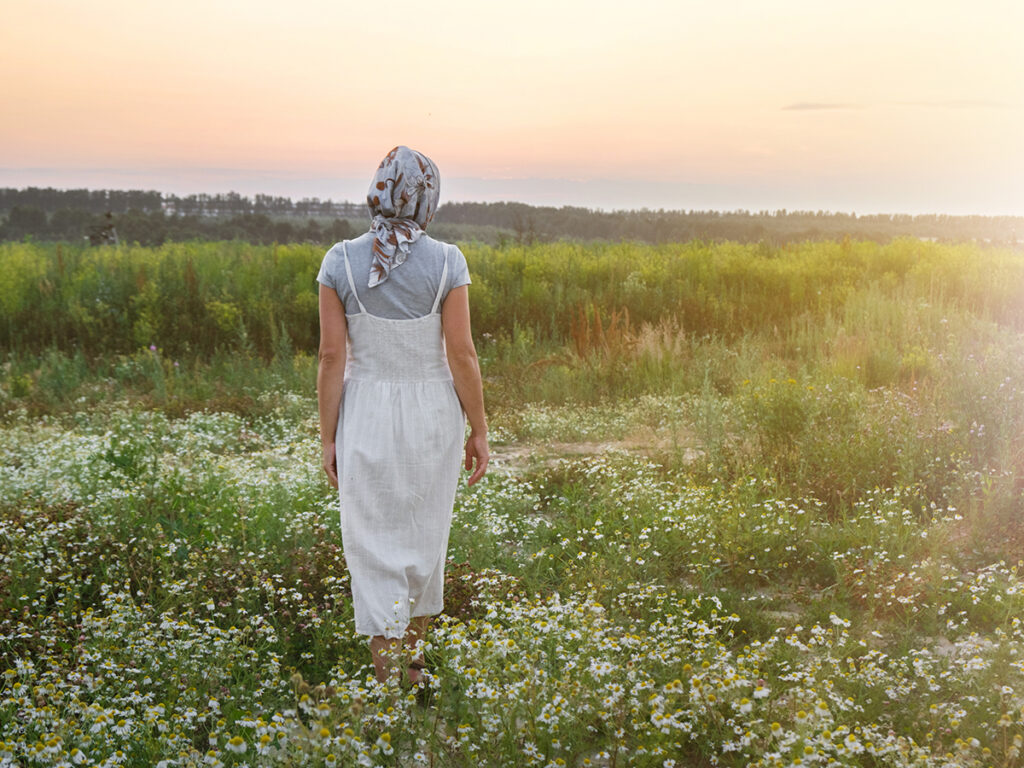 A luxury linen scarf is a must-have. Soft to touch and a joy to wear, linen is a fantastic material as it can offer a lightweight layer that's great for both warm and cool weather. During the winter, your linen scarf can be worn as a shawl, to help keep you warm in a stylish and classic way. When it's warmer, instead tie it as a neckerchief or headscarf, to add colour and personality to your style, without adding unnecessary layers or wearing thick and heavy fabrics. Due to being breathable, linen scarves can help you regulate your body temperature. In choosing a linen scarf instead of wool, you can continue to wear scarves all year round.
Pure linen exudes elegance. It always looks beautiful, due to its stunning texture and the way it sits and falls across the body. Timeless and sophisticated, a linen scarf will become your go-to for all sorts of occasions. For example, when you are on holiday and it becomes cooler in the evening, a linen scarf is ideal for draping over your shoulders, and it makes a great coverup for weddings and events. Ideal for both city and country breaks, a linen scarf is well suited to any occasion or pursuit.
Our Linen Scarf Collection…
Our collection has been hand-selected from two of Italy's most celebrated artisan houses – Tessitura Pardi and Stamperia Bertozzi. Luxurious and high quality, all of our linen scarves are hand-woven using traditional shuttle looms. Each and every design is completely unique, which reflects the processes that go into designing and making them.
Available in a variety of colours, the grey and neutral tones work particularly well in winter, while the more colourful scarves are wonderful for summer. However, should you choose to invest in just one style, your linen gauze scarf can be worn all year round.
Crafted from the finest gauze linen, our scarves are soft to touch and so comfortable against your skin. Here is a small selection of our favourite designs…
Versatile Neutrals…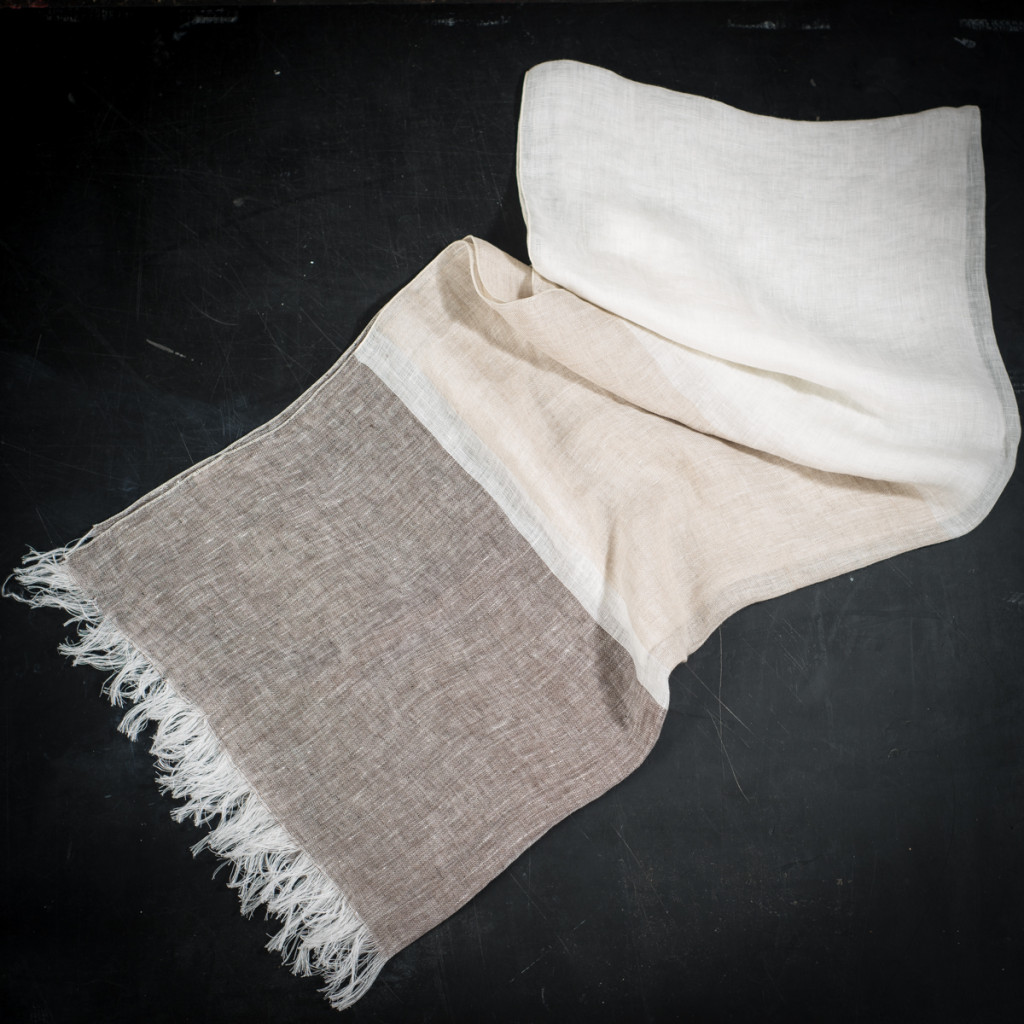 Italian Artisan Gauze Linen Scarf in Grey and Cream
In warm neutral tones, this colour block scarf will add interest to your look, while maintaining your elegant style. Finished with frayed edges, the scarf is textured and soft. Ideal for wrapping around your neck over your favourite coat in the winter, the neutral shade makes this a versatile design that can be worn with other neutrals or any colours.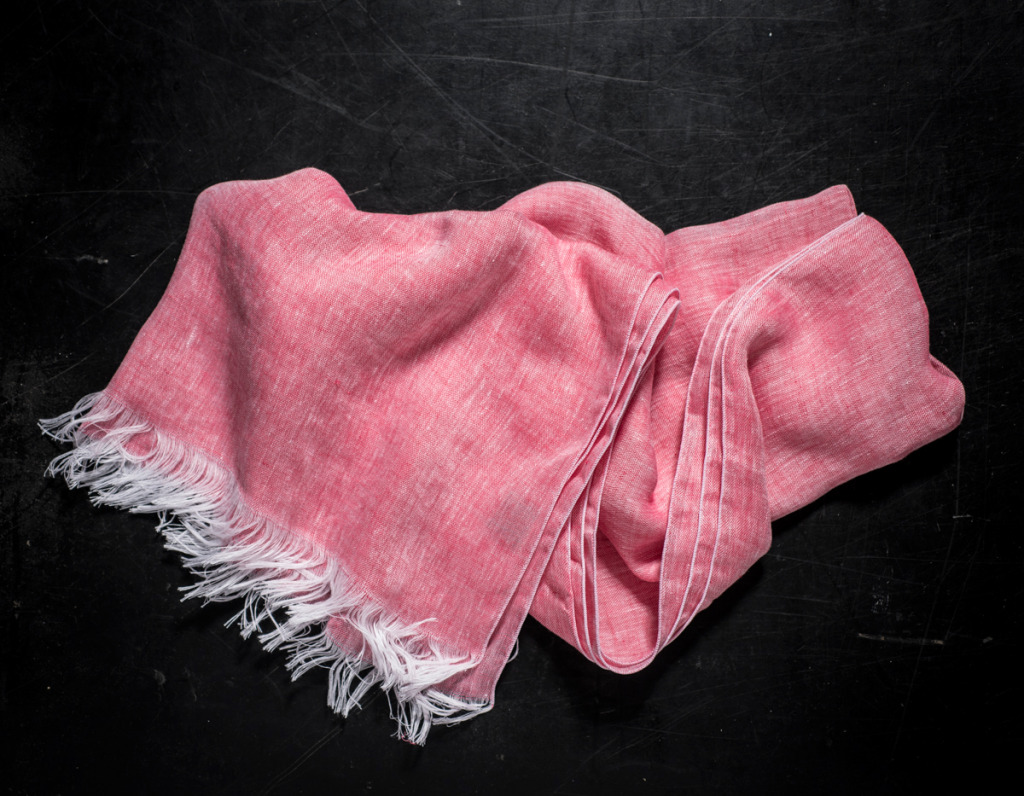 Italian Artisan Gauze Linen Scarf in Raspberry
Add a pop of vibrant colour to your everyday style, with this beautiful and timeless scarf. In a simple single colour and finished with white fringing, this contemporary design is the only statement piece that you will need. Ideal for summer events, this is also a wonderful piece to brighten up dark or neutral winter coats.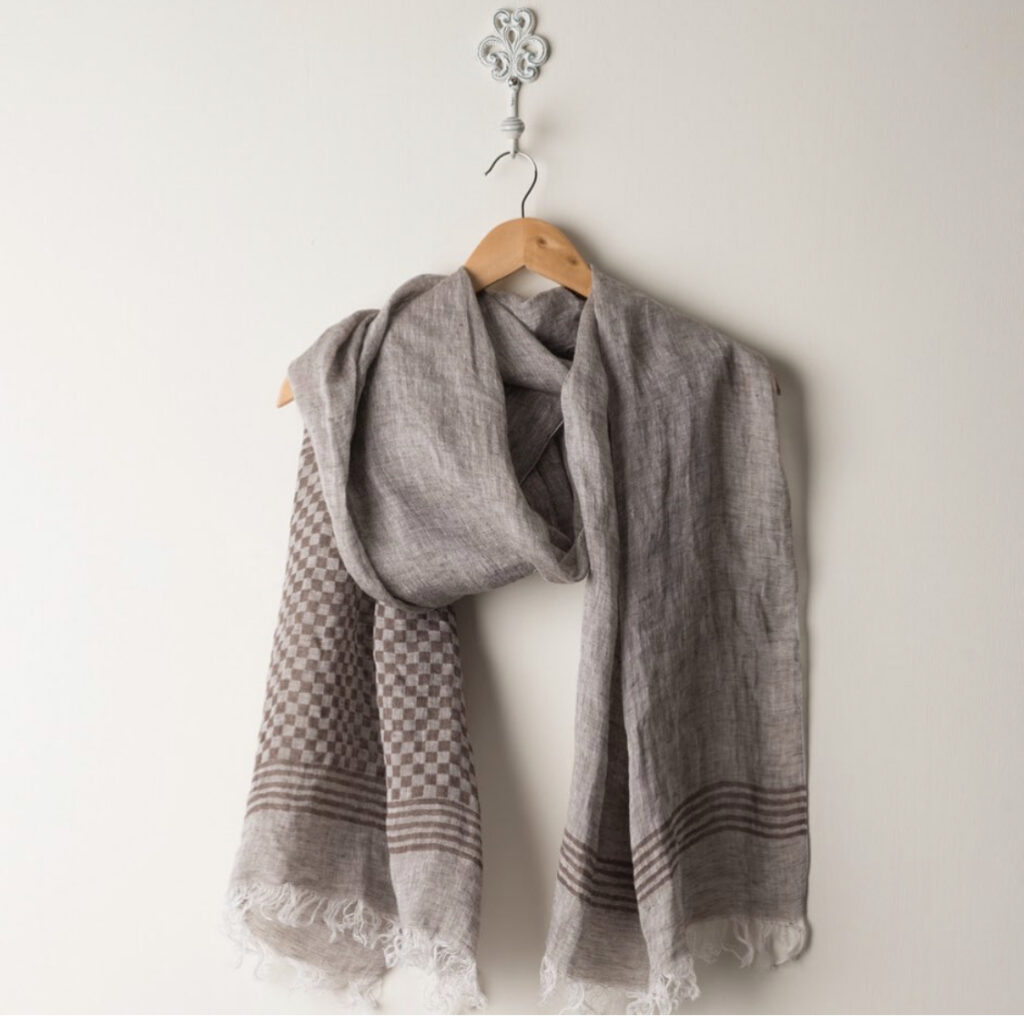 Italian Artisan Hand-printed Scarf – Check Pattern
Add texture and interest to your look, with this unique patterned linen scarf. Handcrafted using natural and organic linen, the scarf is hand printed too, to create the modern check pattern. Perfect for elevating otherwise simple styles, this luxury linen scarf will become your go-to to add personality to your look, while maintaining your classic style.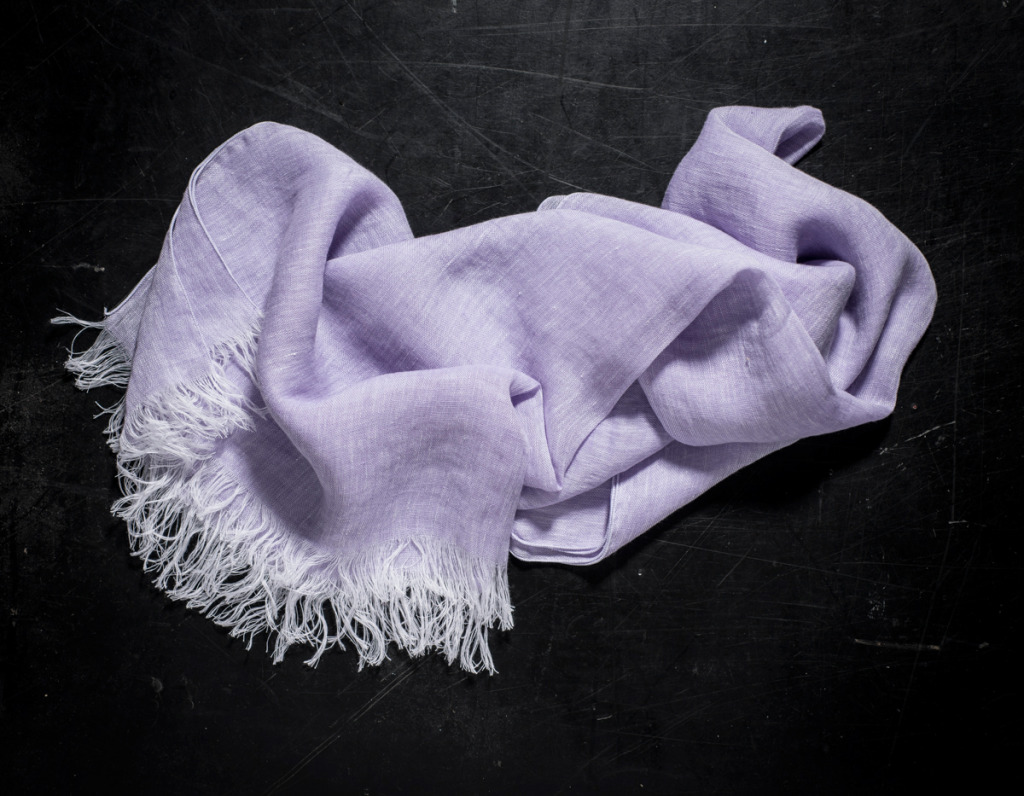 Italian Artisan Gauze Linen Scarf – Lilac
In a beautiful soft shade of lilac, this charming scarf will add joy to any style. Whether you want to brighten up neutrals, or elevate your colourful look, this versatile piece is the ideal option. Large in size, this gauze scarf can be worn in a number of ways and will always add that perfect finishing touch.
Elegant Scarves for Men and Women…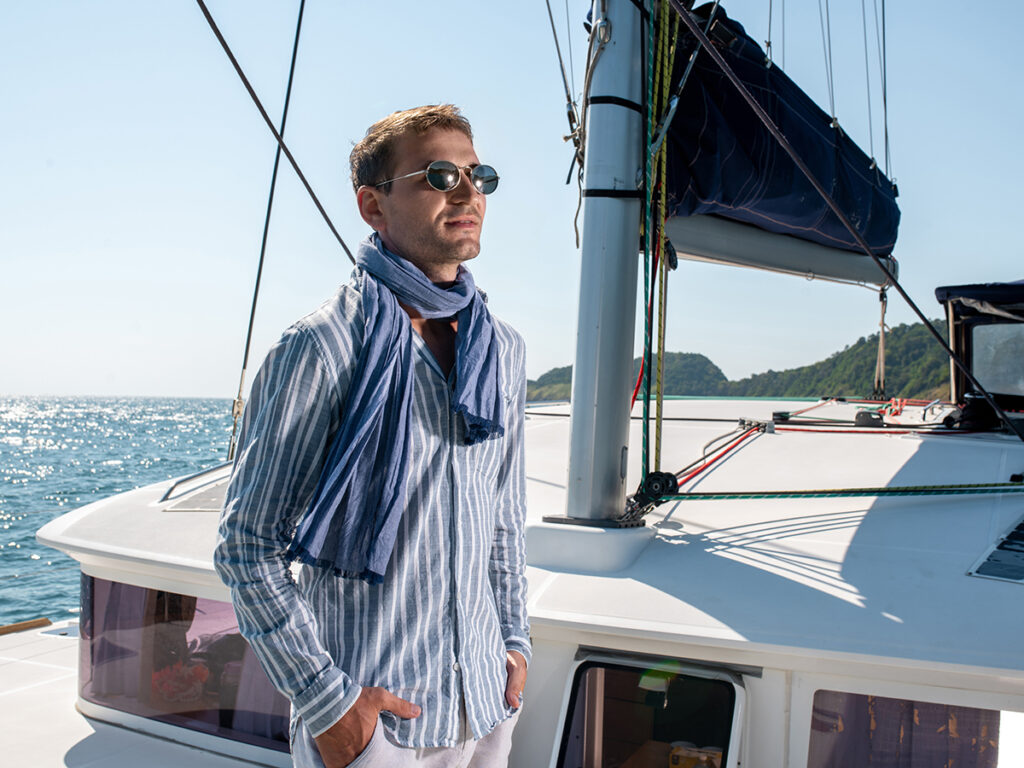 One of the most wonderful aspects of our luxury linen scarves collection is that they can be worn both by men and women. Typically worn tied around the neck, linen scarves for men can be just as versatile as they are for women and can be styled in a number of ways depending on the season and the occasion. From neutral tones to more colourful options, our collection includes a variety of styles for men to choose from.
Whether you're looking for an elegant and timeless piece for yourself or for a gift, linen scarves are an ideal option. Made from a strong, durable and eco-friendly material, when cared for, linen scarves can last years, and will last much longer than scarves made from other materials.
The perfect addition to your wardrobe, your linen scarf will become a firm favourite and you'll find yourself grabbing it every time you step outside the door.
Shop our full luxury linen scarf collection here: https://www.allorashop.com/product-category/lifestyle/luxury-italian-linen-scarves/