Bath towels may seem like a simple and modest item in our homes, but have you considered upgrading your bath towels to something a little more luxurious? There's a reason why the towels at spas and hotels seem incredibly soft and are noticeably beautiful – because it creates a sense of luxury, elevating the everyday experience of bathing to something more impactful, and it's possible to achieve this at home.
If you want to enhance your self-care routine, consider introducing linen bath towels at home…
Why Linen Bath Towels?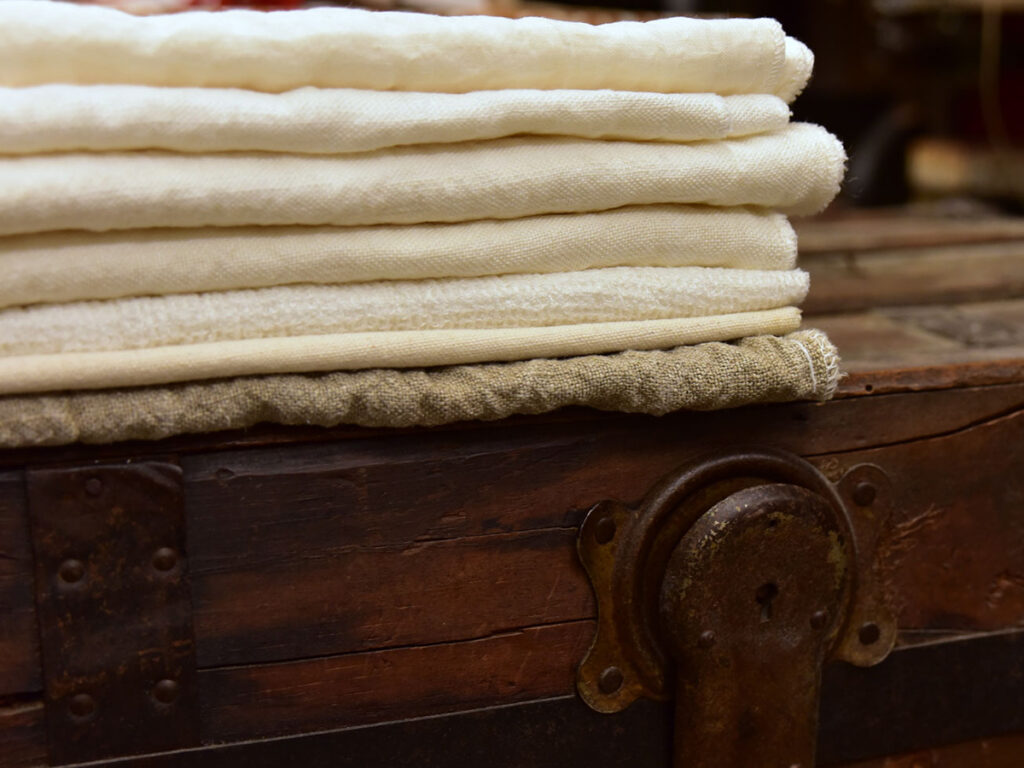 Linen is a wonderfully versatile material that offers so many benefits. Natural and durable, linen is one of the strongest natural fibres and is considered to be 30% stronger than cotton. Made from flax, linen is typically used by hotels and spas, but it can be incorporated into your own home.
Luxurious and beautiful, linen towels don't just look great, they are practical too. Due to being breathable, they are quick drying and highly absorbent. The fibres that linen is made from is hollow, and this means that it can absorb around 20% of its own weight in moisture.
Unlike most towels, linen bath towels actually get softer over time, whereas other bath towels tend to become scratchy and unusable. With use and washing, the fabric simply becomes more flexible and as a result, softer too. In addition, linen is easy to care for.
Linen towels are an investment, but because they last longer, the expense is worthwhile. This is why many hotels choose to only use linen towels and bedding, because it can be used frequently and will still look great in years to come.
Sustainability and Self-Care Go Hand in Hand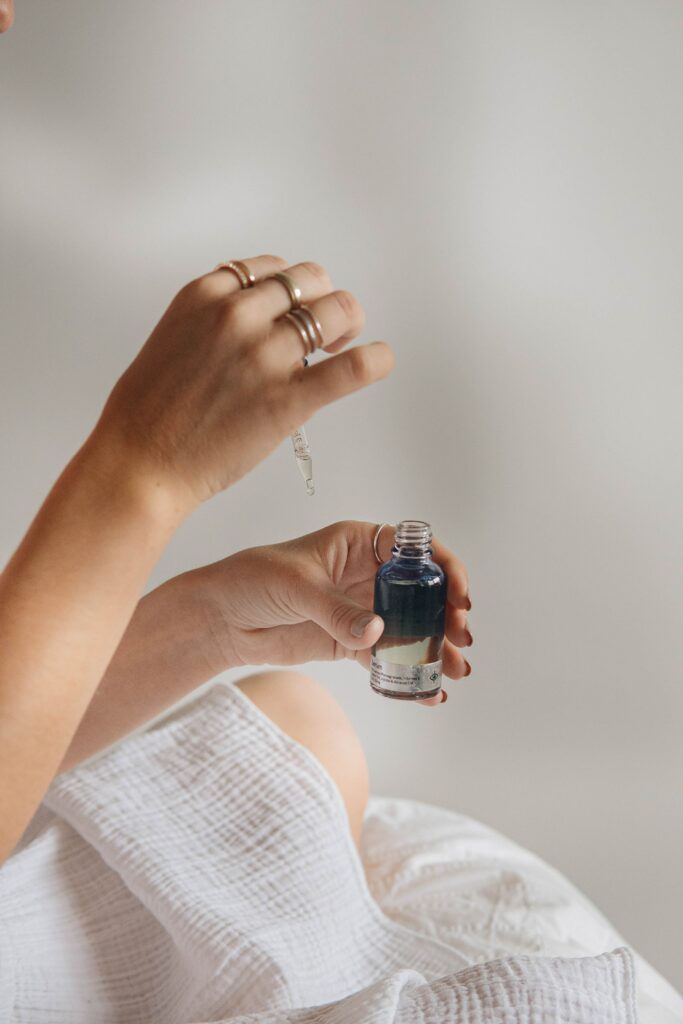 Self-Care is a form of mindful living, as is living sustainably. When we are mindful of our own needs, we also become more mindful of the needs of the world around us. If you are hoping to improve your self-care routine, choosing linen for your bath towels just makes sense. Not only will using linen bath towels enhance your overall experience, they will also encourage positive thoughts towards the choices you are making in order to benefit the planet.
Linen is one of the most eco-friendly fabrics available. Due to its long lifespan, it doesn't need to be replaced frequently, helping to keep the drive behind mass production down. In addition, flax plants (from which linen is made) can grow in poor soil and require very little water, when compared to cotton or manmade materials. Finally, linen is biodegradable too.
A Beautiful Bathroom Creates a Beautiful Experience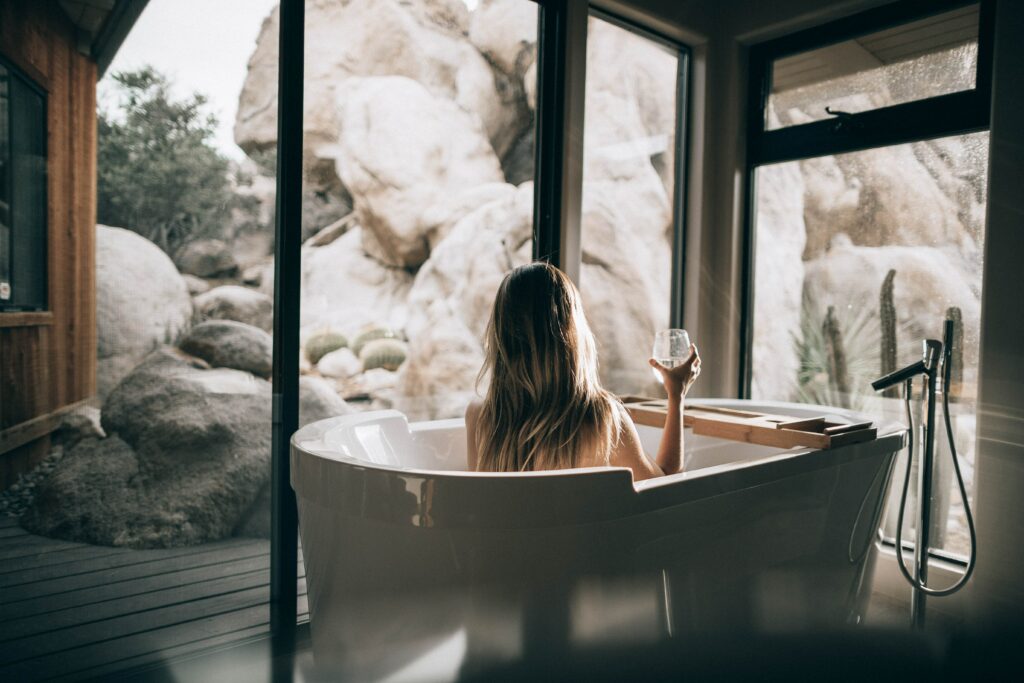 When it comes to your self-care routine, whether this be your daily skincare routine, or that hour you find for yourself each week to have a long soak and relax, much of this time is spent in the bathroom. Using the hotel reference again, when we are surrounded by beautiful decor and luxurious materials, we feel uplifted, and so a tranquil and stylish bathroom will always elevate your self-care routine.
A fantastic way to add that luxury feel to your bathroom at home is by dressing it to include flax linen bath towels, a lovely woven bath mat, a collection of plants in artisan-made pots and a selection of organic candles and bath products. Small changes and carefully considered touches can completely transform your bathroom, and most importantly, how you feel during your time spent here.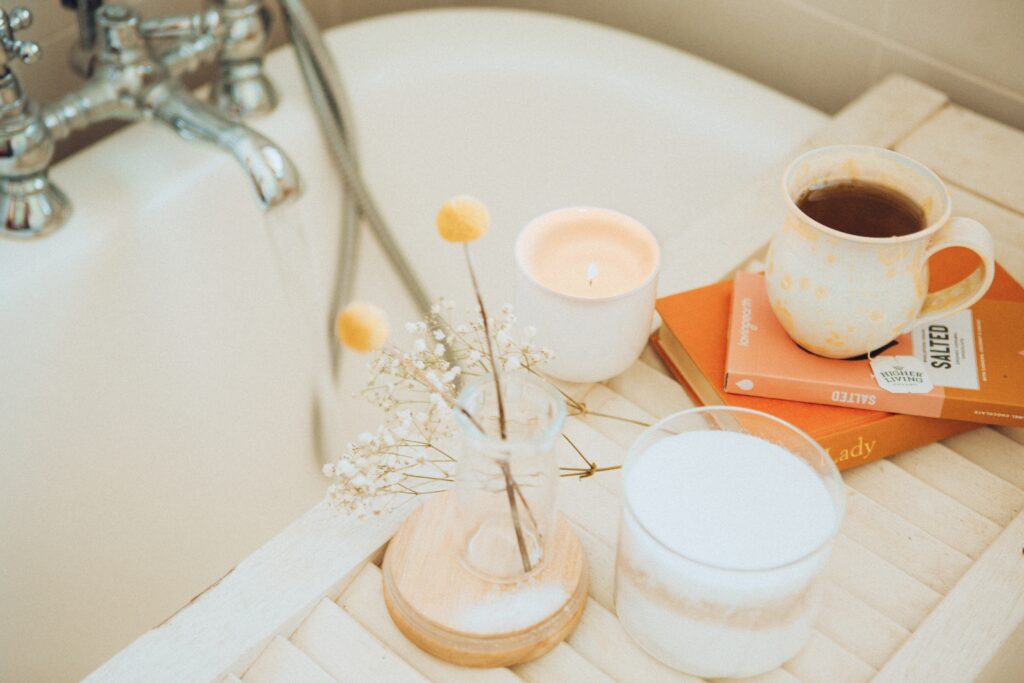 Here is a small selection of our most-favourite linen towels and luxury hand towels to elevate your bathroom…
Set of 2 Italian Linen Bath Towels – Grace Blue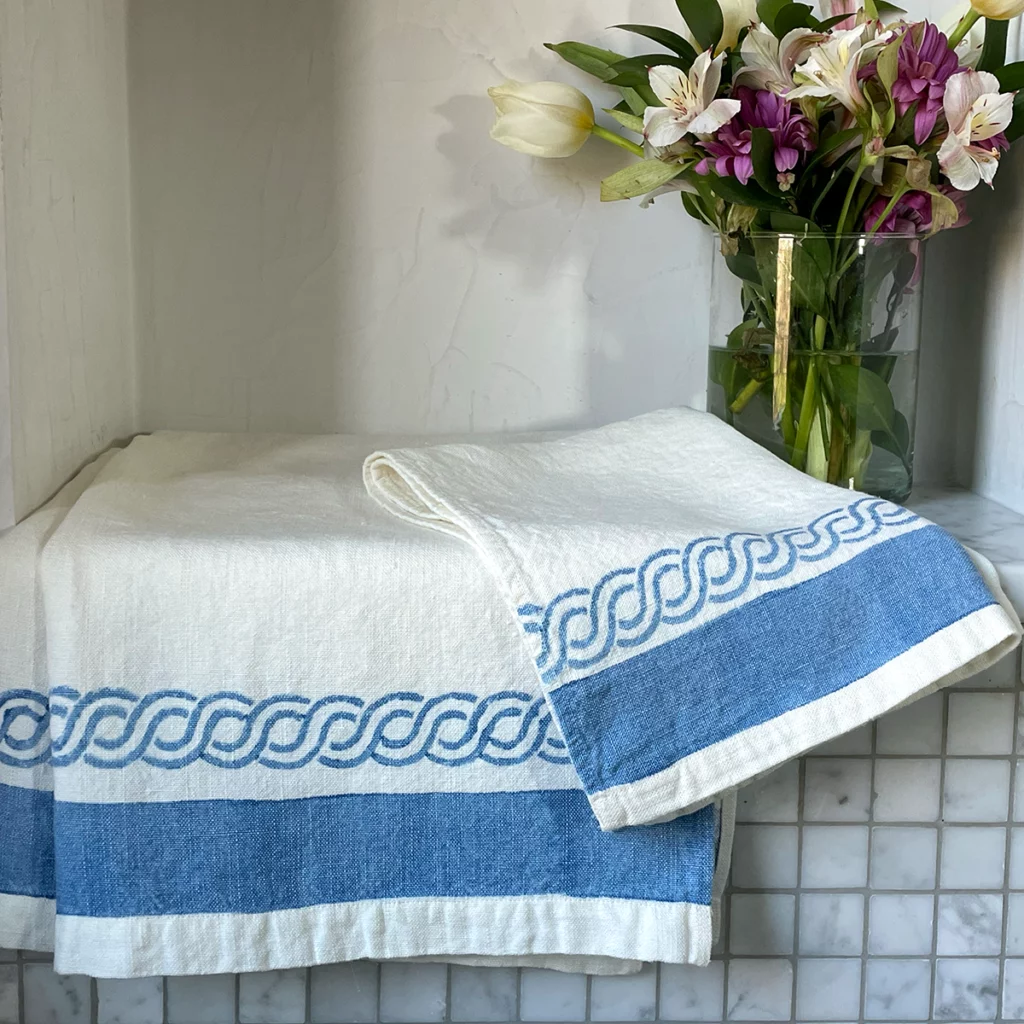 Available in two sizes and made from 100% natural crumpled linen, this is the ideal option for linen guest towels or to complete your own bathroom. Created by the renowned Stamperia Bertozzi, the set includes a linen hand towel and linen bath towel in crisp white linen, finished with a blue block-printed spiral pattern and hand-painted block of colour.
Vintage Hemp Linen Towel Bumblebee Primrose Rust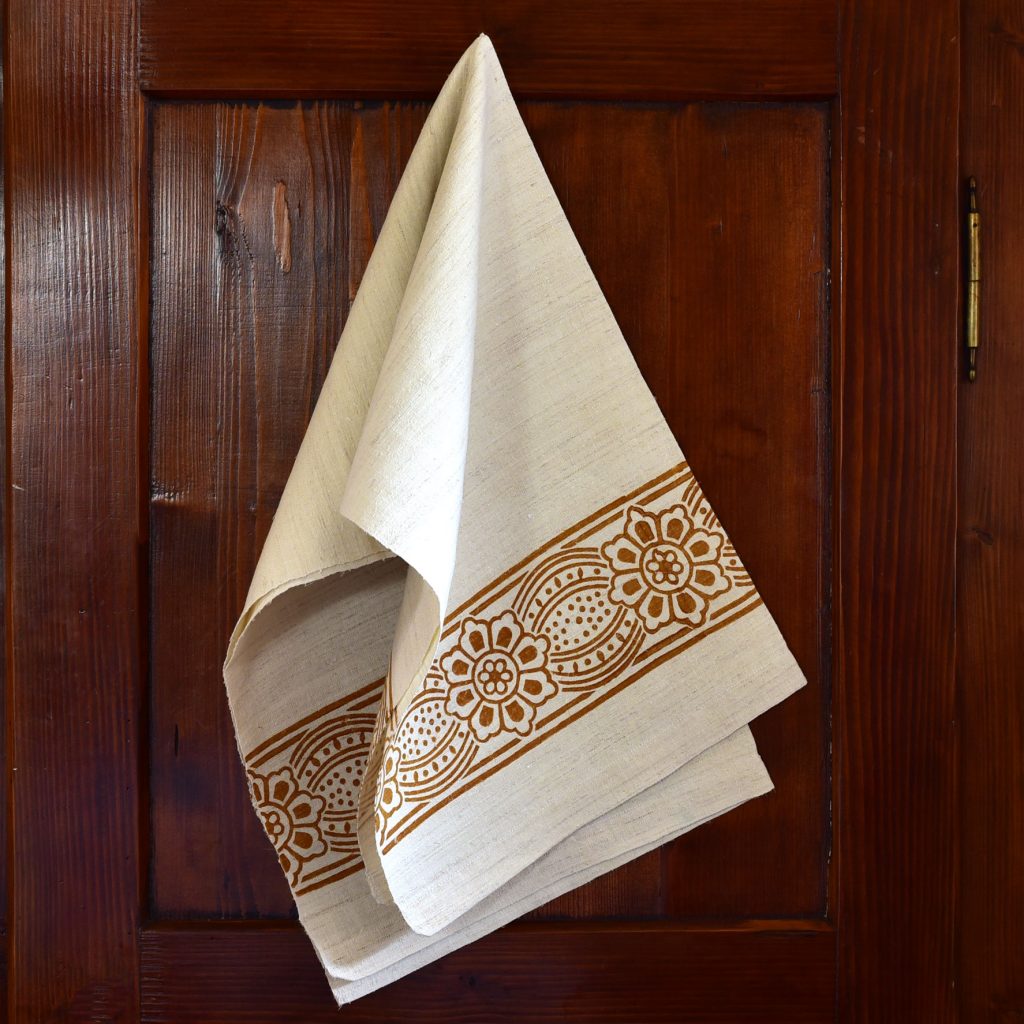 Add a botanical element to your bathroom and strengthen that indoor-outdoor connection, with this beautiful linen towel. Inspired by Italian meadows, the towel features a hand-printed botanical pattern in soft rust tones.
Italian Linen Bath Towel – Ellisse Pink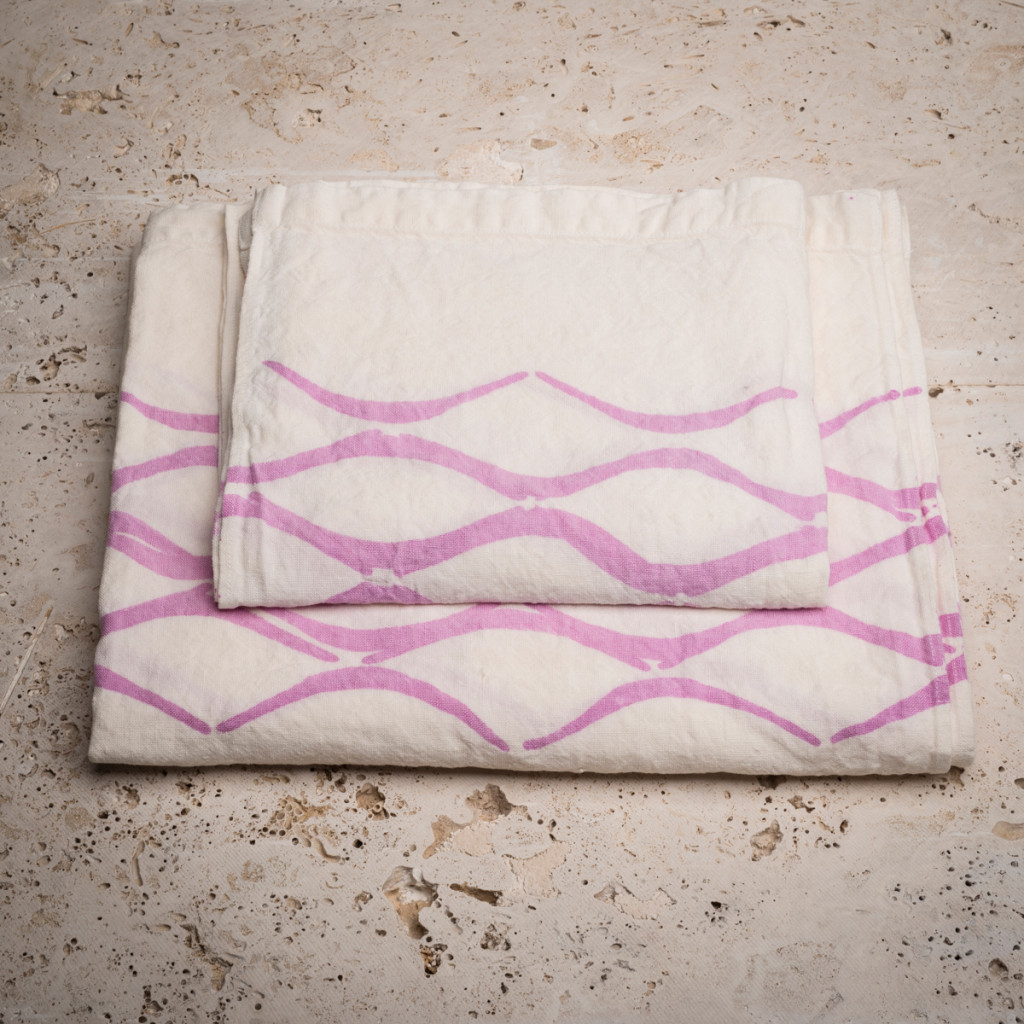 With two sizes to choose from, this is the perfect option to elevate your bathroom decor. Made from 100% natural white linen, the bath towel has been hand-printed multiple times, overlapping the pattern to add an extra dimension. In a stylish shade of pink, a touch of colour will instantly uplift your scheme.
Shop the full Linen Towels Collection here: https://www.allorashop.com/product-category/categories/luxury-linen-bath-towels/
As you can see, linen bath towels are a wonderful addition to any self-care routine. Whether you can only commit five minutes each day, any time spent on self-care matters, so why not make your routine as luxurious and beneficial as possible?