Easter is a joyful occasion and one that is heavily centred around food, family and spending time together around the table. Mark this wonderful time of year by dressing your table using soft linens, spring colours and botanical-inspired pieces to welcome in the Spring season…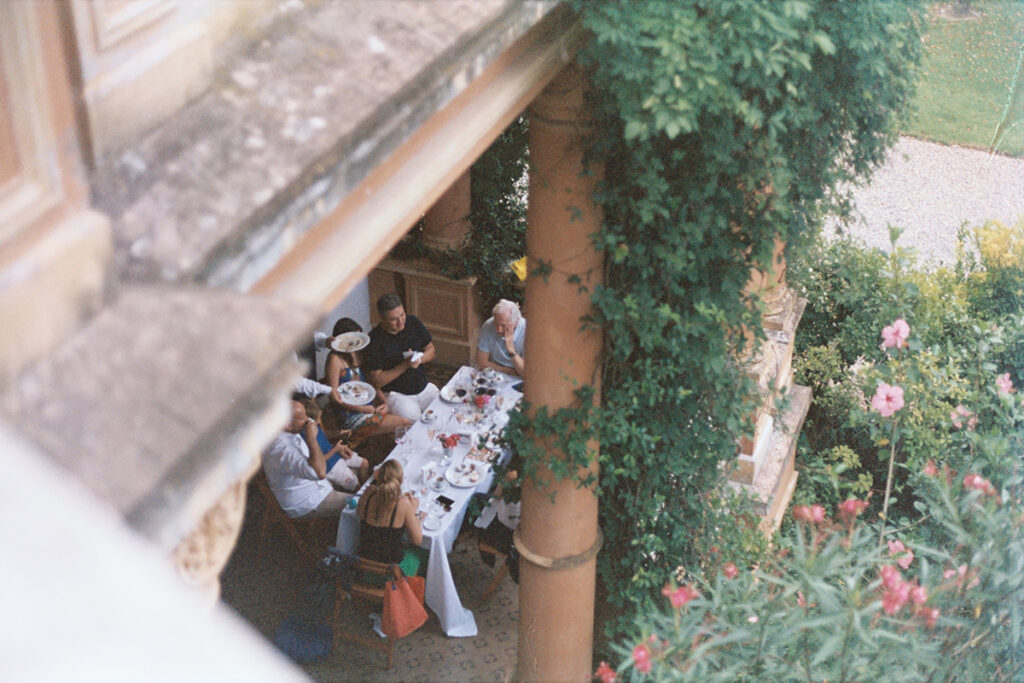 Step One: Laying the Base…
Every beautiful tablescape starts with a beautiful tablecloth. This is the first step to setting your table for Easter with a high quality and unique tablecloth. This often sets the tone for the entire tablescape, and you can be led by the design that you choose, when it comes to completing your table.
Choose a linen tablecloth, for a luxurious but laid back feel. Easter is all about new life and welcoming the new season of Spring. Why not find inspiration in this, focusing on spring colours, botanicals and natural materials?
Try…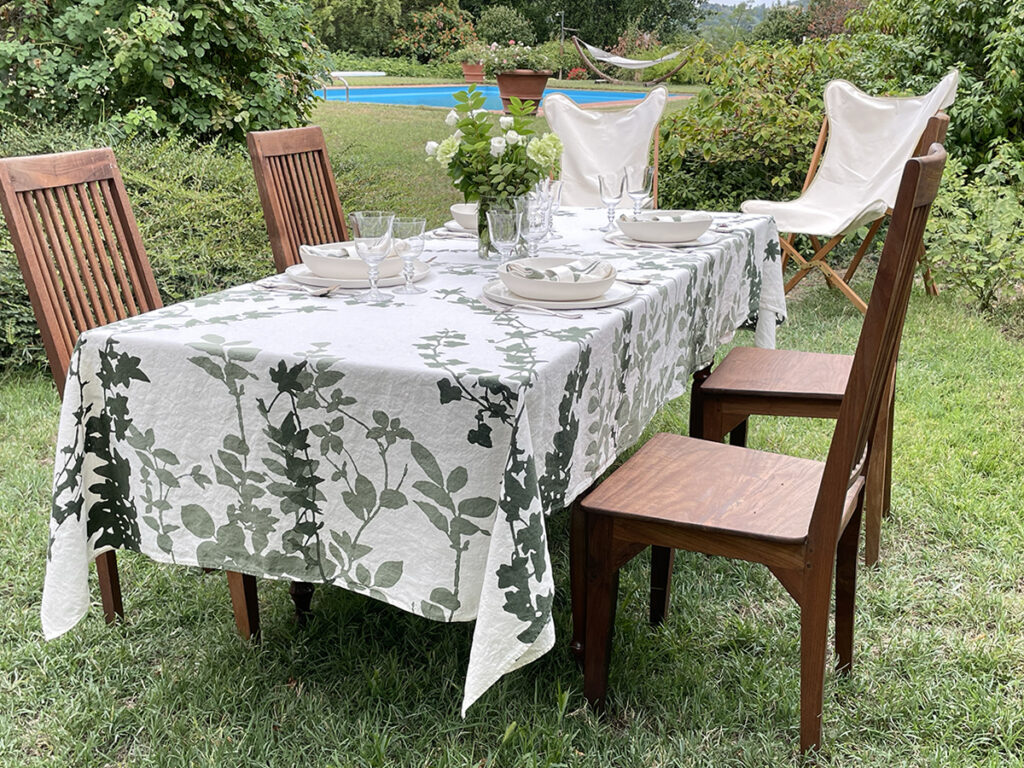 With vines of ivy and rose stems in muted tones of green, this is the perfect piece to build on when it comes to setting your table for Easter. The crisp white 100% organic linen keeps the look contemporary, while the hand block-printed pattern adds interest and detail.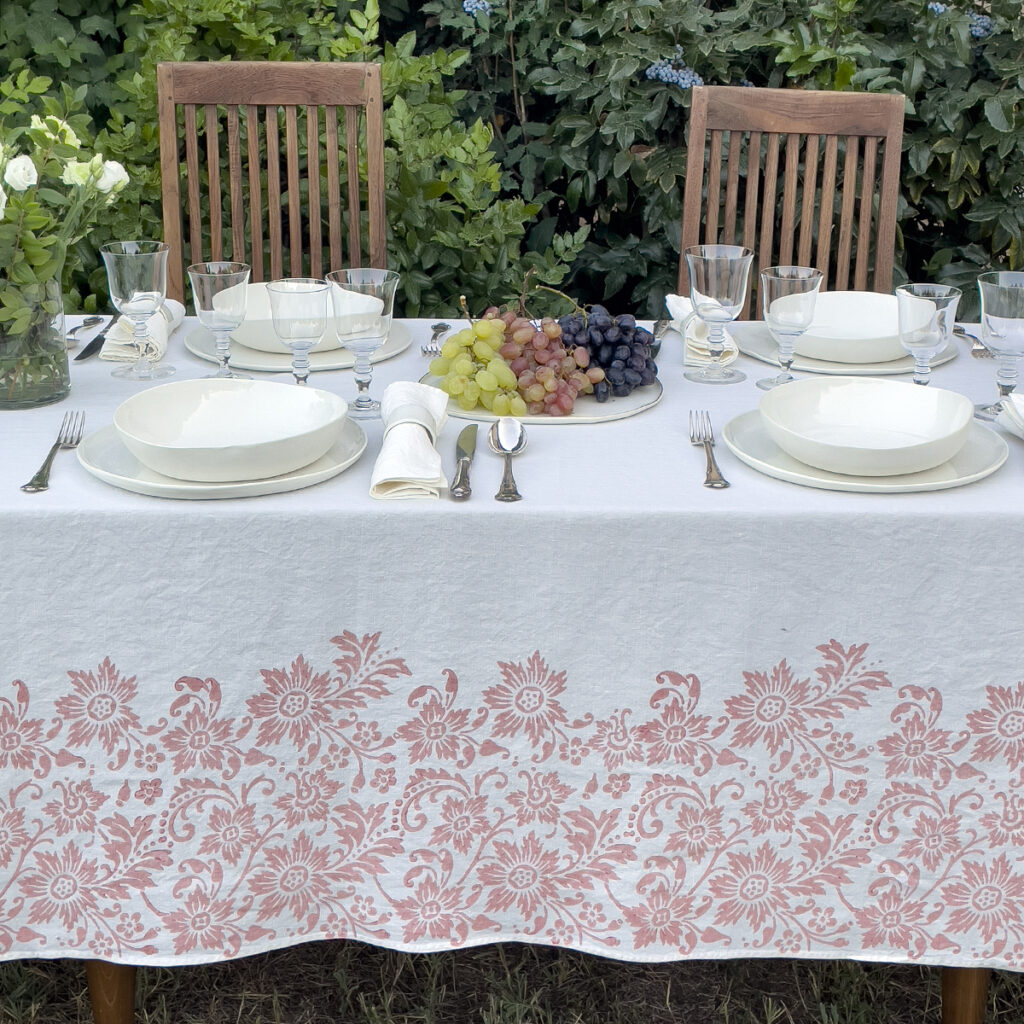 Florals are the perfect choice for an Easter table. Made from white organic linen and hand-printed with a pattern of flowers and leaves in a feminine shade of coral, this charming tablecloth will really set the tone for your table.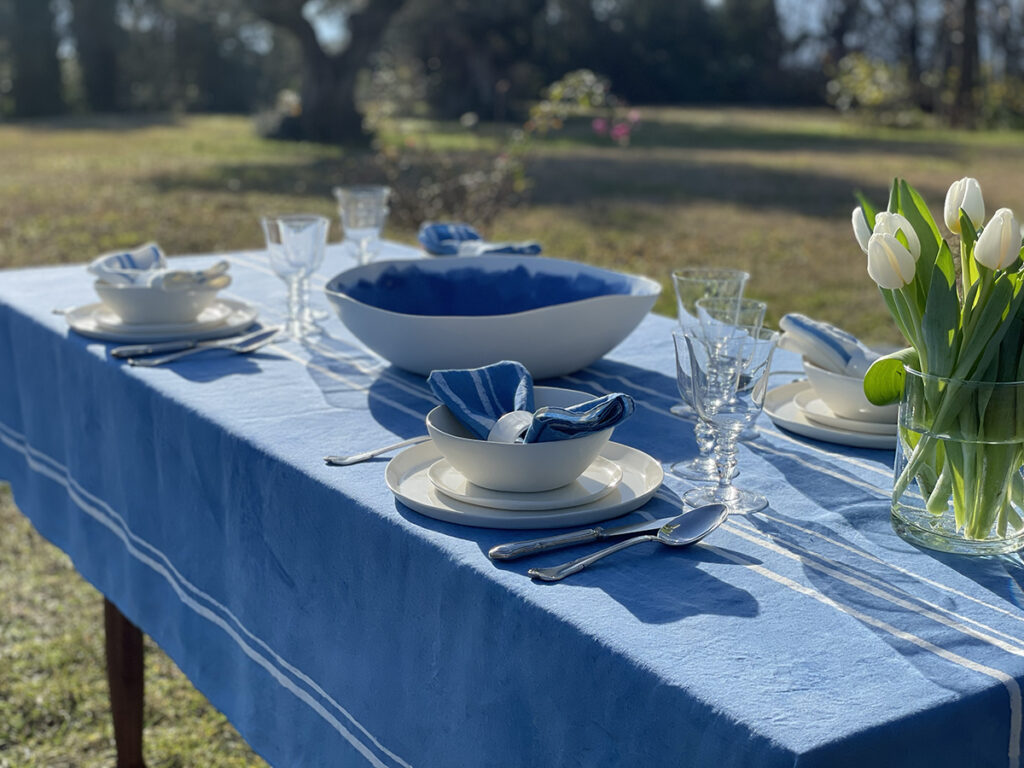 Sometimes simple colour is all you need to begin to dress your table. Opt for something vibrant with just a touch of detail, such as the handcrafted Italian linen tablecloth in Linea blue. Painted in a striking shade of blue, white line detailing has been added through using the craft of negative printing.
Step Two: Adding Additional Linens
To complement your tablecloth and provide guests with linens that will be practical as well as beautiful, lay a napkin at every setting.
Try…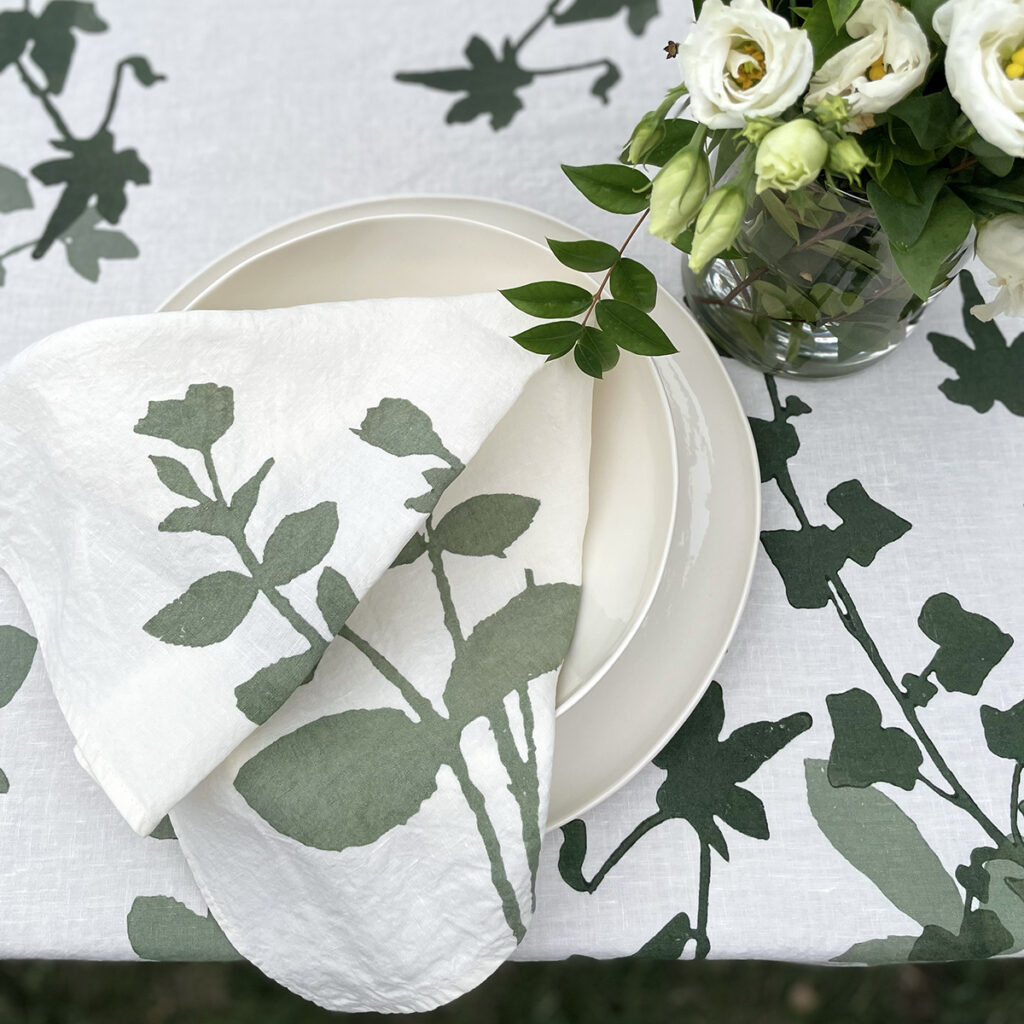 With hand block-printed rose stems in a soft shade of sage green, team these contemporary and rustic napkins with the matching Giardino tablecloth, or style with a plain tablecloth to add a touch of botanical detail.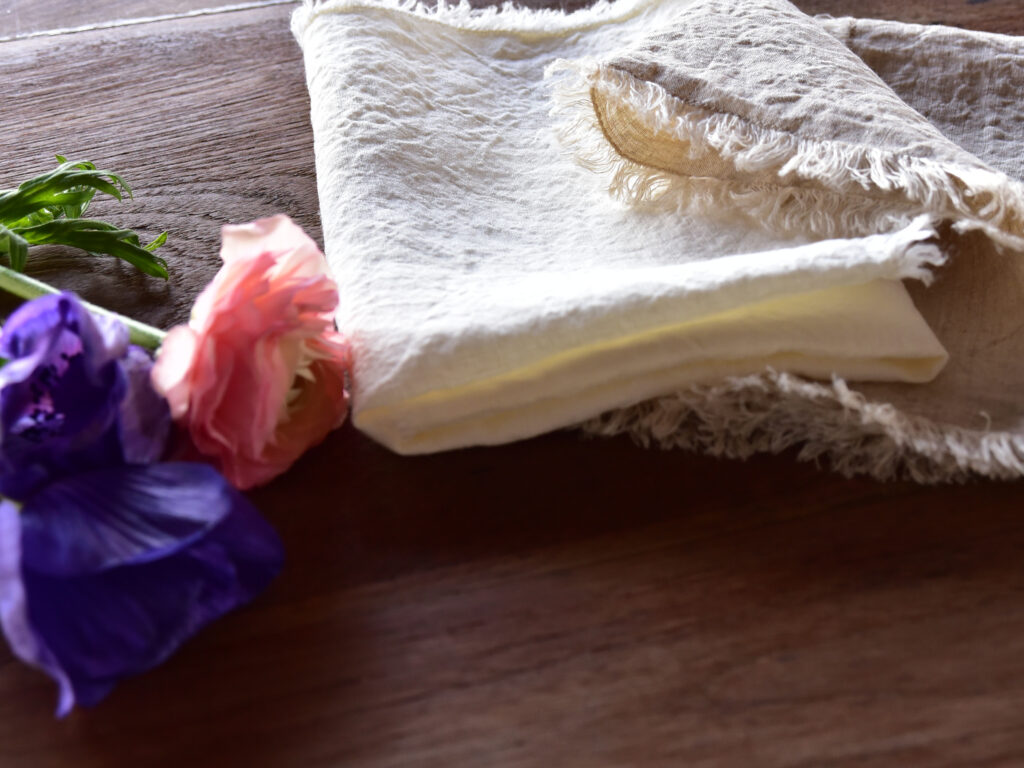 Perfect for introducing more texture to your table, these simple napkins have a naturally crumpled finish and are made from 100% natural hemp linen. Try styling with the Flora tablecloth in coral, to add balance to this busy and colourful tablecloth.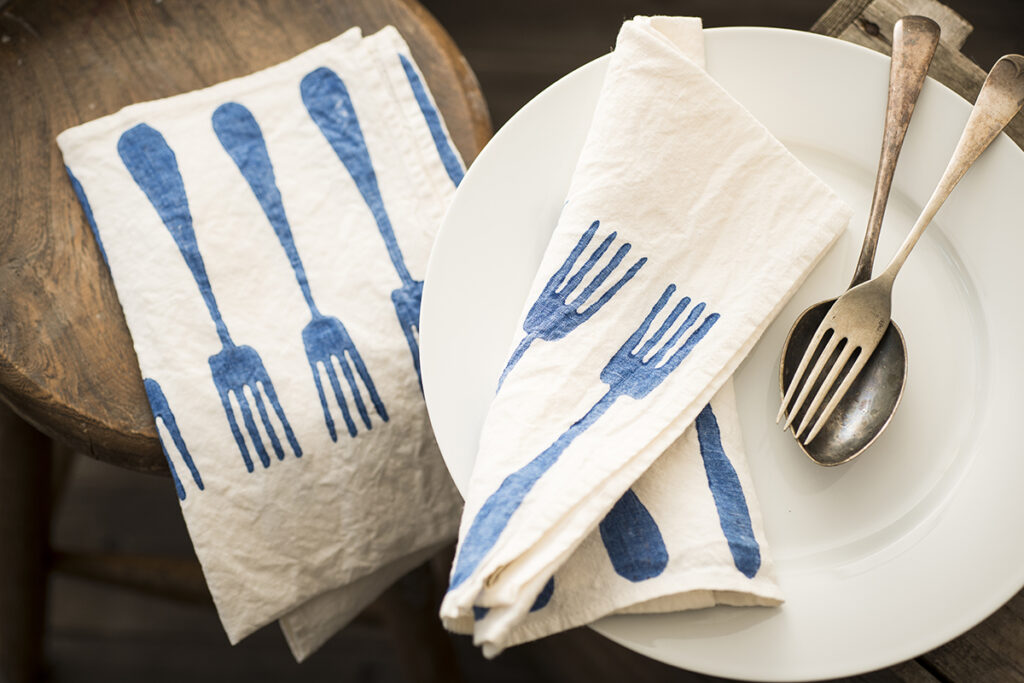 Featuring a block-printed fork motif, this contemporary design will add charm and colour to your table. In addition the crumpled finish offers texture for a tactile element. Try styling this with the handcrafted Italian linen tablecloth in Linea blue, to complement the colour scheme and introduce playful detail.
Step Three: The Finishing Touch
No table is complete without a beautiful centrepiece. For Easter, consider investing in a bouquet of flowers, choosing seasonal stems that are in bloom and grow locally, or cut stems from your garden and create your own arrangement. Of course you may consider dressing your table with your dinner set too, to create a complete scheme ready for guests to sit down to.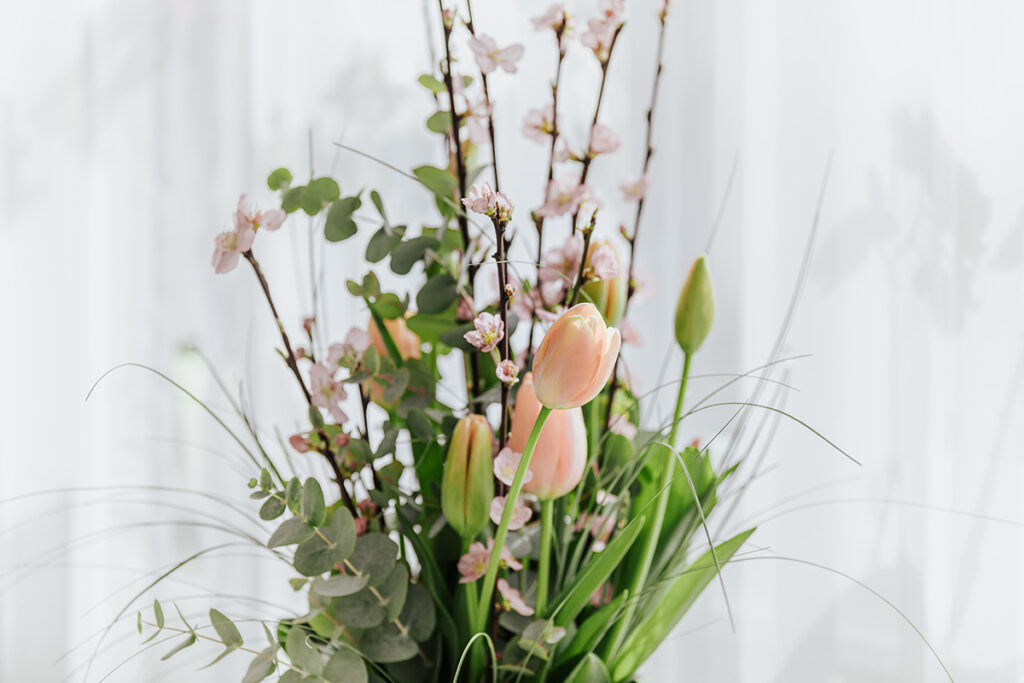 Try…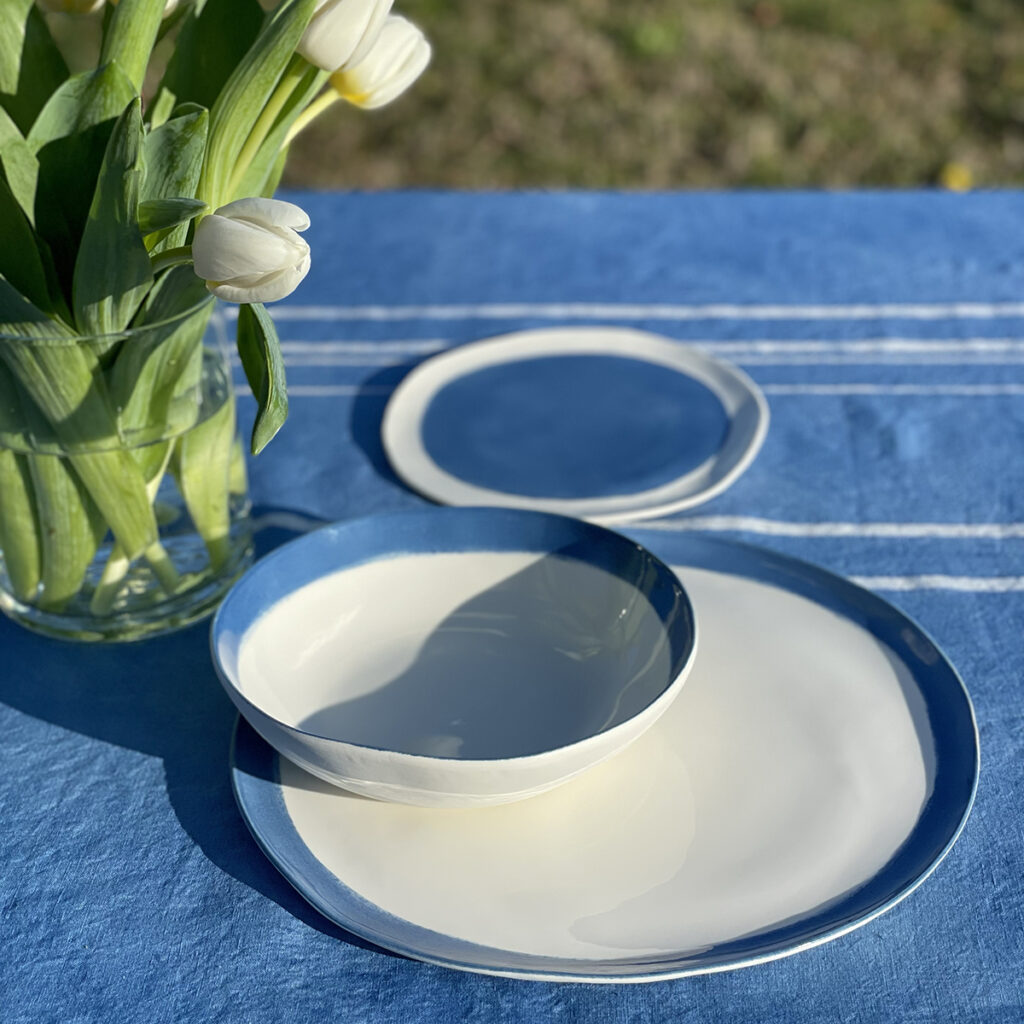 Handmade from Limoges porcelain, this stunning set includes a dinner plate, side plate and bowl. The blue border detail adds interest and colour, while the white porcelain creates a striking contrast. Try with your blue tablecloth, or style on a simple white cloth and allow your dinnerware to be the focal point.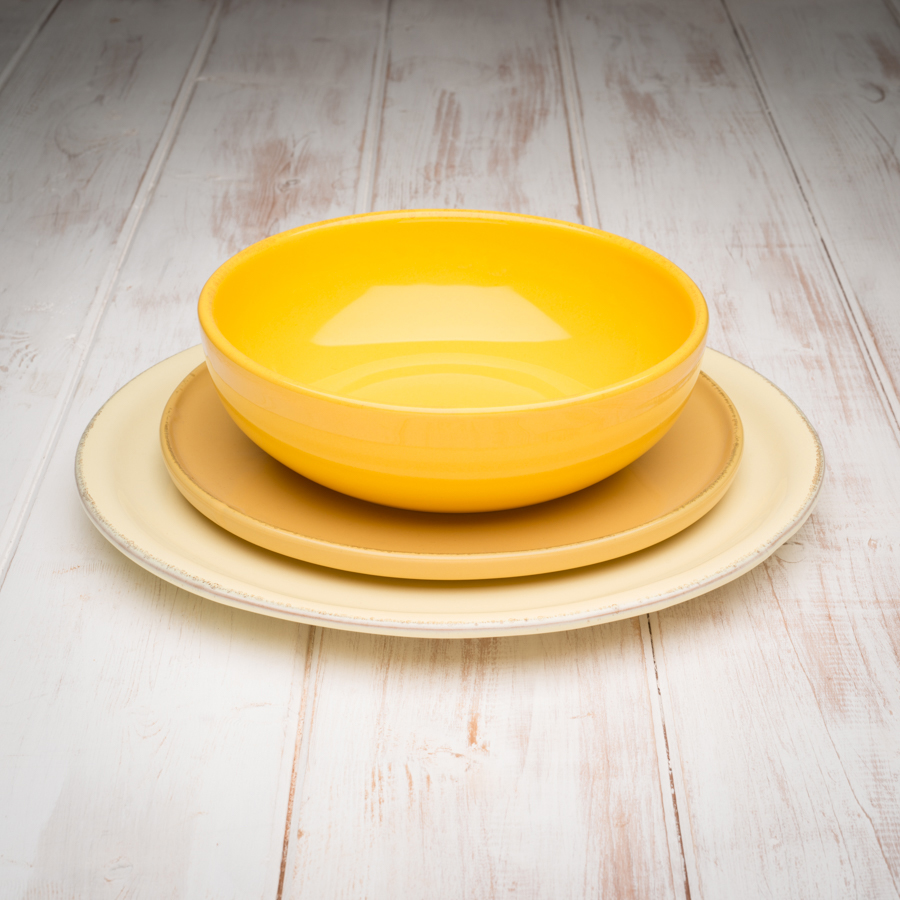 Add a touch of spring colour to your table, with the the Tuscan dinnerware set in yellow. In a rustic Italian style, each and every piece in the set is made by hand and finished in vibrant and soft shades of yellow.
Easter reflects a new start, new life, and is a celebration of our own lives. Reflect this in your table, finding inspiration in nature, experimenting with colour, and most importantly, creating a beautiful yet comfortable setting where everyone can gather and dine together.
For more ideas to create a charming Easter table, browse our full collection here. Our collections include pieces from renowned artisans, such as Stamperia Bertozzi, Ceramiche Tapinassi, Tessitura Pardi and more.