Christmas is on the horizon, along with all the festive cheer it brings with it. The holiday season is a time to gather your loved ones around the table for a celebratory meal, but not just any meal; the long-awaited Christmas dinner. Whether you celebrate this on Christmas Day or follow the more European tradition of dining on Christmas Eve, this special dining occasion is an opportunity for a spectacular tablescape. With products from AllÓRA's Christmas Collection, including tablecloths, table runners, napkins, tea towels and tableware, we believe cooking the perfect meal and setting the perfect table this Christmas will be easier than ever. Keep an eye out for what might make a good gift too!
Christmas Tablecloths
Our Shades of Gold linen tablecloth features contemporary leaf motifs in shimmering golden shades that are sure to enchant every one of your diners. With a festive gold band running across the edges of the drop area, the metallic colour scheme of this item makes it a wonderful Christmas tablecloth.
Bringing in more golden splendour, the Granducale tablecloth is a more classically ornate option. With hand-printed detailing inspired by the Renaissance period, this Christmas tablecloth has a truly show-stopping quality which, whether paired with Granducale napkins or alternative serviettes, is guaranteed to make your tablescape ooze luxury.
The Camellia tablecloth displays an elaborate floral design, achieved through a combination of hand-printing, hand-painting and negative printing that gives the flowers a stunningly life-like appearance. The drop area of this tablecloth shows off the majority of the patterning, allowing it to be admired even when the table is laden with dishes, glasses, cutlery, Christmas decor and the Camellia napkins.
Christmas Napkins
The elegant Flora napkin, with its striking silver flowers, is an ideal addition to any Christmas table. The prints run along one edge of the square napkin, leaving much of its surface area the muted shade of organic linen. Ironed crisp or left crumpled through natural drying, this Christmas napkin is a versatile addition to a table linen collection and like all linen napkins, is far superior to paper napkins. Whether rolled within a ring or folded, this napkin can be combined with many Christmas tablecloths.
Along with its tablecloth counterpart, the Granducale Christmas napkin will adorn your table with its gleaming design. Showing off a generations-old pattern adapted with gold dye, the skill and precision of the artisans at Stamperia Bertozzi truly shines through in this napkin.
Coming in colour options of both white and gold and white and grey, the Foglia napkin (meaning leaf in Italian) is an example of the graphic designer Charlotte Hjorth-Rohde's work. The fine detailing is present on the very corners of the napkins, striking the perfect balance between intricacy and understatement that makes them so well-suited to a range of tastes in decor.
Christmas Table Runner
Table runners, often teamed with placemats, can be a stylish alternative to tablecloths. However, at Christmas we suggest laying them atop tablecloths of a complementary colour due to the inevitability of red wines and cranberry sauces getting on the table amongst the merriment. The Fiocco table runner comes in linen's naturally neutral colour, with a festive leafy sprig design at each end in stamped in green and red; a quintessentially Christmassy colour combination that makes pairing this table runner with a red, white or green tablecloth a simple task.
Christmas Tea Towels
And the charm of the Fiocco pattern need not begin and end with the table runner; the tea towel from the same range offers the opportunity to have cohesive linen in both your kitchen and dining room. As with all of our linen, this Christmas tea towel is 100% machine washable and also more hygienic than a cotton tea towel, making it as suitable for its function as it is aesthetically pleasing.
Should you prefer less traditional styles in your home, our gorgeous Panarea and Taormina tea towels are available. The Panarea design features a fish print while the Taormina displays a modern, geometric design – whatever your preference, by bringing your hot Christmas dinner from the kitchen with these tea towels your friends and family will be able to admire their artistry. Consider coupling these tea towels with the Shades of Gold tablecloth, as although each item features different motifs, both these Christmas tea towels are detailed using the same gilded dyes as the tablecloth.
Christmas Glassware
No Christmas tablescape is complete without exquisite glassware, and it doesn't get more exquisite than our selection of hand-blown Murano glass drinkware. Crafted by the artisan house Vetrofuso by Daniela Poletti, this glassware collection is of unmatched quality and includes a jug, goblet and tumbler; the set of which will bring oneness to your table. The charming lavender flowers design brings the freshness of nature into your home at a time of year that can be too cold for spending much time outdoors, while the uneven texture of the glass will refract the light from your candles or Christmas tree captivatingly.
The Leaf centrepiece of the same artisanal origin is the ultimate statement piece for your Christmas table. No matter whether it is used to hold mince pies or a decorative Christmas poinsettia, this bright green centrepiece will tie in with the seasonal colour palette and enhance the table in the same way a star augments a Christmas tree.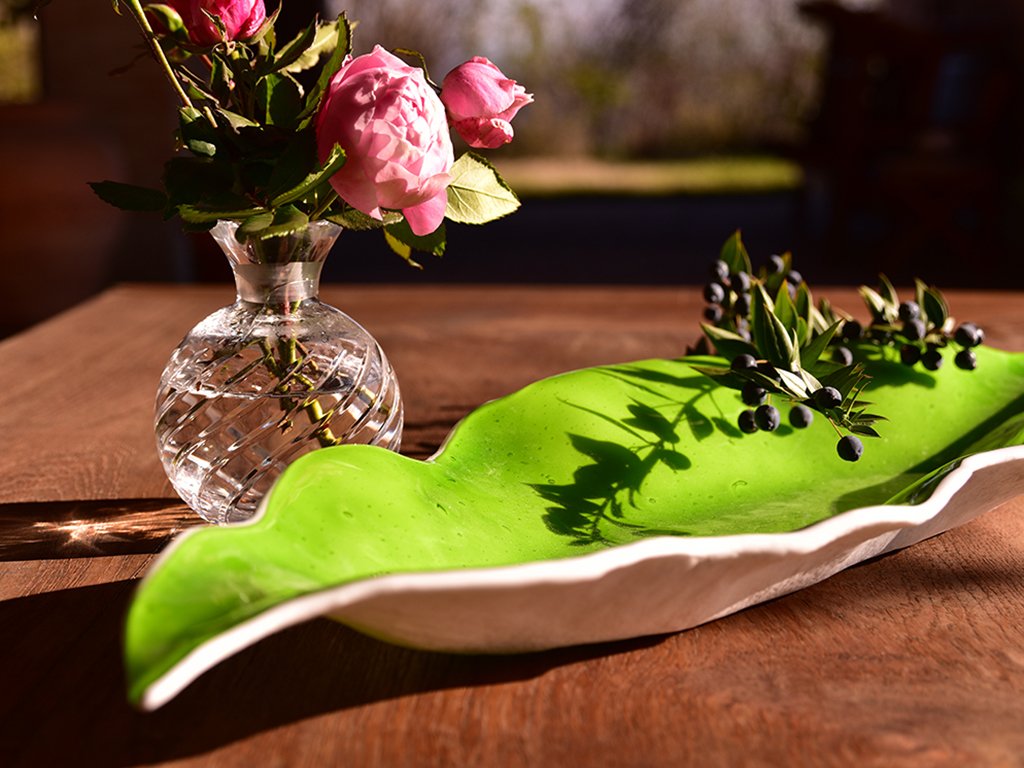 Christmas Ceramic
Our Tuscan dinnerware set from the workshop of Ceramiche Tapinassi is the finishing touch that every Christmas dinner table needs. Providing a bowl, plate and side plate in varying verdant shades, this set can be an excellent gift for a someone special or a beautiful addition to your Christmas tablecloth.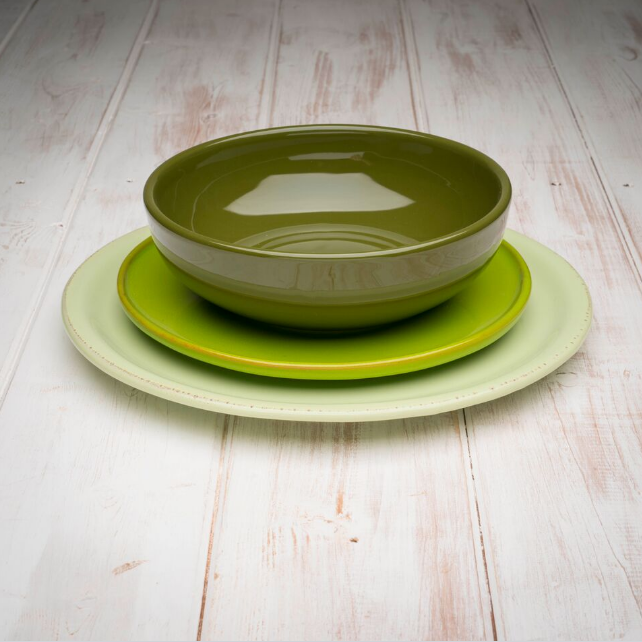 Christmas Bracelets
Vetrofuso by Daniela Poletti's craft is not just confined to glassware. Dazzling Murano glass bracelets from this artisan house provide the perfect opportunity for the wearer to match the splendour of the festive occasion with their outfit.
The rectangular Mystery bracelet is ideal for those who prefer chunkier accessories, while the Dream bracelet (featuring softer lines and a ribbon fastening) is the epitome of effortless class. No matter which shape or colour takes your fancy, the bronze motifs upon the jewellery are sure to catch the eye of everyone at the dining table. Truly unique, these embellishments make for a wonderful gift idea.
Browse the AllÓRA Christmas Collection via the images in this blog and make your home a hub of festivity this Christmas.