Cushions. Aesthetically, they add the finishing touch to the styling of a room, and practically, they keep you and your guests comfortable. This has not always been the case; Mesopotamians and Ancient Egyptians used hard materials to make solid pillows, the latter civilisation primarily using them to prop up the heads of the dead. It wasn't until the Ancient Greeks and, later, the Romans came along that the stuffed, soft cushion was developed. While these items were traditionally limited to the wealthiest within society, today they are an absolute must in any home, helping living rooms, bedrooms and even outdoor areas ooze cosiness in style.
The plush inserts available on the market nowadays mean that cushions easily fulfil their function of creating a relaxing space in which to snuggle, but their purpose is also aesthetic. Whether you prefer the look of 'scatter cushions' or the method of positioning pillows with precision, styling these products within your home is a creative exercise that has the ability to transform your interior. Of course, there are a variety of ways to do this, so read on to discover which technique works best for you.
As we at AllÓRA believe in bringing luxury into each and every home, here are some of our top tips on how to style cushions and pillows to give your abode that designer feel.
Placement
Living Room
Piling an abundance of designer cushions on your sofa can certainly make it look like something straight out of an interior design catalogue, but having too many in your seating area can cause them to just get in the way. After all, the whole point of armchairs and sofas is to provide comfort, so start off by using a number of cushions that augments, rather than overwhelms, your soft furnishings.
As a general rule, the average-sized sofa calls for around five cushions; two larger ones at each corner (tiered to decrease in size the closer they are to the middle) with another at the centre such as a bolster cushion. Oftentimes, this layout will feature more neutral colours in the cushions closest to the arms and a patterned one as the focal centrepiece. However, this is by no means a 'rule' in the literal sense of the word – think of it more as a springboard from which to experiment with placement and find out what works best for your living space.
Bedroom
Most bedding sets will come with two matching pillowcases, but a beautifully made bed requires more than just those to be on display. As with cushions in the living room, layering is key when it comes to styling the pillows on a bed, and two to three layers is standard. Create dimension by placing the larger pillows behind smaller pillows, paired with an extra cushion at the front if you want to add the icing on the cake.
Mixing & Matching
Mix 'n' match cushions are not just a trend, but a hack of successful styling. Doing so consists of combining different patterns, colours, textures, shapes and sizes. The rule of three is often used as a starting point when it comes to colour palette; once you have selected your designer cushion covers of one or two prints, it can be a good idea to pick three colours from their patterns to guide your choice of shades for the other cushions. This colour scheme should include a mixture of bolder colours and neutral tones such as beiges or greys.
When it comes to texture, there is ample opportunity to have some fun. From pieces that are velvety and fluffy to touch to knitted finishes and fringed edges, having a range of textures amongst your cushion covers will not only enhance the appearance of a room, but its feel too.
Try also throwing in a wildcard. Having a cushion which is the 'odd one out', whether that be in size, pattern or shape (such as oblong or circular), is a great way to add individuality to your cushion or pillow arrangement.
Prints
When picking your statement cushion covers, there are a few things to consider. As well as different print designs, they should feature different print sizes, meaning a contrast of large and small scale prints. For optimum effect, these decorative cushions can be changed according to the time of year, as different prints can inject seasonal details and facilitate true harmony between your living room decor and the season.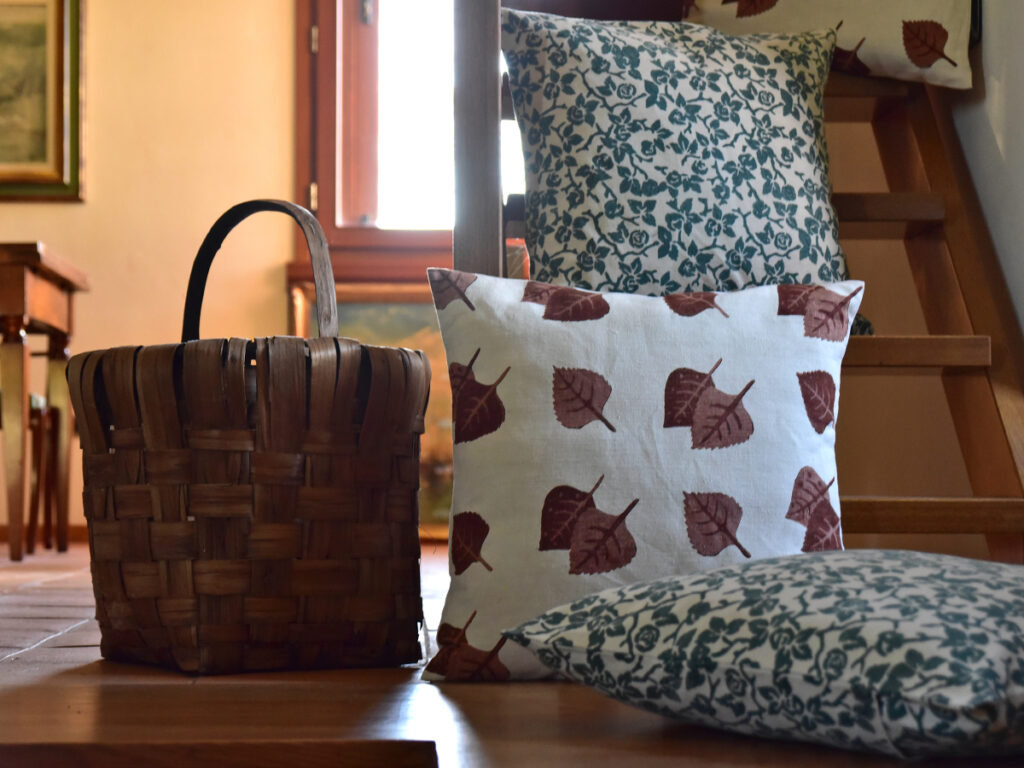 Of course, if you choose to do this, it is wise to simply swap out the cushion covers rather than the cushions themselves because as well as saving money, it will save storage space. It might, however, be a good idea to keep your neutral cushion covers the same all year round so that these visual changes remain subtle hints rather than become decorative upheavals.
Coordination
Coordination with the surroundings is an important factor to think about when styling pillows and cushions. This may be done in your living room by choosing colours which match the the rug or artwork on display, and in the bedroom, you could perhaps opt for hues which complement the curtains or throw.
And it is not just a matter of colour – cushion covers and pillow cases should bring cohesion to a room by tying in with the style of the existing decor. For example, if your home's interior is rather bohemian, earthier, more rustic cushions would work well. If your taste is more minimalist, striking pieces can be ideal, as vivid colours stand out best in more muted spaces.
Whichever approach is best for your home, do not forget that sofas and beds should look welcoming. Use the karate chop method after plumping your cushions to give them a luxury, lived-in look.
Balance
Designer cushions and pillows are perfect for striking an aesthetic balance, but there is more than one way of achieving this. The first is by aiming for symmetry; using odd numbers of cushions ensures a mid-point in the feng shui of the arrangement, while proportional gaps between cushions should match symmetrically on each side.
However, if symmetry is not what you desire or not possible (perhaps because you have a corner sofa), an equilibrium can still be struck by positioning different pieces intelligently. Consider balancing two smaller cushions with one larger one or some understated covers with busier patterning on another. As long as the decor fits a theme, balance can be attained through cohesion rather than outright uniformity.
As this blog shows, there are multiple things to bear in mind when styling cushions and pillows in your home, but the the principal goal of any interior should be to express character! Make your house truly homely by browsing our eclectic range of linen cushion covers here and selecting pieces that best reflect your personal style.
Coming in both organic linen and hemp linen, all of our luxury cushion covers and pillow cases are hypoallergenic and 100% machine washable, so styling your home with AllÓRA is hassle-free.