Here at AIIÓRA, we work with the best Italian artisans to provide you with the highest quality material for each and every product, so the prevalence of Murano glass within our collections is no accident. This breathtaking Venetian glass has a history as luxurious as its look, along with a world-renowned value.
Whether you are seeking jewellery, functional homeware, or purely decorative art, Murano glass promises to deliver the ultimate combination of beauty and quality. In this blog, we shall discuss this precious material's background and properties to explain why attaining a Murano glass piece is not just a purchase, but an investment.
Ancient glassblowing techniques
The production process from which this Venetian glass emerges today is one that has been perfected over millennia and has its origins in the ancient world. While it is thought that the earliest glass objects were crafted by the Mesopotamians, Murano's artisans use glassblowing techniques which were employed by both the Ancient Egyptians and the Phoenicians.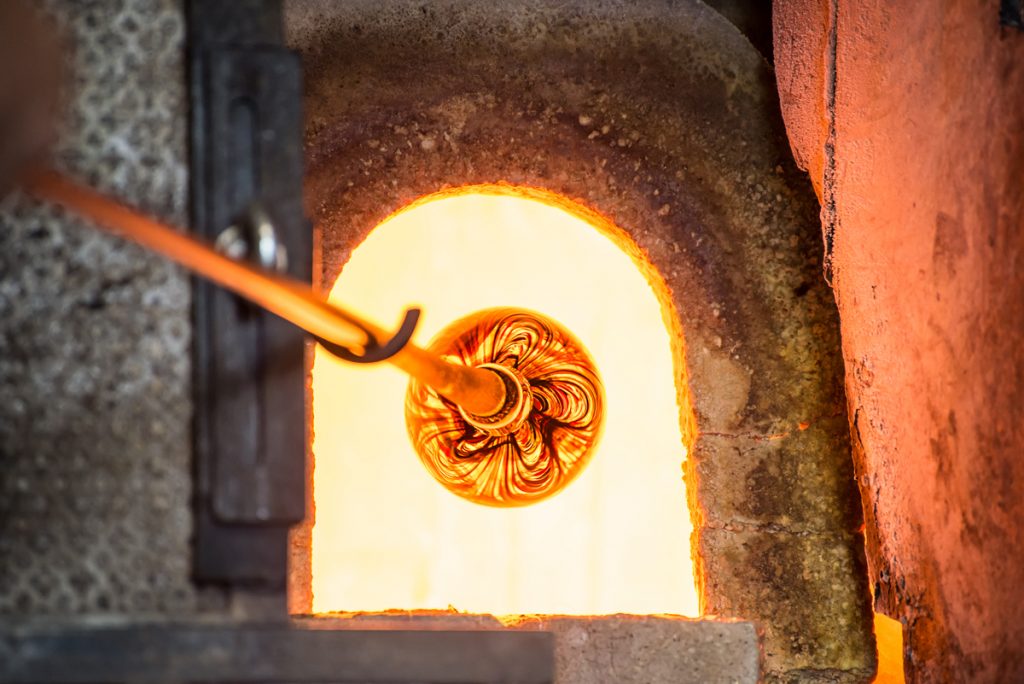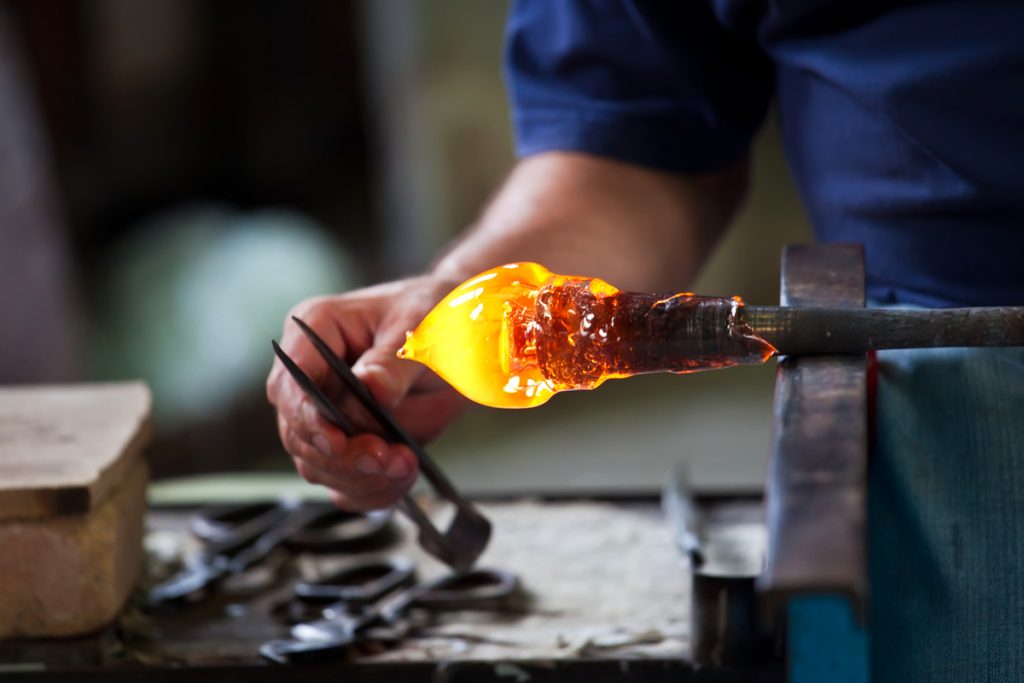 The glass factories of Murano are now host to a painstaking process during which a mixture of silica sand, potassium, soda and lime is melted within urns at 1500 degrees Celsius inside a blazing furnace. Once the liquid glass cools to around 800 degrees and thickens in consistency, it is gathered on the tip of a pipe where it is mouth-blown into shape by the glass masters and then remodelled further using a range of iron tools. Fashioning the glass to completion often requires the glassmakers to reheat it many times in order to keep it malleable, however the most talented craftsmen of Murano island are able to manipulate the molten glass into shape with such speed that the piece is finished in one single heating.
Venetian history
There is evidence of glass furnaces in the region as far back as the 8th century, but following the 12th century fall of Constantinople, there was an influx of skilled glassmakers to Venice from the Byzantine Empire. This event was the catalyst that turned glassmaking from a mainly Eastern tradition into the successful industry that thrives in Italy today.
Originally based within the city, the glass factories of Venice produced such fine items that the glassmaking industry became a valuable jewel in the crown of the Venetian Republic. They became the leading manufacturers of glass in Europe and at one point, Venetian glass masters were forbidden to leave the city without special permission, such was the fear that they would tell the trade secrets of the Glassmakers Guild. In 1291, it was ordered that all glass furnaces be moved out of the urban area to prevent a catastrophic fire; and so the industry set up shop in the safer location of Murano, surrounded by the Venetian lagoon.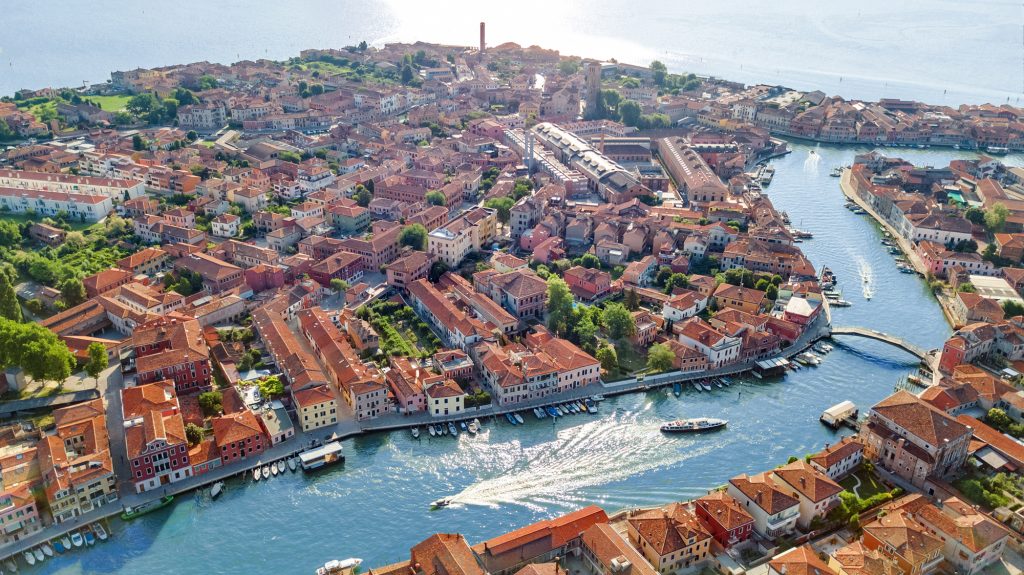 What would subsequently be known as Murano glass became so prized that the daughters of Venetian glassmakers were permitted to marry nobility and Italian poets lauded it in their work. The artisans continued to hone their glassmaking craft, and nowadays glass from Murano retains the celebrated reputation it held all those centuries ago.
Quality
Whilst many inferior Murano-style imitations are becoming available, real Murano glass is unparalleled in quality and is therefore the choice material for a multitude of products. Anything from a vase to a chandelier can be found on the market made from Murano glass, as well as scores of glassware items for the home and pieces of jewellery with Murano glass beads. Mirrors, too, are made using the glass, owing to the 15th century discovery by master Angelo Barovier of the process for producing clear glass.
This colourless glass, known as 'cristallo' and made using manganese in the glass mixture, resembles rock crystal; an effect which is heightened by the glass' uneven texture and the slight imperfections that indicate artisanal work. Whilst being solid and durable, authentic Murano glass is incredibly lightweight which, coupled with these crystalline aesthetic qualities, brings a matchless finesse to wherever it is placed.
Art glass
Murano glass is often referred to as art glass due its ability to take on so many shapes and carry such a wealth of designs, textures and hues.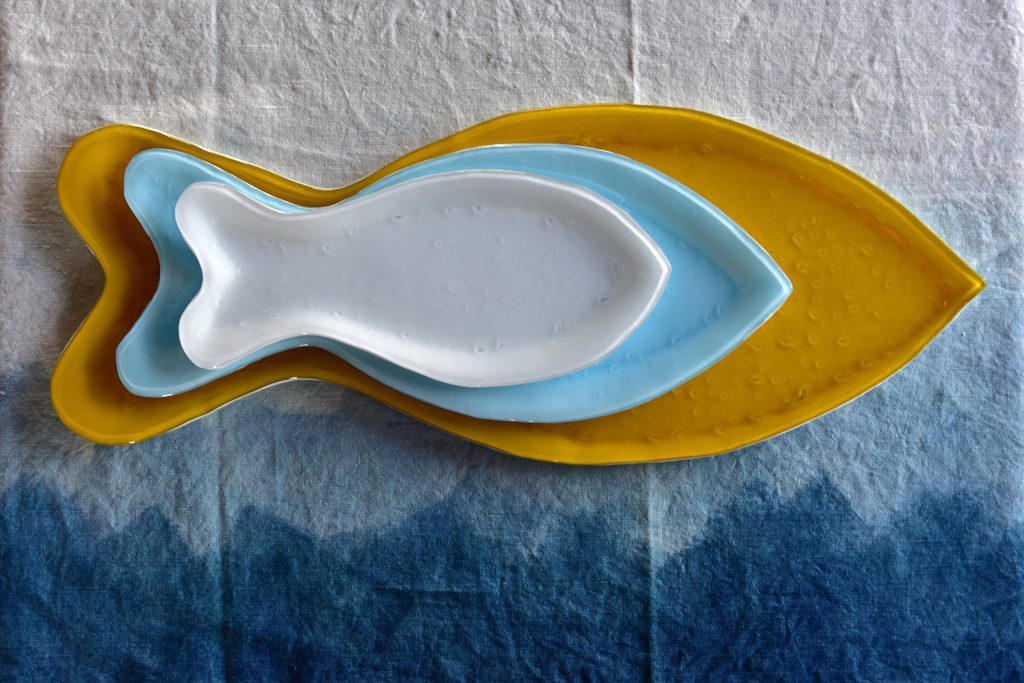 Over the generations, Venetian glasswork has developed to include many decorating techniques that are signatures of Murano glass, including the floral 'millefiori', the milky 'lattimo' and the shimmering 'avventurina'. Furthermore, with Murano glass the colour options are endless, as different minerals can be added to liquid glass mixture to give it vibrant pigments.
Selenium can be added for red, oxide copper for green, iron chromium nickel for violet and cobalt for blue, not to mention the gold leaf that is often added to give an ornate finish. Unsurprisingly, Murano glass is increasingly popular for use in sculpture, meaning this Venetian glass can now be found at many high-end art exhibitions. In this way, Murano glassmakers can be seen not only as skilled craftsmen but as visionaries and artists in their own right.
Wide range of uses
At AllÓRA, our Italian Murano glass products exemplify the variety of uses that this exquisite glass can be put to. No matter whether you are searching for a practical jug, dish, or goblet, looking for a piece of home decor that makes an ornamental statement or seeking out a stunning addition to your jewellery box, you can be confident that you have made a wise decision by selecting one that encapsulates Venetian artistry and centuries-old glassmaking workmanship. Hand-crafted and inspired by the beauty of Venice, items of original Murano glass are excellent gift ideas – both for someone special and for yourself.
As we have shown, Murano glass has a unique charm unlike any other. It is full of amazing qualities and can take on a wide range of uses. However, our recommendation for the best way to truly understand what makes Murano glass so special would be to see for yourself. Take a look at some of the fantastic Murano glass products we have among our range, including our Murano glass bowls, dishes, ornaments and centrepieces, as well as our Murano glass drinkware and bracelets.